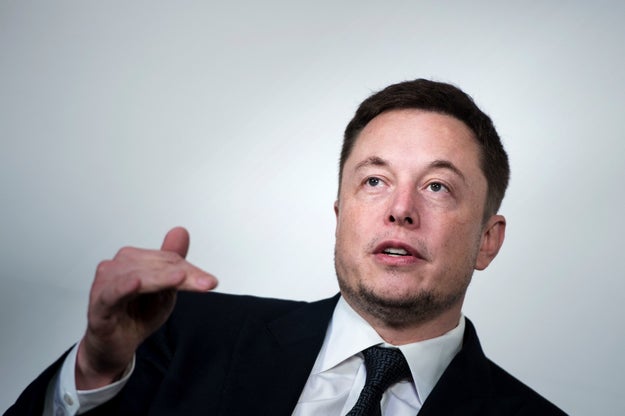 Elon Musk, CEO of Telsa
Brendan Smialowski / AFP / Getty Images
Thirty lucky Tesla enthusiasts will become the first proud owners of the Model 3 tonight, when CEO Elon Musk hands over the keys to the electric car company's newest and most affordable model at a celebration at Tesla's Fremont, CA facility. Musk posted a video of the party preparations to Instagram on Thursday night.
But as some Tesla employees are celebrating the launch of the new model, others are waiting for answers to questions about pay transparency and promotions. Last Friday, a group of 10 factory employees presented Tesla HR with a petition asking for more information about how much Tesla factory workers are paid and how raises are distributed. Workers posted a photo of the group and the document to the "Fair Future At Tesla" Facebook page, which is run by Tesla workers interested in organizing the factory and ultimately joining the United Autoworkers Union.
One Tesla employee involved in the initiative told BuzzFeed News around 400 employees in total signed the petition.
The movement to unionize Tesla kicked off earlier this year when factory worker Jose Moran wrote a blog post detailing the long hours, lower-than-standard pay, and injury-causing conditions he alleges exist at Tesla's Fremont factory. Since then, the number of Tesla employees speaking publicly in favor of a union has grown to about half a dozen, and multiple sources have alleged the factory has high injury and illness rates. On the "A Fair Future at Tesla" Facebook page, debate over whether unionizing would improve conditions or ultimately stymie pay and productivity at Tesla is the subject of spirited debate.
When the union supporters sent their petition to Tesla HR director Josh Hedges, they requested that he respond "within the week." Hedges reports to Tesla Chief People Officer Gaby Toledano, who took the reins during a department shakeup earlier this year. "We'll see if he does [respond], but this won't be the last time management hears about this issue!" they wrote on the Facebook post.
Tesla confirmed it had received the petition, but as of Friday night, it hasn't yet responded to it.
The petition focuses on compensation in Tesla's factory, which its authors say has "for far too long … been decided in a way that seems unfair and overly subjective." It includes a list of questions Tesla workers have for management, including basics like "What is the top hourly pay rate for each classification, and how long do we have to work to reach it?" and "What is the average raise workers receive during reviews?"

In the past, Musk has argued that compensation for factory workers at Tesla is higher than what any other US autoworkers make, if you account for the equity packages those workers receive. In an all-staff email from February in which Musk slammed the union drive, he said employees could expect increased equity grants this year, "once Model 3 achieves high volume."
In past years, the push to produce enough vehicles during the launch of a new Tesla model has created a high-pressure situation inside the plant, with workers often having to pull 12-hour shifts. The introduction of a third shift, which allows the plant to run 24 hours a day in three eight-hour segments, was supposed to relieve some of that pressure and prevent employee burnout. But inside the factory, rumors that 12-hour shifts could return as production ramps up on the Model 3 are causing some anxiety on the factory floor, sources tell BuzzFeed News. Tesla did not immediately respond to a request for comment about whether or not its factory will resume 12-hour shifts.
But those concerns are unlikely to dampen the mood at tonight's launch party, which started livestreaming at 8:45 pm. If Telsa responds to the petition, we'll update this story.
Author: Caroline O'Donovan
Published at: Sat, 29 Jul 2017 00:19:07 -0400
Credits: https://www.buzzfeed.com