Apps are the cornerstone of Apple's iOS platform. The ecosystem is what sets Apple's mobile platform apart from its rivals, and the highest-quality iPhone apps are typically best in class.
But, like any app store, it is sometimes difficult to find out what are truly the best apps, the ones that stand out from the rest and offer a tool or service that's far beyond anything else available.
There's a bigger problem to think about here: with over a billion downloads from the App Store it can be a nightmare trying to work out which title is for you.
Research from analytics firm AppAnnie suggests that the average person uses nine apps per day, including the inbuilt options - and on the iPhone, there's more of an onus on creativity.
The issue there is working out what's good for you, and what's superfluous. For instance, there are loads of brilliant weather apps out there, many with cutting-edge features and beautiful interfaces. Or alarm clocks that can connect to the local transport news and wake you earlier if your train is running late.
But they might be no use to you if you look out the window to see how wet it is and always get up in good enough time to never be late for work.
So we've done the hard work for you - checking out what's new and rising up the charts of the App Store each week and cherry picking the best titles to add into our regularly-rotated ranking.
This round-up compiles our favourites, from top-quality creative tools and video editors to the finest productivity kit and social networking clients. 
And in addition to our ongoing list of the absolute best, every week we're adding our picks for the latest and greatest new or updated apps, so check back often.
Even if you don't have an iPhone right now, it's worth reading up on what's available if you're considering investing in the iPhone 7
or even one of the older models (if you need more info, check out our list of the best iPhones) - but note that some of these titles will only work with models from iPhone 5S and later.
New this week: PCalc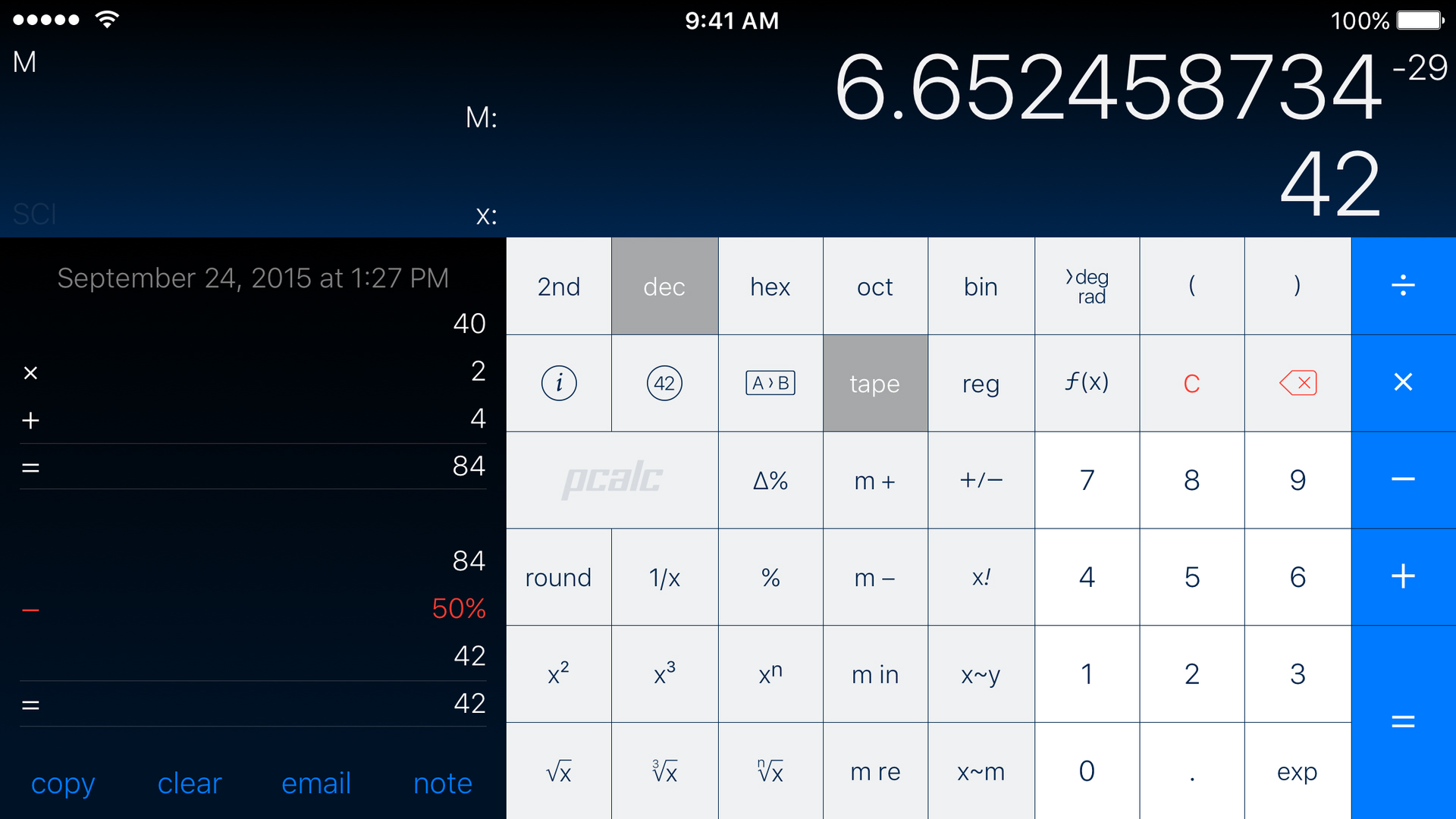 PCalc is a traditional calculator – like the super-powered equivalent of something you might find sitting on a desk. If you want something more conventional than the calculator meets sort-of spreadsheet Soulver, PCalc is simply the best there is on iPhone.
For a start, the app's almost absurdly feature-packed. There's multiline and RPN, a paper tape, and multiple undo. Need conversions and constants? Done. Engineering and scientific notation? Sure. You can even edit the individual buttons, if you for some reason want the 6 key to be massive.
The app has a slightly odd sense of humor, too. Head into the Help section in its Settings and fire up the ARKit About PCalc screen, and lob anti-gravity bananas about the place. This is a calculator with leaderboards and achievements, and – we say again – anti-gravity bananas. Buy it.
Samplebot describes itself as a "collector of sounds", a "crafter of songs", and a "finger-drummable looping sequencer of rainbow glory." It apparently also wants you to "robo-boogie."
What you actually get is a grid, which invites you to sample everything around you. Doing so is simply a question of pressing a pad and making a noise. Said noise can then be trimmed, and subsequently triggered by tapping the pad.
This in itself is fun and approachable enough for anyone wanting their own digital beatbox. But Samplebot is by the Audiobus guy and offers so much more, including preset drum patterns, a sequencer, and the means to import samples from Files or even other audio apps.
Samplebot's ideal, then, for everyone from a beginner gleefully smacking pots and pans, to DJs and musicians wanting a no-nonsense way to create an effects pad – or even entire songs.
ProCam 5 is an iPhone camera app with a lot of options. Not one for minimalists, then, but the app's design is such that while it could have drowned you in a bewildering array of options, it actually ends up being very usable.
The main camera shoots to RAW, TIFF or JPEG, and optionally shoots HDR. There are several modes (burst, night, slow shutter, and so on), and you can manually tweak ISO, exposure, shutter speed, and focus.
Usefully, you can also opt to shoot only when your iPhone is perfectly still; and there are handy visual guides, too, including a focus peak meter, a grid of thirds, and a tilt meter.
When you're finished shooting, you can delve into a capable editor for trimming, perspective correction, frame-by-frame video clip review, and the application of lenses and filters. It's very comprehensive, making for a high-value package.
Just Press Record is a highly usable audio recorder and transcription tool. It's also an excellent example of how to take an app that's extremely simple and add new features without drowning it in complexity.
To start, you still tap a big, red button, and then record whatever you want to say. Saved recordings head to iCloud, meaning they can be accessed on any device. On your iPhone, they're found in the Recents and Browse tabs, the latter listing them by date.
There's also a Search tool – which might seem redundant until you realize every recording is automatically transcribed. Naturally, this doesn't always nail context – during testing, it mixed up 'synced' and 'sinked' – and you have to manually say punctuation (such as 'comma').
Still, this means that you can share text rather than just audio files, and that every utterance you make can potentially be found by keyword, instead of you scrabbling through a huge list of recordings. It's really smart stuff.
Sky Guide AR wants you using your iPhone to explore the night sky. Move your iPhone around and you'll see stars, planets, satellites and comets, as if there was nothing between you and the heavens. Alternatively, you can manually drag a finger, to explore at leisure, tapping on objects to find out more about them.
There's an elegance about Sky Guide AR, which sets it above its iOS contemporaries. Everything from the background audio to illustrations of constellations showcases taste.
Instead of bling, you get beauty, not least when you fire up the time travel mode, and watch the stars swirl into an endless spiral of light.
And then there's the AR bit. If you're a keen stargazer, but can only get outside during daytime, Sky Guide AR will magically project constellations over the sky as seen by your iPhone's camera.
Moji Maker is a construction kit for emoji. Because, as everyone knows, there can never be enough emoji in the world. On opening the app, you can tap Random to see what it comes up with, or begin with a clean slate. Loads of shapes are available, to which you add facial features, hats, and hands – everything from bushy beards to bizarre sci-fi shades.
As each element is added, you can pinch and drag to adjust its size and orientation. There's also a deeper – if slightly fiddly – Adjust screen for flipping elements and changing their position in the stack.
When you're done, you can save your creation for later use, either through Moji Maker's Messages app or keyboard extension, or by sharing oversized portraits that should certainly get a friend's attention. Or make them think giant emoji have invaded and finally taken over.
MaxCurve is a photo editor aimed at people who want more control over adjustments. The app includes the basics – cropping; vignettes; sharpness; grain – but its real power is in the curve tools that afford a huge amount of control over color, lightness, saturation, and other aspects of your photo.
The approach is very different from most of MaxCurve's contemporaries, and, notably, the curves take up a lot of room, sitting in front of the image you're editing. But they do provide a very tactile means of making everything from subtle tweaks to dramatic changes.
These effects are all non-destructive, too, applied as layers, to which you can also add colors (with blend modes) and textures. Bar its slightly cluttered interface, the only real problem with MaxCurve is it can be a bit too clever – there are no quick-fix buttons for things like exposure. But perhaps that's the point.
rethinks weather apps, mostly in being helmed by an angry AI that seemingly won the 'most likely to kill people in their sleep' award over HAL. Sure, you get the usual rainfall warnings, hourly forecasts, and weekly outlooks, but they're all delivered with a layer of snark.
Venture into the excellent Today view widget and CARROT will 'LOL' if it's going to rain. If it's sunny, she'll hope you get tan lines, call you a meatbag, and suggest you make the most of the nice weather – "or else".
It's uniquely entertaining in its App Store category, but also usable, colorful, and configurable. The maps are poor (although they do house a secret locations game), and some useful settings lurk behind IAP, but otherwise this is one of the best – and certainly the most fun – weather apps for iPhone.
free + $4.99/£4.99/AU$7.99 IAP
is a 'smart notepad' for people interested in songwriting on the go. And we mean that in the traditional sense: writing lyrics and chords, rather than prodding virtual synths.
Songs are written in basic markup. Each has an artist and title (after which you add colons), lyrics, and chords (added inside square brackets). Fancy melodies can be added by writing tab using dashes and numbers. The preview then makes everything readable – and playable. Well, sort of, as you can tap to play chords, and play tab in a slow-motion kind of way.
If that all sounds like hard work, you can grab tabs from countless websites, too, through a Safari extension; and everything can be exported to PDF, if you buy the one-off IAP. We'd like to see auto-play, rather than you having to tap individual chords, but otherwise this one's a boon for budding songwriters.
is an app for customizing your iPhone. At its most basic, this means wallpaper. You select a category, swipe until you find something you like, tap to bring up a Home screen mock-up, and save the image to Photos when you're done.
However, Pimp Your Screen goes further than its contemporaries in key ways. There's a Themes section, which pairs matching lock and Home screen wallpapers. There are also 'makers' for both screen types, which enable you to combine components in a creative manner.
In the Lock Screen Maker, you can define a background, and add text. Swiping the status bar or clock adds a background for that area alone; swipe below the clock and a (static) calendar appears.
The Home Screen Maker adds a slew of virtual shelves and icon 'skins' to the status bar and page backgrounds. The results can vary from beautiful to eye-punchingly taste-free. Probably best if you try to veer toward the former.
is an educational app for children that serves as an introduction to the basic science behind DNA. At least in theory. Really, most tiny people will be more excited about the prospect of fashioning all kinds of bizarre, colorful creatures by way of dragging and tapping.
The app begins with you completing simple 'gene' puzzles, which see you dramatically adjusting a monster's characteristics, and this can be done by simply hammering away at a body part to switch it for something new - ideal for less dextrous younglings. Each monster can then be saved and its photo shared.
Occasionally, objects show up, giving you the chance to propel your monster along on a skateboard, feed it a pile of fruit, or have it totally freak out when faced by a spider significantly less terrifying than the monster. But best of all, if you get caught playing with the app yourself, you can argue you're in the midst of an important scientific breakthrough. Probably.
is the best comic reader for iPhone. There, we've said it. You import comics from cloud libraries or by dragging and dropping them to a special address in your web browser (sadly, there's no local network drive access), whereupon they're displayed as a grid or list.
Through slightly fiddly but powerful organizational tools, your collection can be categorized and tagged, making individual issues easy to access later.
The reading experience is the best bit, though. Whether you load a PDF, CBR or CBZ, Comic Zeal quickly renders pages. Page turn animations can be disabled, and you can use 'assisted panning' to efficiently read through zoomed pages that would otherwise be unreadable on an iPhone. There's also a single tap button for switching between single pages and double-page spreads.
Ultimately, comics are still best read on a larger display, but Comic Zeal shows iPhones needn't be left out when you're on the move and want your next superhero or indie comic fix.
describes itself as a generational art app. What this means is you feed it an image from Photos, choose a style, and it gets to work, continually repainting your image, like someone's trapped a tiny van Gogh in your iPhone.
On an iPad's larger display, there's a kind of 'living art' feel to Oilist, and this surprisingly transfers to the iPhone broadly intact. The strokes are more delicate and intimate, but the effect's no less hypnotic as Oilist beavers away, painting skies, buildings and faces.
Although Oilist can be left alone in a dock (and you may want to do this if you have it active all day – it's quite the battery hog), you can also fiddle with the settings at any point, along with taking snapshots to print. Mostly, though, it's just wonderful to watch – kind of like a painterly lava lamp of sorts, only based on one of your own cherished photographs.
is all about managing your money. But whereas finance trackers have a tendency to be dry and complicated, Pennies goes for a much friendlier approach. Using the app's colorful, straightforward interface, you can quickly and easily define new budgets around any kind of topic, and add or remove money from them.
Much of the app's effectiveness lies in the way it encourages you to categorize your spending. Want to cut down on coffee? Create a 'coffee' category and get a monthly and daily budget, along with a visible reminder of when you can next spend.
Your entire history always remains available in an ongoing scrolling list, and because Pennies syncs across devices, your figures are readily available on iPad and Apple Watch too. In short, it's the budget tracker for the rest of us.
bucks the trend regarding modern iPhone camera apps by doubling down on focus. Its creator argues many rival apps have interfaces like airplane cockpits, and so Halide is deliberately stripped back. There are no modes, and editing is something you do elsewhere. Halide is all about careful photography.
The tools on offer are simply about helping you take better photographs. You can manually adjust focus and exposure. There's a 'focus peaking' overlay, which highlights in red those parts of your prospective snap that have the sharpest contrast. A grid overlay has a central rectangle that turns yellow when your iPhone's not being held at an angle.
For anyone who wants to slap stickers everywhere, or choose between dozens of photo modes and filters, Halide will feel restrictive. But if you want a simpler, premium-feeling camera app for more considered photography, Halide is money well spent.
rethinks screenwriting. Rather than you having to remember how to format your next Hollywood blockbuster, Untitled prioritizes you getting ideas down, through providing a helping hand regarding how your script should look.
This works by way of simple-to-remember shorthand, such as placing dialogue underneath a character's name, or '>' before a transition. The app's also intelligent enough to reformat scene headers (intro/location/time) from plain English into the correct style.
On iPad, Untitled is a friendly screenwriting tool, but its relaxed, note-taking approach really feels at home on iPhone. It's not a tool you'd likely use to fine-tune a fully polished screenplay, but it's excellent for starting one – wherever and whenever inspiration strikes.
began life as a photo filter app for people who considered choosing a filter too much effort. Instead, you dragged your finger across the screen, watching as the filter updated live. Simple. Fast. Random.
But this brutally stripped-back approach nudged Infltr towards gimmickry – something its current incarnation addresses by affording you a modicum of additional control. The original functionality still exists – the app nicely going full-screen when you activate it – but there are editing and filter management features too.
Along with adding a filter in the original way, you can select a pre-made option, make basic adjustments, and alter the photo's crop and skew. All edits are non-destructive, so you can revert or make further changes later, and your settings can be saved as a custom style. The net result is an app that's evolved from an interesting curio to a must-have iPhone app for photographers.
With its quippy slogan of 'get drawn in', attempts to transform everyday moments from your photos into hand-drawn art.
You get a range of styles, some of which are more effective than others. A few let a little too much of the original image through, resulting in a strange concoction that combines photorealism and sketching. Others, though, work wonderfully, such as the scratchy black and white linework of 'Salt'.
The app has its own camera, which can take stills or movies, the latter simply requiring you hold the shutter. It can also import directly from Camera Roll, whereupon you get an editor with sliders for brightness, contrast, shading, and detail.
Selecting a style in this mode is weirdly fiddly (you swipe between them, rather than getting the efficient thumbnails found in the camera mode), but otherwise Olli proves to be a usable, effective way of adding art and character to photographs.
The idea behind is to get you to leave your iPhone alone. It does this by having you plant a tiny sapling and set a timer. If you succeed in not using your iPhone until the timer's done, you get to plant what's now a little tree in a virtual forest. If you succumb to temptation, Forest mercilessly kills your tree, leaving a barren little twig.
Amusingly, if you try to trick the app by switching away, it'll immediately send a terse reminder to have you switch right back. But despite this somewhat gruff element, Forest ranks among the best gamified focus aids.
Over time, it's rewarding to see your forest grow, unlock new trees, and delve into detailed statistics. Also, using coins earned in-app, you can buy real trees for communities that need them. And all because you avoided Facebook for a few hours.
You know you're in for something special with when you tap the virtual tome on your screen and it flips open to reveal a tiny New York that builds itself before your very eyes. Turn more pages and you get to check out miniature takes on Paris, Barcelona, and more. (A map provides faster access to each location, should you desire that later.)
On selecting a location, you're treated to gorgeous panoramic photography you can swipe with a finger or explore by moving your iPhone around in front of your face.
We could do without the on-screen watermark, and the city 'travel guides' seem a bit tacked on and lightweight (although they do include smart tips, such as 'best views', 'lifehacks', and places the locals enjoy); but mostly this is a fantastic means of exploring and discovering amazing sights around the world in a new way.
In a sense, featuring in this round-up is a bit weird. Unlike other collaborations between musician Eno and software designer/musician Peter Chilvers, Reflection is broadly devoid of interaction. Instead, it effectively just plays Eno's ambient Reflection album, but with some clever twists.
Unlike the standard album, which is the same every time you listen, the audio here has phrases and patterns within that continually interact in different ways, and subtly change as the day progresses, creating an endlessly changing version of the music. Likewise, the painterly visual on the screen slowly morphs before your eyes.
It's pricey, but ultimately gives you endless Eno and is an intoxicating experience for anyone that likes their ambient fare. The man himself describes the app like sitting by a river: it's the same river, but always changing. By contrast, the standard Reflections album initially sounds similar, but it's a recording frozen in time, never changing.
There are plenty of apps that provide access to sunrise and sunset information, but none do so as stylishly as .
You can either have it figure out your current location, or tap in a specific city. On doing so, you'll see a large clock covering all 24 hours, and a clear visual indication of when dusks and dawns arrive (and there are three of each: astronomical, nautical, and civil).
In portrait or landscape, DayLight's great to look at. And although it might seem gimmicky, it has clear practical uses – if you're a photographer and want to capture a certain kind of light, the best times are clearly visible; and if you like cycling but want to return before it gets dark, DayLight makes it easy to figure out optimal times.
We've lost count of how many currency converters exist on the App Store, but it's vanishingly rare to see anyone try something properly different.
bucks the trend, with a unique interface and approach that might not appeal to traders, but feels very much like currency conversion for the rest of us.
On firing up the app, you select your two currencies and it offers a list of current rate conversions. For USD to EUR, for example, you get a list of the rates for one through ten dollars. Swiping from the right increases these values by ten. To access rates between two values, tap an entry.
Smartly, you can also input a fixed rate, for example to track your spending on a holiday when you've already got your cash. Most of the features are behind a paywall, but a 14-day trial lets you try them for free.
The iPhone is well-served when it comes to podcast apps, and has a decidedly premium and feature-rich feel.
Podcast discovery is straightforward, by way of search, charts, trends, networks, and categories. Organization is deftly dealt with, through customizable filters and the ability to download or stream.
Playback is also smart, including a speed boost function, silence-trimming for talky shows, and a volume boost for when listening in a noisy environment.
Naturally, there will be comparisons with , which is an excellent free app, with a similar feature set. For our money, Pocket Casts nudges ahead in terms of interface and usability, making it worth the outlay.
Pocket Casts also has the advantage of being available on a range of platforms – ideal if you also use Android and want to sync podcast subscriptions and listening progress between all your devices.
This ambitious app by (ex-King Crimson) musician Adrian Belew is his take on cutting-edge modern music. He reasons that to hold someone's attention today, music must be quick, surprising and random, making a statement and rapidly moving on.
very much does that, by way of blasting out sonic snippets and semi-randomized imagery the second you hit play.
The conceit is that you rarely get the same thing twice. Songs appear in different forms, with alternate mixes, lyrics and instrumentation.
Amusingly, one 'song' is merely a countdown, introducing whatever comes next. It's certainly a long way from a traditional album – and all the better for it, showcasing how apps have the potential to revolutionize music.
You might shudder at the idea of writing on an iPhone, but wants to change your mind. This is a smart, svelte writing tool that gets out of your way, but that's packed full of the features you need for writing on the go.
When tapping away at the keyboard, you get a toolbar with cursor arrows and Markdown formatting buttons (if you want to get more complex your text or use it for HTML).
At the top of the screen sits a word count and reading time prediction. Collapse the keyboard and swipe from the right for a Markdown preview and export options. Swipe the other way to access the iCloud documents list that syncs with iA Writer on other platforms.
There's a night mode and focus-oriented view options, too, and all of this combines to make for a writing experience perhaps unmatched on iPhone. You still won't use the app to write a novel, but a few hundred words on an iPhone seems less painful with iA Writer installed.
There are quite a few apps that attempt to automatically get rid of backgrounds from an image, or have you paint them out with a finger. , though – as its name might suggest – is all about precision.
Using the pen tool, you tap out a string of blue points on the screen, which map out the outline to mask. Any point's position can be adjusted by selecting it and then dragging anywhere on the screen. Exacto places black points between the blue points, and these when selected bend the line, so you can create a curve with two blue points rather than dozens.
There's unlimited undo, project auto-save, and a layers system for multiple selection. And although you might balk at the price for what's effectively a single-feature app, Exacto is unparalleled at what it does on iPhone, and opens up scope for creative superimpositions and collages when using other creative software.
Focus and burnout are two commonplace issues for people in work. Too often, you can become distracted from tasks; but also there's the risk of working long hours without a break, leading to fatigue. aims to deal with both.
The timer is loosely based around the Pomodoro Technique (a time management method), and recommends splitting your time between 25-minute work sprints and five-minute breaks. After four sessions, you take a longer break of about half an hour.
The app is clutter-free, and easy to use. The timer combines a minimal iOS-like design aesthetic with hints of a real-world timer's dial. You can delve into statistics, adjust work/break lengths, and choose alternate alarm and 'ticking' noises. Most importantly, however  much this is all about psychology, it does work. Need convincing? Try the first.
What kind of art do you think you can make from the humble rhombus? That's the challenge you face when working with , which is – as its name suggests – designed for creating isometric artwork.
The app is very simple to use – you tap a rhombus to add it to the canvas, and can tap existing ones to rotate them. Shapes can be dragged together to make larger groups, and elements on the canvas can be colored and styled.
Isometric is especially well suited to abstract geometric art, and proves relaxing to use when stressed about the world and its problems.
But with a little planning, you can coax it towards more realistic, ambitious fare. Either way, the canvas can expand to a whopping 2048 x 2048, and you can export your angular masterpieces to Photos – or to vector formats with an additional IAP.
Modern iPhones have some seriously impressive camera hardware, and are capable of taking clean, vibrant shots. So it's perhaps no surprise that iPhone users are often hell-bent on slathering said images in filters and messing them up.
is a decidedly extreme example, providing a theoretically unlimited number of layers to play with, each of which can have some kind of effect applied. These include grit, grain, light leaks, gradients, and more.
Because each layer can be fine-tuned in terms of opacity and blend mode, you can get anything from subtle film textures to seriously eye-popping grunge effects.
Hit upon something particularly amazing and you can share your 'formulas' with other people. Or if you're in need of a quick fix, you can grab something that's already online to overhaul your snaps.
On the iPad, resembles a touchscreen take on desktop vector powerhouse Adobe Illustrator. You might think you'd need to be mad to try and squeeze that into an iPhone, but Indeeo has succeeded in fine style.
The app, equally happy in portrait and landscape, is initially set up for vector-based sketching, with you scribbling freehand lines that can subsequently be tweaked and edited. Smartly, the app always lets you know what's going on under your finger, because Graphic shows that area elsewhere on the screen while you draw.
Delve deeper and you'll find a shape library, Bézier curves, a layers system and everything else you need to craft illustrations and logos on your iPhone. It can be a touch fiddly at times, but the powerful zoom and general friendliness, of what's a hugely powerful mobile app, help immeasurably.
The idea behind is that you don't need to rely on iTunes to load video onto your iPhone. Instead, you can stream favorite movies and TV from a local network drive or cloud account.
Furthermore, Infuse will, when necessary, live-convert the footage to make it compatible with iOS. Got a load of MKVs from your ripped home DVDs knocking around? Infuse will make short work of them.
This app also excels regarding its interface. If your files are appropriately named, it will fetch cover art and subtitles. And if you use the app across multiple devices (including Apple TV), progress will sync.
The only snag for some might be the price, but even there, you're covered to some extent, with a , which has fewer features and IAP to unlock the rest. At the very least, it's a great way to try before you buy.
There are plenty of apps that transform photos into personalized takes on works of art. does something similar, but with vintage printed art. This means you can with a few taps turn a photo of a loved one into something resembling artwork that might once have graced a 1950s postcard or ancient theater poster.
You get a decent selection of filters, along with smartly considered additional tools for adjusting dot pitch, brightness, colors, and borders. These things add a personal touch sometimes missing from this kind of app.
The interface sometimes trips up – edits are weirdly done in a thumbnail overlapping your current image, which makes it hard to see what's going on until the edit is expanded. But Printed is nonetheless a great buy, especially if the novelty's gone in turning your photos into pseudo-Munchs and Picassos.
You might first look at and wonder if the developer's gone a bit mad. You get virtual decks, sliders, and a bunch of buttons – but on an iPhone it looks a little like a DJ set-up for toddlers.
The truth is, you're probably not going to be banging out your latest set using the app alone – although you can connect it up to a range of hardware and use it as the brains behind a controller.
However, whether you're a wannabe or pro DJ, djay Pro for iPhone warrants investigation for allowing you to experiment on the go. The app's hugely powerful and feature-rich (waveforms; four decks; sampler; amusing sound effects; properly clever beat-matching), making it far more than a curiosity or novelty.
There are two sides to . In its 'native' form, the app apes old-school point-and-click cameras. You get a tiny viewport inside a virtual plastic camera body, and can swap out lenses, film, and flashes, along with messing about with multiple exposures and manual shutters. It's pleasingly tactile and twangs your nostalgia gland, but feels a bit cramped.
If you'd rather use your entire iPhone display to show what you're snapping, you can switch to a 'pro' camera mode. That's closer in nature to Apple's own Camera, but with Hipstamatic's huge range of rather lovely filters bolted on – a great mash-up of old and new.
And if you're wedded to Apple's camera, Hipstamatic's still worth a download, given that you can load a photo, slather it in filters, add loads of effects and bask in your creative genius. 
This one's all about 'points of interest', hence the name – ('POIs on maps'). Essentially, it's a wealth of information from OpenStreetMap shoved into an app and twinned with an interface that makes it a cinch to drill down into categories.
So, mooching about London and fancy a bite to eat? Tap on the food and drink icon. Something quick? Tap Fast Food. Pizza? Sounds good.
Each tap filters the POIs and navigation buttons displayed, and arrows point at nearby locations when you're zoomed in. Everything's extremely responsive, and the maps and icons are clear and easy to read. Other nice bits include a full-screen mode, a search function, and public transport overlays.
The only snag is Poison Maps is a gargantuan 1.2GB install; if that's a bit rich, smaller regional alternatives by the same developer exist, each being a free download with a small IAP to unlock all categories.
The eighth release in the popular educational Explorer app library, is all about exploring the cosmos, fiddling about with the major components of the solar system.
On creating a profile, you launch a little spaceship, choose a planet, and start messing around, with an emphasis on play rather than dry facts and figures. To compare the mass of planets, you pop them on a weighing scale. Size comparisons are done by dropping planets into adjacent circles, whereupon they resize accordingly.
Elsewhere, you can peek inside celestial bodies, but the app would sooner have you hurl a piano into Jupiter's Great Red Spot storm, just to see what will happen.
So this isn't the place to learn that Saturn takes over 29 years to journey around the Sun; but Space is the kind of app that might whet appetites to the point those using it want to find out more.
If you've got yourself a resident tiny human, your house probably has a few of those wooden puzzles where letter shapes are shoved into their respective slots. isn't quite, well, endless, but contains dozens of such puzzles, which work brilliantly on the touchscreen.
On your child selecting a word, monsters sprint along the bottom of the screen, scattering its letters. They then need to be dragged back into place, coming to life as they're moved. When a word's complete, monsters act out what it means in a charming animated cut scene.
There are some minor grumbles here and there – the app's resolutely US-English in nature, and the sounds letters make when dragged might confuse, since they're not full letters nor the phonics often used in education. Otherwise, this is a first-rate, charming, enjoyable educational app for youngsters getting to grips with words.
The idea of tapping out your next novel on an iPhone might seem mad, but if you're armed with an iPhone Plus and a small portable keyboard, why not add to your potential bestseller when you've the odd spare moment?
is designed to transform your iPhone into a powerful writing environment. Efficiency is the app's watchword from the off, with excellent templates that provide a document structure ready for input, including example pages so you can see how things work.
When typing away, you'll appreciate the custom keyboard bar that makes it a cinch to navigate on-screen and adjust text styles. Impressively, the app also integrates the kind of index cards seen in Scrivener (but absent from its iPhone version), so you can get a high-level view of your work, and quickly rearrange your story whenever needed.
 
You need an awful lot of patience to produce a stop-motion masterpiece, but it helps if you're armed with an app like .
The main plus with the app is its flexibility: you can use its own camera to add new frames, bring in pre-shot images from Camera Roll, or even import video footage that is then automatically chopped up into a bunch of stills.
During editing, you also get plenty of options. Frames can be copied and pasted, and audio added – which intelligently plays until completion (rather than cutting off once a new frame is played), so multiple effects can be overlaid.
The app perhaps stretches a little too far in claiming to offer 'rotoscoping' – that is, drawing over frames for a result akin to A Scanner Darkly – due to the related tools being too basic and fiddly.
But for taking your first steps towards becoming the next Aardman, Stop Motion Studio Pro fits the bill.
Head back to the 1980s and pixel art was just, well, art. Computer graphics were chunky due to technological limitations, not because of the aesthetic desires of creatives. Nonetheless, for a mix of reasons – nostalgia, primarily – pixel art remains popular in illustration and videogames.
On iPhone, is a great app for dabbling with pixel art. Along with prodding individual pixels using a pencil tool, there's a neat flood fill option and shape tools too. Layers provide scope for more complex art, as does the option to import an image from elsewhere as a starting point.
There's no lock-in either: you can export to a range of formats to share your miniature masterpiece, or work on it further elsewhere.
There's no denying the quality of the filters in the free Prism app, which quickly transforms photos into painterly artwork. However, the app can be slow to render (especially with video), and only makes the full selection of its filters available when you're online. is a more premium take on the concept and, importantly, its filters all work wherever you are.
This means that whether you fire up Visionn's built-in camera or work with existing photos and videos, you can swipe between filters and instantly see their effect.
The actual filters are or varying quality and not quite up to Prism's in terms of aping real-world styles. But 'animated sketch' Hawthorne is superb, and we also loved using Belmont, which makes snaps akin to canvases with oil paint thickly applied.
For many people, is king of the podcast apps, but has a key feature that could find it ousting the aforementioned favorite from many home screens: episode triage.
In use, the system works a lot like email: new podcasts show up in your inbox, you fling those you're interested in to the top or bottom of a queue, and dump the rest in a searchable archive. For those podcasts where you must listen to every episode, they can be queued by default.
This is smart, saving you time and effort, and the archive works brilliantly, too, providing speedy access to older episodes.
Elsewhere, Castro is perhaps more ordinary, with functional podcast discovery, a dull playback interface, and basic effects that don't match Overcast's voice boost and smart speed. But for managing and prioritizing what you listen to, Castro can't be beaten. 
Free + $1.99/£1.99/AU$2.99 IAP
A playground for GIFs, aims to bring life to whatever you capture with your iPhone – or to fine-tune the motion within those things that already move.
You start off by loading pretty much anything from your Camera Roll: photos, videos, Burst mode images, Live Photos, or GIFs. With stills, you can select a number of them to stitch together, essentially making ImgPlay a kind of low-end stop-motion tool.
But it's with Live Photos and Burst shots that ImgPlay really becomes interesting. You can take the video or sequence of images your iPhone shoots, trim the result (including removing individual frames), add a filter and text, and then export the lot as a GIF or video.
For free, the app's full-featured, but buy the small IAP and you get more filters, no ads, and no watermark on export.
One of the things the iPad's been really great at – with the right app installed – is making science approachable. But is, in many ways, more ambitious than iPad tomes.
That's because it attempts to bring accessibility to Stephen Hawking's phenomenal work on mind-bending topics such as space-time and the expanding universe - and squeeze everything into the much smaller screen of an iPhone.
Given such weighty subject matter, this is a surprisingly friendly digital book, broken down into easily digestible, bite-sized sections. Throughout, the app playfully animates, filling your screen with color and using illustration to aid understanding of the text.
Naturally, there's still the possibility of bafflement, but the app helpfully tracks what you've read, and is perfect brain food for filling journeys on the bus in a manner mindlessly scrolling through social feeds can never hope to compete with.
The burst mode in Apple's camera app is designed to get you the perfect photo in tricky situations. If you've a fast-moving subject – or are snapping someone who blinks a lot – you hold the shutter, very rapidly take loads of photos, and later select the best.
But in capturing anything up to dozens of photos, there's potential to do something with those you'd usually discard. Burstio is all about turning such images into animations.
Launch the app and you see your burst photos as little film strips, each detailing the number of images within. Select a burst and you can trim the series, adjust playback speed, and alter playback direction.
Your edit can then be exported to video or GIF. The process is elegant and simple, and brings new life to images you'd otherwise never use.
You can of course use a wide range of apps for storing real-world scribbles – photograph a journal page and you can fling it at the likes of Evernote, say. But Carbo tries something more ambitious. Your sketches and notes are cleaned up, and converted to vectors, while preserving your original stroke.
What this means is that images within Carbo retain the character of your penmanship, but are also editable in a manner standard photographs are not – you can select and move specific elements that Carbo intelligently groups, adjust line thicknesses throughout the entire image, add annotations and tags, and export the result to various formats.
It's a friendly, intuitive app to work with, and efficient, too – a typical Carbo note requires only a tenth of the storage as the same image saved as a standard JPEG photo.
Free + from $9.99/£9.99/AU$14.99
As a free app, Ferrite Recording Studio is mightily impressive – a kind of beefed-up Voice Memos, which lets you bookmark bits of recordings to refer to later, and then edit and combine multiple recordings in a multi-track editor view.
But when you pay for Ferrite, it becomes a fully-fledged podcast creation studio on your iPhone.
First and foremost, in-app purchases remove track and project length limits. This affords much greater scope for complex projects, which can have loads of overlaying tracks and potentially be hours in length.
The paid release also adds a range of professional effects, which can help transform your project by making the audio cleaner and more engaging.
But whether you pay or not, Ferrite's usable, intuitive interface should make it a tempting go-to tool for amateur podcasters, even if they're also armed with a PC or Mac.
From a functionality standpoint, Living Earth is a combination clock/weather app. You define a bunch of cities to track, and switch between them to see current time, weather conditions, and when the sun's going to make an appearance and vanish for the day.
Tapping the forecast quickly loads an outlook for the entire week; prod the clock and you'll get the weather and time in each of your defined locations.
What sets Living Earth apart, though, is the globe at the screen's centre. This provides a live view of the planet's weather - clouds, by default, which can be swapped for temperature, wind and humidity.
We like the clouds most, along with the way the virtual planet can be slowly spun with the slightest swipe. It'll then lazily rotate between zones in daylight and those lit up after night has fallen.
Apple offers a burst mode when you hold down the shutter in its camera app, but this is for very rapidly taking many shots in quick succession, in order to select the best one.
By contrast, SoSoCamera is about documenting a lengthier slice of time, taking a series of photos over several seconds and then stitching them together in a grid.
The grid's size maxes out at 48 items and can be fashioned however you like. It's then just a question of selecting a filter, prodding the camera button, and letting SoSoCamera perform its magic.
The resulting images, while low-res in nature, nicely capture the feel of time passing, in many cases better than video; although do experiment first with the filters, because some are a bit too eye-searing.
With virtual assistants like Siri, technology companies are betting hard on a hands-free, voice-controlled future for software. But eyes-free is also an interesting area of exploration. LeechTunes is designed for controlling music playback without you looking at your iPhone, largely by utilising the entire display for gestural input.
This kind of interaction can be handy when driving - skip a track by quickly swiping the screen of a docked iPhone; it's also useful when exercising (or anywhere noisy), since you can switch playlists without talking to or looking at your iPhone.
The app provides 15 configurable options in all, and there's also a handy sleep timer buried away in the settings. One niggle is you'll need to fire up tunes in Music if you don't have files stored on your iPhone, but LeechTunes can subsequently ably take over.
Free + $1.99/£1.99/AU$2.99 unlock
We often write about apps that are ambitious and push the iPhone to its limits, but there's also a lot to be said for focus. And if there's one thing that can be said about Tally 2, it's that it's focused. The app is a counting aid. Create a new tally, tap the screen and the number increments.
If that was all you got, you'd feel a bit ripped off. Fortunately, Tally 2 provides the means to have multiple tallies on the go (two in the free version; an unlimited number once you buy the one-off IAP), and these can be displayed and interacted with simultaneously, either within the app itself or inside Notification Center.
Smartly, each can also be customized, with a unique name, an initial value, a step value, a direction (as in, counting up or down), and whether it should be displayed in Tally 2's widget.
On the desktop, Scrivener is popular with writers crafting long-form text. On iPad, the app is - amazingly - barely altered from the PC and Mac release; but Scrivener on iPhone is a slightly different prospect.
That's not to say this isn't a feature-rich and highly capable product. You still get a solid rich-text editing environment and a 'binder' to house and arrange documents and research, before compiling a manuscript for export.
What you lose on the smaller screen is those features that require more space: a two-up research/writing view; the corkboard for virtual index cards.
But Scrivener is still worth buying - although you're unlikely to write an entire screenplay or novel on an iPhone, you can use the app to take notes, make edits, and peruse your existing work, wherever you happen to be.
There's something of a Harry Potter vibe about Live Photos on iOS, and it's fun to see a still image spring to life when you hold it, offering extra context and a snatch of audio. Ultimately, though, they are a gimmick, and one it's easy to tire of; which is where Motion Stills comes in.
Google's app reframes Live Photos in a number of useful ways. You can browse your entire feed, and isolate individual shots to fiddle with settings that showcase how much difference the stabilization makes. (A lot, as it turns out.)
Even better, there are tools for edit and export, so you can transform a Live Photo into a looping back-and-forth GIF to post online, or combine several into a short movie. Really, this is an app Apple should have produced; it's ironic – but also terrific – that Google's the one to bring extra life to Live Photos.
If you like the idea of editing home movies but find the thought daunting or lack time, try Quik. The app essentially automates the entire process, enabling you to create beautiful videos with a few taps.
All you need do is select some videos and photos, and choose a style. Quik then edits them into a great-looking video you can share with friends and family. But if your inner Spielberg hankers for a little more control, you can adjust the style, music, format and pace, along with trimming clips, reordering items, and adding titles.
Cementing its friendly nature, Quik offers a little pairs minigame for you to mess about with while the app renders your masterpiece. And there's even a weekly 'For You' video Quik compiles without you lifting a finger.
We've seen quite a few apps that try to turn your photos into art, but none hit the spot quite like Prisma. The app is almost disarmingly simple to use: shoot or select a photo, crop your image, and choose an art style (options range from classic paintings through to comic book doodling).
The app within a few seconds then transforms your photo into a miniature Picasso or Munch.
On trying Prisma with a range of imagery, we found it almost never comes up with a duff result. But if you find the effects a bit jarring, a slide of your finger can soften your chosen filter prior to sharing your masterpiece online.
Our only criticism is the app's low-res output, making Prisma pics only suitable for screen use.
On iOS, astronomy apps tend to be about gazing from Earth to the heavens, but Cosmic-Watch instead has you peering at the Earth and explore its relationship with time and the cosmos.
The default view is a clock that surrounds the planet like Saturn's rings. You can pinch and drag to zoom and spin the planet, and the app enables you to save multiple locations to snap to via a tap. Elsewhere, you can overlay constellations and astral charts, and experiment with a digital model of the solar system.
A neat additional feature is time travel. Tap the clock icon and you can fast-forward your view. This is particularly lovely in the model, which when running sufficiently quickly (say, a month per second) leaves wiggly trailing paths from planets as they make their way around the sun.
Coming across like a simplified social take on Lego, Tayasui Blocks is all about building objects and sharing them online. The toolset is simple but versatile, making it a cinch to stack and color blocks, along with viewing your creation from any angle.
And if you get bored, you can smother your object in stickers or attack it with a wide range of weapons.
The online bit works especially well, providing speedy access to a huge range of existing constructions that you can download and experiment with. (Smartly, you can't reupload these unless the app deems you've made sufficient changes.)
On smaller iOS devices, the app is perhaps a touch fiddly at times, but you don't need the acres of an iPad to thoroughly enjoy digital building blocks.
Apps are transforming the way many people learn to play instruments. Capo touch is a case in point, attempting to simplify the process of figuring out songs loaded on to your iPhone.
At its most basic, Capo will slow down a song without changing its pitch, along with looping user-defined sections, thereby helping you figure out riffs and chord progressions. You can also tweak the settings to try and isolate important instruments.
The magical bit, though, is chord detection, which tries to supply chords for any song you load. Capo doesn't always succeed, but during testing we found its hit rate was fairly high, and whenever it errs, you can always replace Capo's choice with an alternative.
There are loads of camera apps for iPhone, broadly offering the same kind of pro-level controls: manual focus and ISO; white balance; zoom; levels; filters; grids. Obscura Camera is in this respect more of the same, but what makes it worthy of consideration is its really smart interface.
Next to the shutter are big 'expose' and 'focus' buttons, for locking each feature. Above, chunky ISO and shutter buttons beg to be tapped, and can be quickly swapped out for a raft of other controls. Want a different filter? Just swipe across the main viewfinder area.
The result is an iPhone camera that boasts the kinds of features its rivals have, but that obliterates them in terms of usability. It's a properly one-thumb-controllable app, focussed on quick access to features, dispensing with the needlessly fiddly controls found in many of its contemporaries.
Using a phone while driving is not a smart thing to do. Even when your iPhone's parked in a dock, app interfaces are typically too fiddly to use without your eye straying from the road for far too long. This is where Open Road comes in.
The app enables you to create a custom screen of big tappable buttons that trigger important actions, such as firing up a favourite playlist or calling a specific contact.
It also boasts a number of eyes-free gestural commands, voice control (occasionally flaky, but useful when it works), a car finder (so you don't lose your car when parking somewhere new), and a drive recorder, in case you're involved in an accident.
In a sense, Open Road is a veritable grab-bag of car-oriented goodies, all wrapped up in a clean, efficient interface that ensures the app is best-in-class.
Apple's built-in Music app has increasingly sidelined personal collections, instead heavily focussing on the Apple Music streaming service. Cesium is a player designed to help you enjoy your existing music library once again.
The interface marries old-school functionality with modern iOS design, offering tabs to quickly access artists, albums, songs and playlists.
Mostly, though, Cesium is great at providing the features music fans want: you can quickly edit and add to an upcoming queue; library sort options enable you to switch between alphabetical and chronological lists; and the landscape mode is just like the portrait mode but in widescreen, rather than trying (and failing) to do something 'clever'.
So if you're after a music player for iPhone that's tasteful, smart, full-featured and free of gimmicks, buy Cesium.
There are quite a few apps that let you add text to images, but whenever we stray, Over always manages to drag us back. The app's playful interface is fun to work with, but also it's quite powerful. Import a photo and you can overlay multiple layers of text, artwork and further images, all of which can be edited and rearranged at any point.
This isn't an app for super-crazy adjustments, though. Instead, it's focussed and classy — perfect for adding some beautiful typography with a subtle drop shadow, thereby creating a birthday card, watermarking a favourite photo, or fashioning wallpapers with text for a loved one.
In these days of flashy news apps like Flipboard, old-school RSS readers get something of a bad reputation. But there's something really handy about subscribing to your favourite sites, and knowing you'll get every article delivered in chronological order, for you to pick through at leisure.
On the iPhone, Reeder 3 remains an excellent app for browsing and reading feeds. The interface is straightforward, and a built-in Readability view enables you to quickly load the text and images from feeds that only otherwise supply you with brief synopses.
If you've got an iPhone that supports 3D Touch, you can use that for article previews in the articles list.
We know: you'd love to workout more often, but you lack the time and equipment. Streaks Workout scowls in your general direction and points out you just need it and an iPhone to become the brilliant version of you that you've always dreamed of.
The idea isn't to have you become some kind of CrossFit superstar, merely to do a workout per day, even if it's quick.
You select exercises from a list, avoiding those you don't like, and sessions randomly use up to six of them. Said sessions last from six to thirty minutes. We thought the last of those being titled 'pain' was amusing until we tried it and discovered that moniker is quite accurate.
But whether you're going for a short burst or long haul, Streaks Workout does the business. Icons are bold, and it's easy to track what you've done at any given time. The need to have the screen visible and tap it after each exercise irks a bit - there's no voice control - but you can at least catch your breath while prodding the display to cue up your next slice of hell.
And while this app's randomness won't suit those who demand very structured exercise routines, it's great if you want something fresh each day to get you into the habit of regular exercise - which is kind of the point.
Something that's starting to grate about camera apps is they want to be everything. They bombard you with features and filters to the point they're all looking very samey. SKRWT bucks the trend with an almost razor-sharp focus - it exists to fix problems in iPhone photography caused by the wide-angle lens sitting inside your device.
For the most part, then, SKRWT is all about dealing with lens distortion. With a single swipe, you can correct horizontal and vertical perspective distortion, or eradicate extreme effects from images taken using a fisheye lens or GoPro.
Elsewhere, vignettes can be added or removed, and auto-cropping attempts (mostly successfully) to give you a nicely finished photo that takes into account your various edits.
This isn't the most immediate of apps, but learn how to use SKRWT's tools and you'll discover it's hugely effective at making seemingly subtle changes to digital snaps that make a world of difference, especially with cityscapes.
On using Deliveries for any length of time, you get the sense it's overkill, but it's a glorious kind of overkill. Essentially, it's a package tracker that supports a wide range of services. Give it details and it'll keep an eye on where your packages are and when delivery will be.
But Deliveries goes far beyond the basics. There are maps that show your item's path to your door (a special kind of geeky fun with kit that ships from halfway around the globe), Notification Center support, the means to share to deliveries from emails in Mail, and even Peek and Pop on newer iPhones, for peeking at delivery details without fully opening items in the main list.
If you only order something once in a blue moon, you perhaps won't get much value from this app. But if you're often having cardboard boxes of joy show up at your doorstep, Deliveries is well worth the investment.
Photoshop is so ingrained in people's minds when it comes to image editing that it's become a verb. Oddly, though, Adobe's largely abandoned high-end mobile apps, choosing instead to create simpler 'accessories' for the iPhone and iPad, augmenting rather than aping its desktop products. Valiantly filling the void is Pixelmator, a feature-rich and truly astonishing mobile Photoshop.
It's packed full of tools and adjustment options, and works well whether you're into digital painting or creating multi-layered photographic masterpieces. On iPhone, Pixelmator's naturally a bit cramped compared to using the app on iPad, but at the price it remains an insanely great bargain.
Snapseed is Google's own photo editor that's been designed from the ground up to make tweaking your snaps as easy and fun as possible on a touchscreen device.
Although the interface is simple enough to use with just your fingers, there's also a lot of depth to this app as well. You use tools to tweak and enhance your photographs to make them look the best they ever have, as well as playing around with fun filters that can transform the photos you've taken on your smartphone or tablet.
It's no secret just how badly Apple's own mapping app performs, although it has got better post-iOS 6.
Fortunately, Google Maps is a free download, and a far better solution than the old Google Maps app as well, thanks to the inclusion of turn-by-turn navigation and - in some cities - public transport directions. It's an easy way to supercharge your iPhone's mapping capabilities and one of the first apps you should grab for the iPhone 7.
The vast majority of iPhones in Apple's line-up don't have a massive amount of storage, and that becomes a problem when you want to keep videos on your device.
Air Video HD gets around the problem by streaming video files from any Mac or PC running the free server software. All content is live-encoded as necessary, ensuring it will play on your iPhone, and there's full support for offline viewing, soft subtitles, and AirPlay to an Apple TV.
Perhaps the best bit about the software is how usable it is. The app's simple to set up and has a streamlined, modern interface - for example, a single tap downloads a file for local storage. You don't even need to be on the same network as your server either - Air Video HD lets you access your content over the web. Just watch your data downloads if you're on a limited cellular plan!
On the iPad, one of the best things about Procreate is its smart, efficient interface that gets out of your way as you're working on your next digital masterpiece. If anything, this design ethos is even more successful in Procreate Pocket on the iPhone.
Across the top of the screen is the toolbar, providing fast access to brushes, smudging, an eraser, layers, and adjustment tools. At the screen edges are two handles for quickly changing the size and opacity of your brush.
Although the kind of app actual artists are likely to get the most out of, Procreate's friendliness is such that it's a great place to start dabbling in digital painting. You can even record the creation of your masterpiece and share it as a 1080p video.
If you've seen tiny humans around iOS devices, you'll have noticed that even those that can't speak beyond bababababa and dadadadada nonetheless merrily swipe and poke at the screens Metamorphabet capitalises on this ingrained infatuation with shiny touchscreens, and cunningly attempts to teach the alphabet via the medium of surreal interactive animations.
It starts off with A, which when poked grows antlers, transforms into an arch and goes for an amble. Although a few words are a stretch too far (wafting clouds representing a daydream, for example), this is a charming, imaginative and beautifully designed app.
Pre-conceived ideas about what an app should be can stifle innovation, and so it's interesting to see Proud cheerily elude the drudge-like appointment-making evident in most list-based organisers.
Instead, you figure out what you want to do (adding sub-tasks as appropriate), assign vague deadlines ('tomorrow', 'next week') for your more pressing tasks, and gleefully mark things as done when they're completed.
Fittingly, the app splits its workflow into three distinct tabs: Lists, Reminders and History. Pleasingly, each has a hidden 'superpower' mini-app to further improve your life.
Lists offers a breathing exercise for reducing stress; Reminders has a Pomodoro timer and utterly brilliant 'give me more time' button that shunts every task with a due date on a few hours, a day, or a week; and History delves into your completed tasks, so you can see what you achieved weeks or months ago.
If you live and die on traditional calendars, where every hour must be accounted for, Proud isn't for you. But if your life is a touch more vague or relaxed regarding scheduling, Proud will take advantage to the point you'll consider it as revolutionary as when you first experienced a digital calendar.
Elsewhere in this list we mention apps that can be used to add text to a photo. However, this process is a bit fiddly on even the biggest iPhones, and many people just want to somehow instantly make something that looks fantastic. If that's you, Retype is a must-download.
You open a photo (only from your local images as, for reasons beyond us, iCloud shared albums are not supported), type some text, and tap a style. Immediately, you get something resembling a finely-crafted poster. If you're not keen on the layout, keep tapping the style button until you get something you like.
Although Retype is more about automation than customisation, that doesn't mean it's bereft of further options.
You can change the text's colour and opacity, adjust the photo's filter, fade and blur, and also have your image appear inside the text, rather than the text being an overlay.
It's a pity there are no cropping tools — although countless other apps exist for performing such edits, being able to quickly change an image's aspect ratio within Retype would be useful. That niggle aside, this is a fast, effective and entertaining app that's perfectly suited to iPhone.
If you've been around young children for any length of time, there's no escaping The Very Hungry Caterpillar.
That greedy larva seems to hypnotise tiny people, gluing them to whatever format it appears in, be it book or TV animation. There have been apps, too, but those we've seen before have disappointed. My Very Hungry Caterpillar, though, is a new take on the character, turning it into a kind of virtual pet.
Children familiar with the source material will watch happily as fruit they pluck from trees is quickly munched by the wriggly protagonist, but this app has far more to offer.
Gradually, it opens up all kinds of activities, such as growing a garden, playing with a ball, making art by getting messy with paints, and having fun on a pond. The app changes with the seasons, and so in winter the caterpillar gets to gleefully slide across frozen water, but in warmer months goes sailing.
It's all very charming and adorable, along with being entirely without risk — there's no way to off the little blighter. It's also finite: the little caterpillar grows fat and eventually becomes a butterfly, at which point a new egg appears to start the cycle again.
And if we're being honest, there's something quite cathartic in seeing the little chap through this journey, to the point we imagine quite a few adults will sneakily launch the app for a while when their child's asleep.
Let's immediately get one thing out of the way: Korg Gadget isn't cheap. It's not the sort of app you're going to download for some larks, use for a few minutes, and then casually toss aside. However, if you've any interest in making music — whether as a relative newcomer or jobbing musician — it is quite simply the best app available for iPhone.
Purely as a tool for live performance, Korg's app is first-rate. You get a bunch of miniature synths, referred to as 'gadgets'; they're geared towards electronic music, but still have plenty of range.
There are drum machines, a gorgeous bell synth, some ear-smashing bass instruments, and plenty of other options, whether you want to be the Human League for a bit or go all clubby.
Each synth comes with a slew of presets, but you can fiddle with dials and levers to make your own, which can be saved for later use.
When it comes to writing music, you can record live, tapping out notes on a tiny on-screen keyboard or by using a connected piece of hardware. Alternatively, there's a piano roll for tapping out notes on a grid as you do in GarageBand, creating loops to then combine into a song in the mixing-desk view.
Korg Gadget is one of the most flexible and intuitive music-making apps we've seen on any platform, and the deepest on iOS. It was superb on the iPad, but that it actually works — and is very usable — on iPhone is nothing short of astonishing.
For most kids, plastic keyboards and annoyingly loud toy drums are a typical starting point in music, but Loopimal ambitiously attempts to introduce children to the concept of computer sequencing. Fortunately, it does so by way of highly animated dancing cartoon animals, bright shapes, and plenty of flair.
Hit play and you're immediately shown an animal bobbing its head to a backing track. You then drag coloured pieces (from a selection of five) into eight empty slots. When the playhead moves over the shapes, the animal adds its own sounds and melodies, often while performing impressive gymnastic feats.
It's Loopimal's character that initially wins you over. Unless you're dead inside, you won't fail to crack a smile when an octopus starts playing funky basslines with its tentacles, or the percussive Yeti gets all stompy. Smartly, once the player clocks how Loopimal works, the screen can be split into two or four, to combine animals and their unique sounds.
The one big miss is the inability to save your compositions, but every Loopimal riff is in C-major; this means you can use just the white notes on nearby keyboards to play along with whatever madness is happening inside the app.
Traditional calculator apps are fine, but even if they come with digital tape, you don't get figures in context. By contrast, a spreadsheet is overkill for most adding-up tasks. Soulver is a neatly conceived half-way house — like scribbling sums on the back of an envelope, but a magic envelope that tots everything up.
You get two columns. On the left, you type everything out, integrating words as you see fit. On the right, totals are smartly extracted. So if you type 'Hotel: 3 nights at $125', Soulver will automatically display $375 in the totals column.
Line totals can be integrated into subsequent sums, ensuring your entire multi-line calculation remains dynamic — handy should you later need to make adjustments to any part.
Given the relative complexity of what Soulver's doing, it all feels surprisingly intuitive from the get-go. There are multiple keyboards (including advanced functions and currency conversion), you can save calculations and sync them via iCloud or Dropbox, and it's even possible to output HTML formatted emails of your work.
Although Apple introduced iCloud Keychain in iOS 7, designed to securely store passwords and payment information, 1Password is a more powerful system. Along with integrating with Safari, it can be used to hold identities, secure notes, network information and app licence details. It's also cross-platform, meaning it will work with Windows and Android.
And since 1Password is a standalone app, accessing and editing your information is fast and efficient. The core app is free – the company primarily makes its money on the desktop. However, you'll need a monthly subscription or to pay a one-off $9.99/£9.99/AU$14.99 IAP to access advanced features (multiple vaults, Apple Watch support, tagging, and custom fields).
Free + $7.99/£7.99/AU$12.99 IAP
There are two flavours of Scanbot, each of which is impressive in its own right. For free, you get a superb iPhone scanner with cloud storage integration, QR code support, and the means to detect edges for any paper document you want to digitise. Upgrade to Scanbot Pro and things get more interesting. You can add pages to existing scans, quickly name files using a clever smart-naming system, and search/extract text from previous scans.
There's also an automated actions feature, where the app finds the likes of phone numbers and email addresses within your scans, turning them into single-tap buttons within each item's actions menu. It's not quite accurate enough to be witchcraft, but we nonetheless happily leave important scans within Scanbot these days, rather than immediately deleting after export.
There may come a time in the distant future when Twitter's own app is our favourite (or Twitter bans third party clients entirely), but until then, there's Tweetbot. This latest version builds on its predecessor, with an elegant interface fit for iOS underpinned by plenty of power-user features.
There's a landscape mode and a second column for iPhone 6S/7 Plus users, granular mute settings, support for optional content blockers in the browser view, and new Activity and Statistics tabs. Twitter might greedily block access to a handful of its newest toys, but Tweetbot's efficiency and power means we won't defect just yet.
Free with new devices or $9.99/£9.99/AU$14.99
When Apple first brought its office apps to iPad, they were an impressive attempt to perform complex tasks on a glass screen. Squeezing them down to iPhone seemed nigh-on impossible, and yet Numbers in particular survives intact.
Naturally, there's quite a bit of zooming and swiping to do if your spreadsheet has plenty of rows and columns, but data entry can be relatively painless and surprisingly rapid by way of custom forms.
Unsurprisingly, Apple would very much like you to use Numbers everywhere and sync by way of iCloud, but you can also export to CSV, PDF or Microsoft Excel, along with flinging completed documents to cloud storage providers such as Dropbox.
Should you find yourself in one of the supported cities (including Paris, London, New York and Berlin), you'll be grateful to have Citymapper on your iPhone — assuming you don't want to get lost.
The app finds where you are and then gets you from A to B, whether you want to walk, grab a taxi, or use public transport (for which live times are provided).
There are plenty of solutions for transferring content between your computer and iPhone, including Apple's increasingly popular iCloud. Dropbox is still worth using, though. It has great cross-platform clients, integrates with iOS's Share sheets, and has direct support in many iOS apps.
Check out our essential tips for every Dropbox user.
There are quite a few apps for virtual stargazing, but Sky Guide is the best of them on iOS. Like its rivals, the app allows you to search the heavens in real-time, providing details of constellations and satellites in your field of view (or, if you fancy, on the other side of the world).
Indoors, it transforms into a kind of reference guide, offering further insight into distant heavenly bodies, and the means to view the sky at different points in history. What sets Sky Guide apart, though, is an effortless elegance. It's simply the nicest app of its kind to use, with a polish and refinement that cements its essential nature.
Fantastical 2 betters iOS's iffy Calendar app by way of a superior interface, a non-hateful method of dealing with reminders, and truly exceptional event input. The app has a powerful parser, and so while adding an event, you can enter the likes of "TechRadar lunch at 3pm on Friday", watching a live preview build as you type.
$4.99/£4.99/AU$7.99 or free with new devices
Camera enables you to do the odd bit of cropping with video files, but iMovie is an audacious attempt to bring a full video editor to your iPhone, infused with the ease-of-use its desktop counterpart is renowned for. Amazingly, it succeeds. Effects, themes, credits and soundtrack creation then provide extra polish for your mobile filmmaking.
More or less a speed-dial for regularly performed tasks, Launch Center Pro can be a huge time-saver. You can create shortcuts for things like adding a new Tumblr post or sending your last photo to Twitter, and these shortcuts can be arranged in groups. An essential purchase if you heavily use even a handful of the supported apps.
Transmit is a missing link for anyone who wanted a file manager for their iPhone. It might have roots in an Mac FTP client, but Transmit also integrates with cloud storage and local networked Macs. It's perfect for moving documents, renaming files, and creating archives to email or upload.
Although Apple's HDR mode in the Camera app works perfectly well, it pales in comparison to vividHDR. The basic concept is the same: stunning, vibrant photos, capturing amazing details in both highlight and shadow. But vividHDR's combination of speed, presets and 'before and after' comparisons results in better photos - and that's what really matters.
Every iteration of the iPhone has a superior camera to the previous model, and so it's only right an enterprising developer came out with an app that can turn your crisp and beautiful snaps into something that you might once have seen on an ancient computer.
In Retrospecs, then, you load your photo, select a system, mess about with dither styles, filters and cropping, and bask in retro glory. A wide range of creaky old computers and consoles is covered, so you should be set whether you were into the C64, Spectrum, SNES, or, er, Mattel Aquarius. (C'mon there must be at least one of you who had the last of those?)
In all honesty, we've pretty much had it with filter apps. A new one comes out, and everyone gets all excited, but they pretty much all do the same thing. All of them, that is, apart from Fragment. Rather than offer the usual range of old-school camera filters and adjustment sliders, Fragment instead delves into prismatic photo effects.
In short, this means you get to see what your photos look like through glass collages, smashed mirrors and arty blur effects. Probably not one for the selfie-obsessed crowd, but a must-have download for if you want something a bit more creative and interesting than the norm.
$4.99/£4.99/AU$7.99 or free with new devices
Apple's GarageBand remains an impressive, ambitious app, turning your iPhone into a recording studio. For beginners, there's a range of smart instruments, making it easy to learn the basics of songwriting and chord progression. You can also experiment with pre-recorded loops, including in the loop player, where you trigger riffs and drum beats with a tap of your fingers.
If you're already a musical sort, GarageBand enables you to write directly into a sequencer or record any instrument live. The app can also act as a kind of hub for other iOS music software, tying your apps together through Inter-App Audio and Audiobus.
With its huge range of amps and effects, ToneStack is an excellent choice for guitarists wanting to make some noise by connecting their instrument to their iPhone. An ABY unit enables you to split the signal, for hugely complex set-ups. And if that's not enough, a slew of IAP provides yet more amps, stomp boxes and features, including an eight-track recorder.
Workflow is all about automation. You can download sets of actions or compose your own, which can trigger iOS apps and related services. For example, you could create a Home screen icon to call a friend, or build a single-tap icon to get directions to your nearest coffee shop.
The revamped Google Translate is an astonishing app. When online, it'll translate written, photographed or spoken text between a huge range of languages. And for English to French, German, Italian, Portuguese, Russian, and Spanish (and back), the app will try to live-translate whatever's in front of your iPhone's camera — even when you're offline.
For beginners keen on making music, Launchpad is perfect. You choose a genre and then trigger loops with a tap. Effects are only a further swipe and tap away. If you really get into the app, there's IAP for further loops and the means to import your own audio.
Now as synonymous with mobile exercise as Nike+, RunKeeper is an excellent app, backed by a robust social infrastructure. Using your iPhone's GPS, you can track exercise routes and then share activities with friends. IAP subscriptions are available for 'elite' users, and are ad-free and offer real-time sharing.
For free, TunnelBear VPN gives you 500 MB of private browsing that can worm its way around geo-locking. All you do is fire the app up and tell the bear where to tunnel. If you want unlimited data, you can choose from a range of paid tiers, with ad-hoc, monthly or annual costs.
Author: Craig Grannell,J.R. Bookwalter
Published at: Fri, 03 Nov 2017 11:51:00 +0000