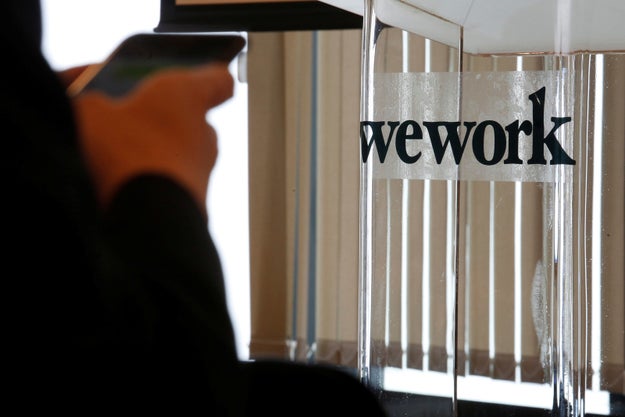 Bobby Yip / Reuters
Once upon a time, WeWork was a company that built and rented out coworking spaces where freelancers or small startups could go on their computers, drink flavored water, and visit the communal beer keg.

But those days are no more. Today, WeWork is a culture company valued at $20 billion. It's a burgeoning real estate empire, lifestyle brand, and fitness business rolled into one. In the last year, WeWork became the most valuable startup in New York City, and the fifth most valuable startup in the world. But while WeWork claims to be using big data and artificial intelligence to design its offices, some say it's not really a tech company, which typically sell platforms or apps that can scale to millions of people.
Given the sheer scope of the companies WeWork acquired, the initiatives it launched, and the real estate its CEO purchased in 2017, some have called the company unpredictable, even crazy. But as Softbank CEO Masayoshi Son has told WeWork CEO Adam Neumann, in a fight between a smart man and a crazy man, the crazy man usually wins.

In a blog post, WeWork didn't offer many specifics on what it plans to do next with the many billions it's raised, but it said, "We're encouraged by what we have accomplished so far, and we are excited to continue on this adventure to humanize the way we work, live, and connect with the world."
WeWork raised a ton of money this year, considering it doesn't actually sell a tech product or service:
WeWork then took that money and spent it on some ~interesting~ things:
WeWork was also reported to have purchased a wave pool company this year, but a spokesperson for WeWork said the wave pool company was actually acquired in 2016

CEO Adam Neumann also spent some WeWork money this year; he cashed out $100 million of his shares in October and proceeded to buy four multimillion dollar properties in New York City.
Have an idea for what else WeWork could spend its enormous amount of cash on? Sound off in the comments!
Author: Caroline O'Donovan
Published at: Thu, 21 Dec 2017 16:47:47 -0500
Credits: https://www.buzzfeed.com