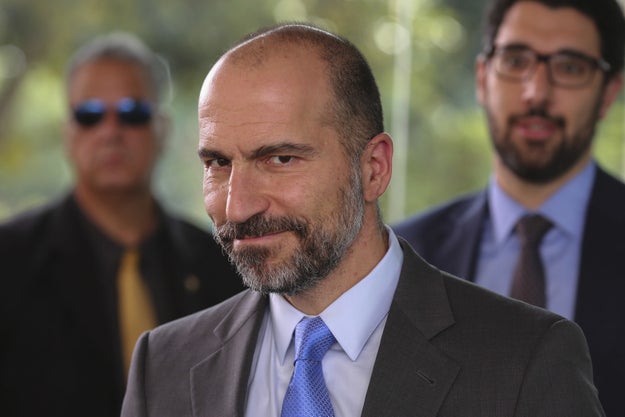 UBER's CEO Dara Khosrowshahi
Sergio Lima / AFP / Getty Images
Uber closed a multibillion dollar deal led by Japanese conglomerate SoftBank on Thursday, allowing some of the company's largest shareholders to divest. It marks the first significant piece of business for new CEO Dara Khosrowshahi, who is now preparing the embattled ride-hailing company to go public by 2019.
In a process known as a tender offer, which allows outsiders to buy shares in a private company at a mutually agreed upon price, some Uber employees, executives and early investors sold off what amounted to a little more than a 17% stake in the company to a consortium of investors led by SoftBank, according to a source familiar with the transaction. The Japanese telecommunications giant acquired about 15% of the company in the deal, which valued the the company at $48 billion and included an additional $1.25 billion to buy shares directly from the company. Other investors including Dragoneer Investment Group scooped up the remaining 2%.
The tender offer valued Uber at about 30% less than the $69 billion it was pegged at in June 2016, after the company sold a chunk of shares to Saudi Arabia's Public Investment Fund for $3.5 billion. Since then, Uber, which has yet to turn an annual profit, has endured scandal after scandal, changing how investors and the general public view the company.
The completion of the deal is the first significant achievement for Uber's new CEO Dara Khosrowshahi, who took over in August after an ugly year at the company defined by sexual harassment and discrimination allegations, executive misbehavior, lawsuits, and plenty of finger-pointing within the company's board room. With this tender offer, Khosrowshahi was able convince some of the company's early powerbrokers, including venture capital firm Benchmark Capital, to whittle down their stakes in the company to bring on what he believes will be a stabilizing force in SoftBank.
"We look forward to working with the purchasers to close the overall transaction, which we expect to support our technology investments, fuel our growth, and strengthen our corporate governance," said in Uber spokesperson in a statement.
The deal is expected to close at the beginning of 2018.

As part of the agreement, SoftBank will obtain two seats on Uber's expanded 17-person board, which still includes former CEO Travis Kalanick. The closing of the deal will also mark the end of the company's supervoting share structure, moving the company to a "one share, one vote" system that further weakens the influence of early executives and shareholders.
A spokesperson for Kalanick did not return a request for comment.
SoftBank, which has made investments around the world in ride-hailing companies like China's Didi Chuxing and India's Ola, also agreed invest $1.25 billion to buy shares from Uber at the previous $69 billion valuation, a move that was seen as a concession to some shareholders who hoped to maintain the company's previous high-water mark as it now readies itself for an initial public offering. In a recent board agreement, Uber's directors said they expected the company to begin the IPO process by 2019.
Getting the company ready to go public will be Khosrowshahi's ultimate goal over the next year, though it won't be easy. The company still faces numerous legal challenges, including a massive trade secrets lawsuit with Alphabet's self-driving car unit Waymo and multiple government investigations into potentially illegal business practices.
Author: Ryan Mac
Published at: Thu, 28 Dec 2017 16:55:12 -0500
Credits: https://www.buzzfeed.com