Josh Edelson / AFP / Getty Images
The HomePod, Apple's voice-activated speaker with Siri built-in finally has a release date: February 9.
The plump, cylindrical, smart speaker was originally slated to be released in late 2017, but Apple delayed the launch last November saying, "We need a little more time before it's ready for our customers." Today, the company announced that HomePod is ready to ship.

Customers in the US, UK, and Australia can purchase the speaker for $349.
HomePod will be among the most expensive smart speakers on the market. Its closest competitors are the Amazon Echo ($100), Google Home ($129) and the Sonos One ($199). Like other smart speakers, HomePod recognizes voice commands for smart home control, weather, timers, news, and general information. You'll use "Hey Siri" with HomePod, as you would with your phone.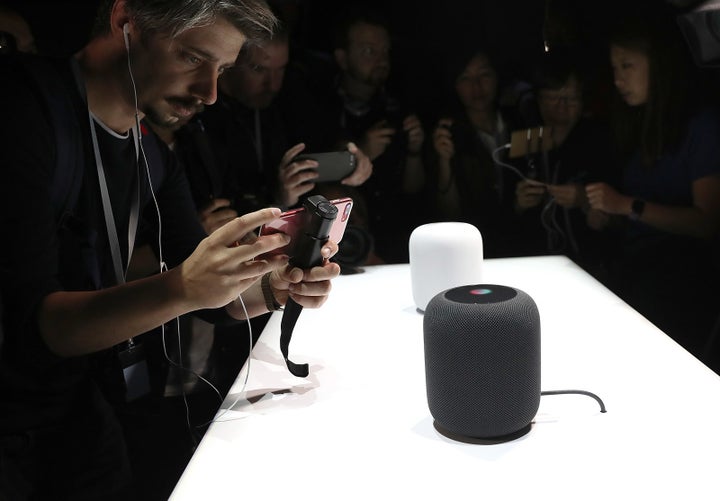 Justin Sullivan / Getty Images
Apple is hoping to differentiate HomePod — and justify the speaker's price — by touting it as a premium, high-quality speaker.
During the product's unveiling at the Worldwide Developers Conference last June, the company touted the device with phrases like "high-excursion woofer," "seven-tweeter array" and "360-degree audio."
HomePod has other audiophile-friendly features, too. The coffee can-sized speaker can detect its location in a room and automatically adjust its output to optimize sound based on where it is (for example, if it were on a bookshelf against a wall versus on a coffee table in the middle of the room).
Like Sonos, HomePod has multi-room audio capabilities through AirPlay 2, Apple's new wireless audio platform. This means HomePod will be compatible with third-party AirPlay 2 speakers as well.
Amazon and Google's offerings, meanwhile, are more noteable for the voice assistant software that powers them, and less for the fidelity of their speakers (you can, however, connect both the Echo and Home to external audio outputs via Bluetooth or, for the smaller Echo Dot and Home Mini, auxiliary cable).
The biggest drawback? Apple Music is the only streaming service that will work with HomePod at launch.
A $10 per month Apple Music subscription is also required to request music through HomePod.
Author: Nicole Nguyen
Published at: Tue, 23 Jan 2018 08:33:07 -0500
Credits: https://www.buzzfeed.com