It's the apps that really set iOS apart from other platforms - there are higher quality apps available on the App Store for the iPad than any other tablet. So which ones are worth your cash? And which are the best free apps?
Luckily for you we've tested thousands of the best iPad apps so that you don't have to. So read on for our selection of the best iPad apps - the definitive list of what applications you need to download for your iPad now.
Haven't bought an iPad yet and not sure which is best? We've got them listed on our best iPad ranking - or you can check out the best tablets list to see the full range available now.
If you are looking for games, then head over to Best iPad games - where we showcase the greatest games around for your iOS device. Or if you're using an iPhone X or iPhone 8 head over to our best iPhone apps list. And if you're a professional, you may want to head straight to our top business apps.
New: Artomaton - The Motion Painter (free + $2.99/£2.99/AU$4.49 IAP)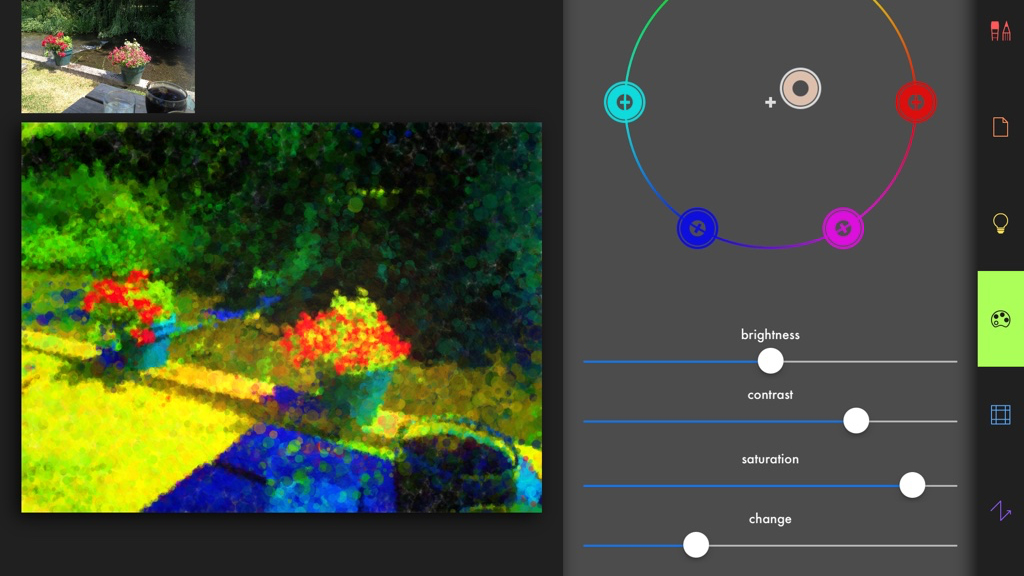 Artomaton - The Motion Painter is an 'artificial intelligence artist' – recreating photos as sketches and paintings. For free, you get a small selection of media, but pay a $2.99/£2.99/AU$4.49 IAP and you unlock the full range, including the arresting 'Pointil' (as in 'lism'), scribbly crayons, and a lovely sketch/watercolor combo.
Unlike most competing apps, this one has many settings for adjusting properties, such as vignettes, stroke width, hatching angle, and color saturation.
It even works with video, and although it takes some time for Artomaton to draw all of the individual frames (just a 20-second clip will need close to 200), output with 'Sketch&Water' has a gorgeous scratchy hand-drawn quality.
For free, then, this is a great download; but grab that paid IAP for something really special.
Can't figure out which iPad to buy? Watch our guide video below!
Yoink is a superb iPad shelf app, providing a place to temporarily store and collate files and content. It supports pretty much anything you can drag and drop on iPad – images; text; URLs; documents – and works in Split View and Slide Over (the latter feeling like Yoink's most natural set-up). Handily, you can directly import items, too, or send content to Yoink via share sheets.
Yoink excels in the details. When items are dragged off of Yoink, they're copied or removed, depending on the status of a padlock icon. Groups of items can be collated into stacks, and moved as one.
And because Yoink exists as a Location in the Files app, you can explore and interact with anything you've saved to the app without opening Yoink itself.
MindNode 5 is a mind-mapping app. That might sound dull, given that such tools are associated with boring business meetings that involve massive whiteboards... and the hope the ground will swallow you up.
But MindNode 5 is different. It's sleek and fun to use as you smash out ideas. You can start with a Quick Entry list, which the app then turns into a mind map; or you can manually create and position nodes. For more context, it's possible to add photos, stickers, and notes to your maps. And for when you do have to get properly businesslike, there's a vertical layout for organizational charts.
Whatever you're working on, MindNode 5 is far better than paper equivalents – it's flexible, sharable, and always comprehensible.
Human Anatomy Atlas 2018 represents a leap forward for iPad education apps and digital textbooks alike. In short, it turns your iPad into an anatomy lab – and augmented reality extends this to nearby flat surfaces.
You can explore your virtual cadaver by region or system. Additionally, you can examine cross-sections, micro-anatomy (eyes; bone layers; touch receptors, and so on), and muscle actions. If you want to learn what makes you tick, it's fascinating to spin a virtual body beneath your finger, and 'dissect' it by removing sections.
But the AR element is a real prize, giving you a captivating, slightly unnerving virtual body to explore. Ideal fodder for medical students, then, but great even for the simply curious. And although it's pricey for the latter audience, the app's often on sale, most recently dropping as low as $0.99/£0.99/AU$1.49. Snap it up if you see it cheap.
Zipped largely fixes a major shortcoming of the iOS Files app for iPad – its inability to deal with ZIP archives. The default Files app merely lets you peek inside a ZIP and extract items one at a time, but Zipped is far more capable.
If you need to unpack an archive, that can be done with a couple of taps. The files within are then saved to a user-defined location – either as they are, or within a named folder.
Creating archives is simple, too, and works via drag and drop in Split View or – an often better option – Slide Over. The one snag is Zipped only recognizes specific file formats, although the most common are covered.
Still, the low price makes it worth grabbing even if you only use it to quickly get at files within ZIPs, rather than laboriously extracting them one by one.
Clip Studio Paint Ex for manga brings the popular PC desktop app for digital artists to the iPad. And we mean that almost literally – Clip Studio looks pretty much identical to the desktop release.
In one sense, this isn't great news – menus, for example, are fiddly to access, but it does mean you get a feature-rich, powerful app. There are loads of brushes and tools, vector capabilities, effect lines and tones for comic art, and onion skinning for animations. It also takes full advantage of Pencil, so pro artists can be freed from the desktop, and work wherever they like.
The app could do with better export and desktop workflow integration, and even some fans might be irked by the subscription model. But Clip Studio's features and quality mean most will muddle through the former issues and pay for the latter.
Zen Studio is a unique, beautifully conceived painting and coloring app. Instead of giving you a blank canvas for free-form scribbling, Zen Studio opts for a triangular grid. Tap spaces and they fill with your selected color as a note plays. This combination of coloring and ad-hoc melody proves very relaxing – for children and adults alike.
In its free version, this is an entertaining app, but it's worth grabbing the main $2.99/£2.99/AU$4.99 IAP. This lets you save unlimited drawings (rather than just eight), and unlocks white paint, which acts as an eraser on compositions with white backgrounds.
It also provides access to a slew of tutorials. These have you build up a picture by coloring inside stencils, which even a two-year-old should be able to cope with – and then subsequently scrawl over when the stencils disappear.
Percolator is a photo filter app for 'brewing' circular mosaics using a custom recipe. The coffee theme is fanciful, but it is admittedly lovely to see your photo explode into a bunch of bubbles that disappear and then reform when major changes are made to the 'grind' (circle size and effect) settings.
Mostly, though, we were impressed by Percolator because its effects range from the bizarre to the beautiful. Some have a kind of classical feel, a few look like high-end art posters, and with careful tweaking of 'brew' (pattern and blend) and 'serve' (effect and texture) settings, you can even approximate painterly effects.
It's a pity you can't save your own custom presets, although the app does at least offer some examples to get you started. For the most part, though, Percolator's a tasty treat.
Dropped is an app designed to take advantage of the drag and drop feature that made its debut in iOS 11. It's designed as a temporary resting point – commonly referred to in computing terminology as a 'shelf' – for various kinds of data, including URLs, photos, videos, text, emails, notes, and PDFs.
The idea is you can dump a bunch of things on Dropped, and figure out what you want to do with them later. Helpfully, the app automatically organizes items into categories (media; text; URLs; files), although you can also scroll through your entire list in the Recents tab.
Search and rename functionality would be helpful, but otherwise Dropped is a very useful app to have if you're often moving content around on your iPad. It's usable, straightforward, and works especially well as a Slide Over app.
Prompts is a writing tool designed for anyone having a hard time getting started. Create a new document and the app draws from over 300,000 unique starting lines and prompts. If you're not keen on what it provides, tap refresh until you get something suitably inspirational.
As you're typing away, the app then leaves you alone, but you can at any point tap the prompts icon to get a further helping hand. Often, the suggestions are rather obvious, but that doesn't mean they're not helpful.
The app also includes a tracking and statistics system, to try and get you writing regularly. On that basis, it's a useful training aid to keep your writing 'muscles' fit and healthy, even if you naturally gravitate towards Scrivener and iA Writer when it's time to get down to serious writing.
Little Digits is a new spin on finger counting, making use of the iPad's large screen, and its ability to recognize loads of fingers pressing down at once.
The app's most basic mode responds to how many fingers are touching the screen. Use a single digit, and the app chirps ONE! while a grinning one-shaped monster jigs about. Add another finger and the one is replaced by a furry two. You get the idea.
Beyond this, the app offers some basic training in number ordering, addition and subtraction, making it a great learning tool for young children.
But the smartest feature may well be multiple language support and recording. This means you can use the app to learn to count in anything from French to Swedish, and record custom prompts if your own language isn't supported.
Kaleidoscope is a resolutely production-focused app, designed to take advantage of new functionality found in iOS 11 on modern iPads.
The app's used to quickly compare the contents of files, images, and folders. It makes great use of drag and drop from Apple's Files app, and uses colored overlays to clearly outline the differences between two text documents or whatever's lurking inside a pair of folders.
When comparing images, there are various views (such as a basic A/B switch), but Kaleidoscope's interpretation of a wipe slider is awkward, having two handles that must be separately positioned. And even with text, there's one shortcoming, in the iOS app lacking the 'text merge' capabilities of its macOS cousin.
Still, if you routinely find yourself juggling folders or text documents, Kaleidoscope may prove an essential part of your iOS toolkit.
SoundForest is a creative sound toy that mashes up minimalist animal stickers and song-making.
Across four environments, you drag stickers from a strip at the bottom of the screen onto your canvas. Each one – be it animal, plant, or landmark – makes a sound that rarely recalls reality. A mandrill, for example, blasts forth a raucous slap bass. It's colorful, entertaining, and encourages discovery and experimentation.
Once you've dotted your stickers about, you can fire up your composition. The sun or moon acts as a playback head, and your stickers animate as your oddball musical masterpiece blasts forth.
Pros may be frustrated by the app's lack of export functionality, but really SoundForest is more for the masses than them – an approachable, fun way to make a noisy music loop, using a vibrant, unique interface.
Toca Life: Farm is an ambitious and rich exploratory title for kids, inviting them to manage a farm and fashion their own stories.
There are four locations: barn, house, field, and store. Each of them is packed full of elements to interact with. For youngsters, there's plenty of fun to be had just poking around, making noises, and dragging colorful characters about.
Toca Life: Farm encourages older kids to think a little more. They can grow their own ingredients, which can subsequently be made into food. Animals can be fed and cared for, whereupon it's possible to reap the rewards of eggs from chickens and milk from cows.
There's no stress - this title is all about moving at your own pace. Importantly, it also eschews advertising and IAP, ensuring your little farmer can't accidentally spend real-world cash on virtual hay bales.
Procreate is a powerful, feature-rich digital painting and sketching tool. You immediately get a taste for what's possible by exploring the example art; and the more you poke around, the more you realize the potential on offer.
Procreate isn't aimed solely at pros, though. Sure, they'll love its advanced features – a perspective grid; custom brushes; layer masking; curves. The interface, though, is approachable enough for anyone. The thin strip across the top enables fast access to tool and brush menus; at the side is a bar for quickly adjusting your brush's size and opacity.
The brush selection is immense, whether you're into abstract doodling with strange textures, digital takes on traditional media, or something fantastical by way of brushes that paint with 'light' atop your creation.
In short: just buy this app, because it's terrific.
Chambers Thesaurus is a thesaurus for your iPad. You might argue that doesn't sound like the most exciting app in the world – and you'd be right. But if you do any writing on your iPad, it's pretty much essential.
On macOS, Apple bundles a thesaurus with its Dictionary app, but this is absent on iOS, which merely attempts to correct spellings. Chambers' offering therefore fills a void – and it does so in a straightforward, unassuming, highly usable manner.
Entries are clearly laid out, and you get a handy search sidebar in landscape. Pages can be bookmarked, and shared, or sent to equally impressive sister app Chambers Dictionary. If you fancy both, grab the bundle to save a few bucks.
Tayasui Memopad is a drawing tool for iPad that places an emphasis on speed. Its no-nonsense approach gives you a blank canvas on which to scribble, and a small but pleasingly diverse set of tools.
You get the usual brushes and pencils, but also more imaginative fare: blocky 'pixel' fingerprinting, and a slightly splodgy India ink pen – the latter being part of the one-off IAP pack. There are no layers or objects – everything you add is burned into the page (although you of course get an undo).
But it's with image management that Tayasui Memopad really shows its stuff: your images are automatically sent to Photos, and your current canvas is copied to the clipboard when you exit the app, ready for pasting elsewhere.
As a drawing app, you might argue Tayasui Memopad is ultimately quite ordinary – if usable; but as a drawing app designed for efficiency, it excels where it counts.
MaxCurve is a professional-quality photo editor, designed for people who want plenty of control over the images they're working on. Much of the app is based around curves you typically find in high-end editors such as Photoshop.
Adjusting curves is pleasingly tactile, enabling you to make dramatic or subtle adjustments to colors and exposure settings with ease. It makes many of MaxCurve's iPad contemporaries seem comparatively crude. Smartly, edits are stored as virtual layers, which can be toggled, and there are also tools for cropping and vignettes.
The app feels at home on iPad, which provides enough space to see your photo and tools, without the latter obscuring the former. MaxCurve could probably do with some quick-fix solutions for things like exposure, but then perhaps that's missing the point of an app more about careful, considered edits rather than speed.
is designed to spark ideas when you're working on a story. In its default state, it's something of a visual oddity, with three wheels that you spin for a random set-up of plot/conflict, theme/setting, and subject/location. Individual wheels can be locked, and you can swap the wheels for a 'slot machine' interface if you prefer.
Although that might seem a bit gimmicky, The Brainstormer can be genuinely useful if you need a little nudge to get going. Also, the app is extensible, vastly broadening its scope. You can buy additional wheels via IAP, such as creature and world builders.
You can also directly edit existing wheels, or create your own from scratch. When you're fresh out of ideas, a couple of bucks for endless new ones could be a bargain buy that sends you on your way to a best-seller.
is a text editor geared towards markup and coding. It's an app that takes a no-nonsense approach – very evident the second you sit before its tasteful, minimal interface.
But that doesn't mean the app's heavily stripped back. As you work with Textastic, you realize it's been cleverly optimized to speed your work along. The custom keyboard row is superb, providing fast access to a slew of handy characters.
Not keen on the way code is presented? Quickly flip to the settings, and tweak the fonts or choose an entirely new theme.
As ever, there are limitations to an iPad editor of this kind, most notably local previews when coding web pages. On that basis, you're probably not going to create a site from scratch with Textastic.
But with its smart editor, useful settings, Split View support, and a built-in file-transfer system, it's ideal for making quick changes or typing up Markdown notes when on the move – or on the sofa.
is a set of logic and physics tests for children disguised as a game.
Like other Thinkrolls titles, it involves rotund protagonists working their way to the bottom of a series of blocky towers. Their way is regularly barred by various elements that must be successfully manipulated to fashion a way onward.
For example, gears and racks might need combining to create a conveyor belt, or a mirror shifted to reflect light and remove a ghost.
It's all clever stuff, and also broadly stress-free. There are no time limits at all, and multiple profiles can be set up to cater for several kids on a single device.
And although Kings & Queens is intended for kids between five and eight years old, the interface and design is such that younger children should be able to delve into the adventure, too – albeit perhaps with supervision to initially help them understand the trickier challenges.
is a photo editor designed to make snaps more animated. The results are essentially cinemagraphs – stills with subtle looping animations, such as a flowing river within a landscape, or waving hair in an otherwise stationary portrait. With Plotagraph+, though, you add movement to any existing single image, rather than working from a series of stills or a video.
After you load a photo, you drag 'animation' arrows across areas you'd like to move, and use masks or anchor points to define sections that should remain stationary. Speed and crop tools add a modicum of further control. It's all very straightforward.
The effect is specialized, mind, and only works well with certain images. You won't, for example, find Plotagraph+ successfully animate a human face. But it works wonders on flowing elements (smoke; clouds; water; hair), and can with care be used to craft visually arresting madness based around shots of architecture.
is a weather app helmed by a HAL-like artificial intelligence that hates humans. As you check whether it'll be sunny at the weekend, or if you'll be caught in a deluge should you venture outside, CARROT will helpfully call you a 'meatbag' and pepper its forecasts with snark.
That probably sounds like a throwaway gimmick, but it's actually a lot of fun – adding color and personality to a kind of app usually devoid of both. Most importantly, though, CARROT Weather is a really good weather app.
The forecasts are clearly displayed, the interface is superb, and the Today view widget is one of the best around. There's even an amusing mini-game for finding 'collectable' hidden locations.
There are some downsides: the rainfall/cloud maps are weak, and there are no notifications. But if you're bored of the straight-laced, dull competition, and fancy a weather app that's informative and entertaining, CARROT Weather's well worth the outlay.
is all about transforming photos – or any other picture you care to load – into luminous watercolors. You shoot a photo or open one already on your iPad, and then choose from one of 14 pre-set styles. Waterlogue will then rapidly 'paint' your photo in a manner that looks pleasingly authentic.
Although the app doesn't offer the level of control (nor the endless playback) of , you do get a few settings. Brush size, lightness, and borders can be amended, each change providing a thumbnail preview you can tap to have Waterlogue repaint your image.
Export size is reasonable (at 250dpi, you'd get roughly an 8 x 6-inch/21 x 16cm print), and the app as a whole is approachable enough for everyone, while being just about authentic enough to appeal even to those who dabble in real paint.
is an entertaining digital take on those children's games where you create weird and wonderful (and occasionally terrifying) creatures by combining different body parts. Here, you get tops and bottoms to swipe between, in order to construct the likes of a 'zeboceros' or 'crocingo'.
Each animal is nicely illustrated and comes with two verses of text, which the app can optionally read aloud. Also, note you don't have to create strange new animals – you can instead match halves to make normal ones.
Perfect for when your resident tiny person is getting a bit perplexed at seeing a grinning elephant propped up by a spindly pair of flamingo legs.
With , you're essentially in digital lava lamp territory. Drag about your iPad's display, and you're treated to an ethereal – if somewhat neon – light show that mutates and evolves as you experiment. Ramp up the volume and a soothing responsive soundtrack plays, sucking you further into the chill-out zone.
For the outlay, that alone would do the job, but double-tap and Hyp offers more. You can snap a shot of the current pattern, adjust the speed and complexity of the animation, or prod a randomizer to shake up what you're seeing and hearing.
We'd love to see an autoplay option too, so Hyp could be played indefinitely with the iPad in a stand; otherwise, this is a simple, smart, engaging slice of digital ambience.
is the kind of app that should extinguish any lingering doubt regarding the iPad's suitability as a platform for creative professionals. In essence, the app brings the entirety of Serif's desktop Photoshop rival (also called Affinity Photo) to Apple's tablet, and carefully reimagines the interface for touch.
You'll need at least an iPad Air 2 to run the app, but an iPad Pro for best performance. Then also armed with a digit and/or Apple Pencil, you can delve into a huge range of features for pro-level image editing, creation and retouching.
The live filters and liquify tools are particularly impressive, responding in real-time as you work on adjustments, and make for a surprisingly tactile editing experience. But really pretty much everything's great here for anyone who wants properly high-end photo editing on their iPad.
Although doesn't really offer anything new, this is an app that does an awful lot right. It manages to make adding text to images fun, along with providing a no-nonsense interface that marries usability and power.
Load a photo and you can add art, text, and effects, before sharing it. 'Art' comprises slogans, shapes, and clip art. This can be recolored and resized, and you can add shadows and adjust opacity. Text is similarly easily added, and there are straightforward spacing and alignment options for tidying typography.
Finally, the effects comprise filters and overlays, the latter being eye-catching but limited in terms of application (you can adjust opacity but not, say, rotation). Still, as a package, Addy's easy to love, given the speed at which you can work and the quality of the end result.
If you're only occasionally adding text to an image you might be fine with a free app, but the ease of use and quality results make Addy worth a fiver for everyone else.
There are full-on screenwriting tools for iPad, such as , but is more like a smart notepad – an app for a first draft until you feel ready for, um, Final Draft.
You jot down ideas, and don't worry about formatting – because the app deals with that. In some cases, it does so automatically – write "Inside TechRadar HQ at midday" and Untitled will convert it to "INT: TECHRADAR HQ – MIDDAY" in the full preview (which can be exported to PDF or HTML).
For dialogue, place the character's name above whatever they're saying and Untitled correctly lays everything out.
Some other formatting needs you to remember the odd character - '>' before a transition and '.' before a shot. But that's not too heavy on the brain, leaving you plenty of headspace to craft your Hollywood breakthrough.
On the Mac, PDF Expert 6 is a friendly, efficient, usable PDF editor. If anything, the app's often even better on iPad.
You can grab PDFs from iCloud or Dropbox. Pages can be rearranged by drag-and-drop, and you can add or extract pages with a few taps. Adding pages from another document sadly remains beyond the app, but you can merge two PDFs in its file manager.
As a reader, PDF Expert 6 fares well, ably dealing with large PDFs, and the text-to-speech mode can read documents at a speed of your choosing. Similarly, the app makes short work of annotations, document signing, and outline editing.
Buy the 'Edit PDF' IAP ($9.99/£9.99/AU$14.99 on top of the original price) and you can directly update text, redact passages, and replace images. You're obviously a little limited by a document's existing fonts and layout, but this functionality is great if you spot a glaring error while checking a vital PDF on your iPad.
With visible pixels essentially eradicated from modern mobile device screens, it's amusing to see retro-style pixel art stubbornly clinging on.
But chunky pixels are a pleasing aesthetic, evoking nostalgia, and you know thought's gone into the placement of every dot. is an iPad pixel art 'studio', ideal for illustrators, games designers, and animators.
At its most minimal, the interface shows your canvas and some tool icons: pencil; eraser; fill; shapes; select; color picker. But there are also slide-in panels for layers/palettes, and the frame-based animation system.
Bar a slightly awkward selection/move process, workflow is sleek and efficient (not least with the superb fill tool, which optionally works non-contiguously across multiple layers), and the app has robust, flexible import and export options.
Perhaps most importantly, Pixaki's just really nice to use – more so than crafting similar art on a PC or Mac, and although pricey it's worth the money for anyone serious about pixel art.
The iPad may not be an ideal device for shooting photos, but its large screen makes it pretty great for editing them. And is perhaps the finest app around for anyone wanting to infuse their digital snaps with character by way of textures, grunge, and gradients.
The editing process is entirely non-destructive, with you building up effects by adding layers. In each case, textures, blend modes and rotation of scanned objects can be adjusted to suit, and you can experiment without fear of edits being 'burned in'.
Particularly interesting combinations can be saved as 'formulas' and shared with the Mextures community – or you can speed along your own editing by downloading one of the many formulas that already exist.
There are quite a few dictionary apps on iPad, and most of them don't tend to stray much from paper-based tomes, save adding a search function. has a more colorful way of thinking, primarily with its entry screen. This features rows of illustrated cards, each of which houses an interesting word you can discover more about with a tap.
The app is elsewhere a mite more conventional – you can type in a word to confirm a spelling, and access its meaning, etymology, and Wikipedia entry.
The app's lack of speed and customization means it likely won't be a writer's first port of call when working – but it is an interesting app for anyone fascinated by language, allowing you to explore words and their histories in rather more relaxed circumstances.
First impressions of might lead you to think it's yet another filter app. And to some extent it is, given that Oilist enables you to feed it a photo and end up with something resembling an oil painting.
However, Oilist also has much in common with generative creativity apps, since it keeps painting over and over, to mesmerizing effect. Additionally, it's not an app where you select a preset and then sit back and wait – instead, while Oilist is painting, you can adjust settings, and even splatter the virtual canvas with 'chaos' paint if the mood takes you.
This is all entertaining in and of itself, but Oilist also has practical benefits – at any point, you can snap the in-progress painting, and the resulting high-res image can be exported for sharing online or even printing on a canvas.
There are so many amazing music-making apps on iPad that it's hard to choose between them. With , you sort of don't have to, because it acts as a kind of behind-the-scenes plumbing.
Virtual cabling might not sound sexy, but it hugely boosts creative potential. You can send live audio or MIDI data between apps and through effects, mix the various channels, and then send the entire output to the likes of GarageBand.
Much of these features are new to Audiobus 3, and this latest update also adds Audio Unit support, enabling you to open some synths and effects directly in the app.
With support for over 900 iOS products in all, Audiobus 3 is an essential buy for anyone serious about creating music on an iPad.
Young children love wooden puzzles, where you plug a load of letters into letter-shaped holes (with a little luck, ones that actually fit). The thing is, those puzzles never change, whereas has over a hundred words to play with.
On selecting a word, a horde of colorful monsters sprints across the screen, scattering the letters, which must then be dragged back into place. As you do so, the letters entertainingly grumble and animate. Once the entire word's complete, a short cut-scene plays to explain what it means.
From start to finish, Endless Alphabet is an excellent and joyful production. The interface is intuitive enough for young toddlers to grasp, and the app's tactile nature works wonderfully on the iPad's large display.
The 'pro' bit in 's name is rather important, because this astronomy app is very much geared at the enthusiast. It dispenses with the gimmickry seen in some competing apps, and is instead packed with a ton of features, including an explorable planetarium, an observation planner and sky diary, 3D models of the planetary bodies, simulations, and even the means to control a telescope.
Although more workmanlike than pretty, the app does the business when you're zooming through the heavens, on a 3D journey to a body of choice, or just lazily browsing whatever you'd be staring at in the night sky if your ceiling wasn't in the way.
And if it all feels a bit rich, the developer has you covered with the slightly cut down – but still impressive – , for half the outlay.
Generally speaking, music apps echo real-world instruments, as evidenced by the piano keyboards found in the likes of GarageBand. is different – along with creating loops and riffs (either by bashing out a tune on a grid of pads, or tapping out notes on a piano roll), you also create the play surface itself.
Designing your instrument in KRFT is all based around shapes and icons – diamonds trigger loops, dials adjust sound properties, and squares can be set to trigger several loops at once.
Admittedly, staring at a blank canvas can intimidate, because you must consider composition and instrument construction as one. But KRFT bundles several inspirational demos to show what it can do – and they're so much fun they might be worth the entry fee on their own.
Billing itself as a kind of 3D sketchbook, is designed for people who want to quickly draw isometric artwork. Its toolset is simple – you get a line tool for connecting magnetic dots, a shape fill tool, undo, panning and zooming.
That might sound reductive, but isolad's straightforward nature means anyone can have a crack at doodling the next Monument Valley, and you end up focusing more on what you're creating rather than being deluged by a load of tools you'll never use.
Future updates promise the addition of selections and layers, but for now isolad's elegant simplicity is enough to make it a winning app.
The idea behind is to transform your photos into vintage printed art. You load a photo (or choose from one of the demo images), press a filter, and are suddenly faced with something that could have fallen out of a 50-year-old book, or been posted on a wall many decades ago.
But Printed is more than a tap-and-forget filter app: beyond the filter selection are tools for adjusting dot pitch, brightness, borders, and color saturation.
There are some shortcomings: changes to settings are initially displayed as a thumbnail you tap to approve, which only then gets rendered at full-size (whereupon it may look different from how you thought it would); and landscape orientation appears to have been an afterthought.
But on a large iPad display, the actual filters – which are excellent – are shown off to their fullest, in all their retro dotty glory.
If you're the kind of person who likes spinning virtual decks, you'll tell right away with that you have in your hands something special. On the iPad – and especially on an – the app has room to breathe, lining up all kinds of features for being creative when playing other people's music.
You get four-deck mixing, a sampler, varied waveform layouts, and useful DJ tools like cue points and beat-matching. There are also 70 keyboard shortcuts for quickly getting at important features, such as matching keys and adjusting levels.
For a newcomer, it's perhaps overkill, and the similarly impressive is cheaper. But if you've got the cash, djay Pro is a best-in-class app suitable for everyone – right up to jobbing DJs.
Even iPads with the largest amount of storage can't cope with a great deal of on-board video. is designed to access your collection, without any of it needing to be on your device.
The app connects to local drives and cloud services, and plays a wide range of file types, including MOV, MKV and VIDEO_TS. If the files are named sensibly, Infuse downloads cover art and can optionally grab soft subtitles. The interface throughout is superb.
On iPad, you also get full support for Split View and picture-in-picture, so you can pretend to work while watching your favorite shows. And if you continue on another device – this universal app is compatible with iPhone and Apple TV – cloud sync lets you pick up where you left off.
Reasoning that sketchbooks aren't complicated, and so nor should your iPad be, offers a friendly approach to digital sketching. The main interface puts all of the app's tools within easy reach – colors on the left, and layers and brushes on the right. Scribble nearby and they get out of the way, or you can invoke full-screen with a tap.
There's Pencil support, but no pressure sensing by other means. Also, although some of the pens offer blend modes, the end result still looks quite digital rather than realistic. Even so, Linea's straightforwardness and smart design tends to make it a joy to use, even if the app lacks the range of some of its contemporaries.
If you find iMovie isn't quite doing it for you from a video editing standpoint, take a look at . This multitrack editor is designed with the more demanding user in mind, and is packed full of features to keep you editing at your iPad rather than nipping to a Mac or PC.
The main timeline provides you with three tracks for photos, videos, titles and graphics, and you get another three audio tracks for complex audio mixes involving narration and sound effects. Should you wish to take things further, LumaFusion includes a slew of effects and clip manipulation tools seemingly brought over from the developer's own – and similarly impressive – LumaFX.
Occasionally, the app perhaps lacks some of the elegance iMovie enjoys, and LumaFusion is certainly a more involved product than Apple's. But if you want fully-fledged video editing on your iPad, it's hard to think of a better option.
On iPhone, lets you switch between a virtual retro camera and a sleek modern camera app. On iPad, it all goes a bit weird, with the former option giving you a camera floating in space, and the latter making you wonder why you'd use a tablet for taking snaps.
But Hipstamatic nonetheless gets a recommendation on the basis of other things it does. Load an image from your Camera Roll, and you can delve into Hipstamatic's editor. If you're in a hurry, select a predefined style – Vintage; Cinematic; Blogger – and export.
Should you fancy a bit more fine-tuning, you can experiment with lenses, film, and flashes. And plenty of other adjustments are available, too, such as cropping, vignettes, curves, and a really nice depth of field effect.
Wikipedia is, in reality, a massive web of articles, but when browsing, it looks more like a sea of links. WikiLinks rethinks exploring Wikipedia through the use of spider diagrams, providing a clever visual overview of the relationship between subjects.
On iPhone, you switch between views, but the app makes use of the iPad's larger display by splitting it in two. On the left is your mind map, which grows as you tap on new articles. On the right is your current selection to peruse.
As a reader, WikiLinks is less remarkable – article sections irritatingly begin life collapsed, and it all feels a bit cluttered. But when using Wikipedia for research, no other app is so helpful in enabling you to see the links between the site's many pages.
If your iPad's sitting around doing nothing while you work on a Mac or PC, can turn it into a handy second screen for your desktop or notebook.
You fire up the app on your iPad and a companion app on your computer, and connect the two devices using a cable – like it's 2005 or something. Minimalist fetishists might grumble, but a wired connection means there's almost no lag – even when using Duet Display's highest detail settings and frame rates.
With macOS Sierra, you also get one extra goodie: a virtual Touch Bar. So you needn't splash out on a brand-new MacBook Pro to check out Apple's latest interface innovation – you can use Duet Display instead.
Carl Burton's is listed in the App Store as a game, but don't believe a word of it. Really, this ten-scene artistic endeavor is a surreal, mesmerizing semi-interactive animated film.
Each 'non-place' is somewhere you'd usually ignore or stay only on a very temporary basis, but here, the mundane is subverted through unusual and unexpected juxtapositions.
You'll find yourself staring at a luggage carousel, before the bags begin a lazy Mexican wave. Elsewhere, palm trees ride mall escalators, while a run-of-the-mill seating area is suddenly flooded, a warning siren slicing its way through inane background chatter.
The result is frequently disorientating, but Islands also has the capacity to surprise, and is often oddly beautiful.
There are plenty of apps out there that attempt to transform images into something that might once have appeared on the screen of an ancient piece of computer hardware, but none match .
You either take a photo or load an image from your iPad and then select a preset. You get everything from the chunky character-oriented Commodore PET, through to relatively powerful fare such as the detailed 16-bit graphics of the SNES and Atari ST.
From an authenticity standpoint, Retrospecs wins out, but the app also affords plenty of tweaking potential. You can switch modes for those machines that offered multiple resolutions, choose alternate dither patterns, and adjust contrast, vibrancy, and other settings. Best of all, you can use any of the existing presets as the basis for your own unique slice of retro-filter joy.
It's concert time for the motley crew of , in this toy designed to help kids explore music creatively. (And, um, adults who might get sucked in a bit.)
It's all very simple: drag weird cartoon characters (each of which plays their own instrument) to spots on the stage, and they automatically jam along with the only song that Toca Band appears to know. Lob a musician at the star and they start a unique solo improv with a modicum of user control.
Toca Band is a very sweet app, which even toddlers should be able to grasp. A word of warning, though: that Toca Band riff will quickly become an earworm you'll be hard pressed to remove. 
provides a writing environment suitably focused for iPad, but that also makes nods to the desktop.
The main screen is smartly designed, with a custom keyboard bar offering Markdown and navigation buttons; if you're using a mechanical keyboard, standard shortcuts are supported.
Further focus comes by way of a typewriter mode (auto-scrolling to the area you're editing) and graying out lines other than the one you're working on.
Elsewhere, you get an optional live character count, iCloud sync, and a robust Markdown preview. We'd like to see a split-screen mode for the last of those (as per the Mac version), but otherwise iA Writer's a solid, effective and affordable minimal writing app for iPad.
We're not sure what makes this edition of the famous mockney chef's recipe book 'ultimate', bar that word being very clearly written on the icon.
Still, is certainly a very tasty app. The 600 recipes should satisfy any given mood, whether you're after a sickeningly healthy salad or fancy binging on ALL THE SUGAR until your teeth scream for mercy.
Smartly, every recipe offers step-by-step photos, so you can see how badly you're going wrong at any point. And when you've nearly burned down the kitchen, given up and ordered a pizza, you can watch the two hours of videos that reportedly tell you how to "become a real kitchen ninja".
Note: this doesn't involve wearing lots of black and hurling sharp objects at walls, sadly.
Music-creation apps can overwhelm, even when trying to be friendly. neatly takes a rather more playful – if slightly twee – stab at having you make tunes.
You start by selecting a color and shape. The former dictates an instrument and the latter the number of leaves on your lily. Tap + to open the flower, and then the flower itself to access a pulsating playback head.
You then tap spaces to lay down notes, which can be shifted entire octaves by prodding adjacent vertical lines. Repeat the process with more lilies and you'll soon have an oddly delicate cacophony serenading your ears.
Lily's a very sweet app. It's perhaps a touch too abstract to be as immediate as it wants to be, but all becomes clear with a little play. We do wish songs could be saved (although you can export a recording) – the lives of these lilies are all too fleeting.
So, you've picked up an iPad synth to compose music, play live, or bound about like a maniac, pretending you're on stage at Glastonbury. Fortunately, is ideal for all such sets of circumstances.
The moody black and red graphic design is very 1990s, but it's Poison-202's sounds that hurl you back to the halcyon days of electronic music. Aficionados of The Prodigy, Chemical Brothers and Orbital will be overjoyed at the familiar (and brilliant) sounds you can conjure up simply by selecting presets and prodding a few keys.
And if you're not satisfied by the creator's (frankly awesome) sound design smarts (in which case, we glare at you with the menace of a thousand Keith Flints), all manner of sliders and dials enable you to create your own wall-wobbling bass and ear-searing leads.
There are iPad synths that have more ambition, and many are more authentic to classic hardware; but few are more fun.
 
For free, provides the means to record the odd bit of audio, bookmark important bits, and mash together a few such recordings into something resembling a podcast. But pay the $19.99/£14.99 IAP and this app gives desktop podcast-creation products a run for their money.
Using the smartly designed interface, you can import clips and sounds from various sources, craft multi-track edits that make full use of slicing, fading, ducking, and silence stripping, and add professional effects to give vocals that bit of extra punch.
On an iPhone, this is an impressive app, but on iPad, the extra screen space you get makes for significantly faster editing of your audio and a far superior user experience compared to the cramped screen.
Rather than be all things to all people, is a painting app with a sense of focus, emulating the feel of an East Asian ink brush. It's therefore suited to flowing, semi-abstract artistic effort with your finger to offer a digital take on calligraphy.
On iPhone's teeny screen this app feels a little redundant, but it comes alive on the iPad's larger display, especially if you have a stylus. The selection of tools is intentionally limited to keep you focused, but you can still swap between a red and black brush, experiment with alternate brush sizes or dryness values and swap out the underlying canvas.
There is a sense of give and take about Zen Brush 2's level of realism: strokes are applied wonderfully, but inks don't interact with each other nor the paper beneath. Still, the strong sense of character gives artwork created in Zen Brush 2 a unique feel and it's a relaxing, almost meditative, app to spend time with.
 
There are loads of great painting apps for illustrators and artists, but tries something a bit different, introducing you to a world of tessellation and symmetries. This makes for an app that has plenty of potential for professional use, but also one that anyone can enjoy.
To begin, you select a style. The simplest is a split-screen mirror, but there are also kaleidoscope-like options, and those that create tiled, repeating patterns. It's then a question of scribbling on the canvas, and watching a pattern form before your eyes.
The toolset is quite basic (with a bafflingly overthought color palette selector), but Amaziograph chalks up a big win when it comes to flexibility.
At any point, you can adjust the settings of the current grid, or choose a different symmetry/tessellation type. This propels the app far beyond 'toy' territory, opening up avenues for creativity regardless of your level of artistic prowess.
As a combination clock and weather app, works well across all iOS devices, but use it with an iPad in a stand and you've got something that'll make other clocks in the immediate vicinity green with envy.
As you might expect, your first job with the app is to define the cities you'd like to keep track of. At any point, you can then switch between them, updating the main clock and weather forecasts accordingly. Tap the weather and you can access an extended forecast for the week; tap the location and you get the current times and weather for your defined locations.
But it's the Earth that gets pride of place, taking up the bulk of the screen. It shows clouds by default, although weather geeks can instead choose colors denoting temperature, wind speed or humidity values. Then with a little swipe the globe rotates, neatly showing heavily populated locations during night time as lattices of artificial man-made light.
Whether you need a few minutes of peace or help to fall asleep after hours of stress, offers meditative splashy reflection. Choose from six scenes, plonk headphones on and then just sit and listen to gorgeous 3D audio recordings of streams, waterfalls and rivers.
Should you feel the need, noodle about with the parallax photo - although that's frankly the least interesting bit of the app.
There is room for screen interaction though - the slider button gives you access to a mixer, to trigger ambient soundtracks by composer David Bawiec, and add birdsong and rain; while the Flowing icon houses guided meditations by Lua Lisa.
There's also a timer, so you can fall asleep to a gently meandering brook without it then burbling away all night. In all, even if you don't make use of every feature, Flowing is an effective, polished relaxation aid.
Animation can be painstaking, whether doing it for your career or just for fun. Fortunately, streamlines the process, providing a sleek and efficient app for your next animated masterpiece.
It caters to various kinds of animation: you can use your iPad's camera to capture a scene, import images or videos (which are broken down into stills), or use a remote app installed on an iPhone. Although most people will export raw footage to the likes of iMovie, Stop Motion Pro shoots for a full animation suite by including audio and title capabilities.
There are some snags. Moving frames requires an awkward copy/paste/delete workaround. Also, drawing tools are clumsy, making the app's claim of being capable of rotoscoping a tad suspect. But as an affordable and broadly usable app for crafting animation, it fits the bill.
Scanners for iPad have come a long way from their roots as souped-up camera apps, and is making a play to be the only one on your iPad - by doing way more than just scanning.
The basics are ably dealt with - the app automatically locates documents in front of your iPad's camera (assuming there's contrast with the desk underneath), and you can crop, rotate, color-adjust, and save the result.
Buy the Pro IAP, though, and Scanbot becomes far more capable. It'll run OCR text recognition on any document, and attempt (with a reasonable degree of success) to extract details for single-tap 'actions', such as triggering a phone call or visiting a website, based on what it finds.
There are annotation and PDF signing tools, and the means to reorder pages in multi-page documents. So rather than being a tap-and-done scanner, this app keeps helping once the scans are done, making it an essential purchase for the office-oriented. (We do miss the smiling robot icon, though – the new one is so dull.)
Another example of a book designed for kids that adults will sneak a peek at when no-one's watching, Namoo teaches about the wonders of plant life. Eschewing the kind of realistic photography or illustration you typically see in such virtual tomes, Namoo is wildly stylized, using an arresting low-poly art style for its interactive 3D simulations.
Each of these is married with succinct text, giving your brain something to chew on as you ping the components of a plant's cells (which emit pleasingly playful - if obviously not terribly realistic - sounds and musical notes) or explore the life cycle of an apple.
On the desktop, Scrivener is widely acclaimed as the writer's tool of choice. The feature-rich app provides all kinds of ways to write, even incorporating research documents directly into projects. Everything's always within reach, and your work can constantly be rethought, reorganised, and reworked.
On iPad, Scrivener is, astonishingly, almost identical to its desktop cousin. Bar some simplification regarding view and export options, it's essentially the same app. You get a powerful 'binder' sidebar for organizing notes and documents, while the main view area enables you to write and structure text, or to work with index cards on a cork board.
There's even an internal 'Split View', for simultaneously smashing out a screenplay while peering at research. With Dropbox sync to access existing projects, Scrivener is a no-brainer for existing users; and for newcomers, it's the most capable rich text/scriptwriting app on iPad.
At the last count, there were something like eleven billion sketching apps for iPad, and so you need something pretty special to stand out. Concepts shoots for a more professional audience - architects, designers, illustrators, and the like - but in doing so presents a far more flexible product than most.
When scribbling on the infinite canvas, you're drawing vector strokes, which can be individually selected and adjusted. The tools area is customizable and colors are selected using a Copic color wheel.
Pay the pro IAP and you unlock all kinds of features, including precision tools and shape guides, endless layers, and the means to export your work as high-res imagery, SVG, DXF or PSD. In use, whether using a finger or stylus, Concepts is elegant and usable but powerful.
So for free, this is an excellent tool for wannabe scribblers, and for the price of a couple of coffees, a high-end digital sketchbook suitable for professionals. Sounds like a bargain either way to us.
Your eyes might pop at the price tag of this iPad synth, but the hardware reissue of this amazing Moog was priced at a wallet-smashing $10,000. By contrast, the Model 15 iPad app seems quite the bargain. To our ears, it's also the best standalone iOS synth on mobile, and gives anything on the desktop a run for its money.
For people used to messing around with modular synths and plugging in patch leads, they'll be in heaven. But this isn't retro-central: you can switch the piano keyboard for Animoog's gestural equivalent; newcomers can work through straightforward tutorials about how to build new sounds from scratch; and those who want to dive right in can select from and experiment with loads of diverse, superb-sounding presets.
There are plenty of apps that enable you to add comic-like filters and the odd speech balloon to your photos, but Comic Life 3 goes the whole hog regarding comic creation. You select from pre-defined templates or basic page layouts, and can then begin working on a Marvel-worrying masterpiece.
Importing images is straightforward, and you get plenty of control over sound effects and speech balloons. For people who are perhaps taking things a bit too seriously (or actual comic creators, who can use this app for quick mock-ups), there's a bundled script editor as well.
Oddly, Comic Life 3's filters aren't that impressive, not making your photos look especially hand-drawn. But otherwise the app is an excellent means of crafting stories on an iPad, and you can export your work in a range of formats to share with friends - and Stan Lee.
It's been a long time coming, but finally Tweetbot gets a full-fledged modern-day update for iPad. And it's a good one, too. While the official Twitter app's turned into a 'blown-up iPhone app' monstrosity on Apple's tablet, Tweetbot makes use of the extra space by way of a handy extra column in which you can stash mentions, lists, and various other bits and bobs.
Elsewhere, this latest release might lack a few toys Twitter selfishly keeps for itself, but it wins out in terms of multitasking support, granular mute settings, superb usability, and an interesting Activity view if you're the kind of Twitter user desperate to know who's retweeting all your tiny missives.
This music app is inspired by layered composition techniques used in some classical music. You tap out notes on a piano roll, and can then have up to four playheads simultaneously interpret your notes, each using unique speeds, directions and transpositions. For the amateur, Fugue Machine is intuitive and mesmerising, not least because of how easy it is to create something that sounds gorgeous.
For pros, it's a must-have, not least due to MIDI output support for driving external software. It took us mere seconds to have Fugue Machine working with Animoog's voices, and the result ruined our productivity for an entire morning.
(Unless you count composing beautiful music when you should be doing something else as 'being productive'. In which case, we salute you.)
There's a miniature revolution taking place in digital comics. Echoing the music industry some years ago, more publishers are cottoning on to readers very much liking DRM-free content. With that in mind, you now need a decent iPad reader for your PDFs and CBRs, rather than whatever iffy reading experience is welded to a storefront.
Chunky is the best comic-reader on iPad. The interface is simple but customisable. If you want rid of transitions, they're gone. Tinted pages can be brightened. And smart upscaling makes low-res comics look good.
Paying the one-off 'pro' IAP enables you to connect to Mac or Windows shared folders or FTP. Downloading comics then takes seconds, and the app will happily bring over folders full of images and convert them on-the-fly into readable digital publications.
You're probably dead inside if you sit down with Metamorphabet and it doesn't raise a smile — doubly so if you use it alongside a tiny human. The app takes you through all the letters of the alphabet, which contort and animate into all kinds of shapes. It suitably starts with A, which when prodded grows antlers, transforms into an arch, and then goes for an amble. It's adorable.
The app's surreal, playful nature never lets up, and any doubts you might have regarding certain scenes — such as floaty clouds representing 'daydream' in a manner that doesn't really work — evaporate when you see tiny fingers and thumbs carefully pawing at the iPad's glass while young eyes remain utterly transfixed.
Pop music is about getting what you expect. Ambient music has always felt subtly different, almost like anything could happen. With generative audio, this line of thinking became reality. Scape gives you a combined album/playground in this nascent genre, from the minds of Brian Eno and Peter Chilvers.
Each track is formed by way of adding musical elements to a canvas, which then interact in sometimes unforeseen ways. Described as music that "thinks for itself", Scape becomes a pleasing, fresh and infinitely replayable slice of chillout bliss. And if you're feeling particularly lazy, you can sit back and listen to an album composed by the app's creators.
Illustration tools are typically complex. Sit someone in front of Adobe Photoshop and they'll figure out enough of it in fairly short order. Adobe Illustrator? No chance. Assembly attempts to get around such roadblocks by turning graphic design into the modern-day touchscreen equivalent of working with felt shapes — albeit very powerful felt shapes that can shift beneath your fingers.
At the foot of the screen are loads of design elements, and you drag them to the canvas. Using menus and gestures, shapes can be resized, coloured, duplicated and transformed. Given enough time and imagination, you can create abstract masterpieces, cartoonish geometric robots, and beautiful flowing landscapes.
It's intuitive enough for anyone, but we suspect pro designers will enjoy Assembly too, perhaps even using it for sketching out ideas. And when you're done, you can output your creations to PNG or SVG.
The lofty boast with RealBeat is that you can use the app to make music with everything. The remarkable thing is, you really can. The app has eight slots for samples, waiting for input from your iPad's mic.
You can record snippets of any audio you fancy: your voice; a spoon smacking a saucepan; a pet, confused at you holding your iPad right in front of its face. These samples can then be arranged into loops and songs using a familiar drum-machine-style sequencer and pattern editor.
Completed masterpieces can be exported using Audio Copy and iTunes File Sharing, and the app also integrates with Audiobus.
On the desktop, Panic's Transmit is a perfectly decent FTP client. But when it was first released for iPad, Transmit felt rather more like the future. It was smart and elegant, utilising all of the then-new iOS features, such as Share sheets.
Even today, its interface seems a step beyond its contemporaries — the vibrant icons and dark lists look gorgeous and modern. Most importantly, the app remains very usable, with an excellent drag-and-drop model, smart previews, and support for a huge range of services, including local shared Mac folders.
Calling Editorial a text editor does it a disservice. That's not to say Editorial isn't any good as a text editor, because it very much is. You get top-notch Markdown editing, with an inline preview, and also a TaskPaper mode for plain text to-do lists.
But what really sets Editorial apart is the sheer wealth of customisation options. You get themes and custom snippets, but also workflows, which can automate hugely complex tasks. You get the sense some of these arrived from the frustrations at how slow it is to perform certain actions on an iPad; but a few hours with Editorial and you'll wish the app was available for your Mac or PC too.
Previously known as iDraw, Graphic is now part of the Autodesk stable. Visually, it looks an awful lot like Adobe Illustrator, and it brings some suitably high-end vector-drawing smarts to Apple's tablet.
All the tools and features you'd expect are present and correct; and while it's admittedly a bit slower and fiddlier to construct complex imagery on an iPad than a PC, Graphic is great to have handy when you're on the move. Smartly, the app boasts plentiful export functions, to continue your work elsewhere, and will sync with its iPhone and Mac cousins across iCloud.
One of the curious things about the iPad is the absence of major Adobe apps from the App Store. The creative giant instead seems content with smaller, simpler 'satellite' apps, assuming users will continue to rely on the desktop for in-depth work. Pixelmator thumbs its nose to such thinking, reworking the majority of its desktop cousin (itself a kind of streamlined Photoshop) for the iPad.
Given the low price tag, this is an astonishingly powerful app, offering brushes, layers, gorgeous filters, levels editing, and more. You need to invest some time to get the most out of Pixelmator, but do so and the app will forever weld itself to your Home screen.
There are plenty of apps that provide the means to turn photos into messages and poster-style artwork. Elsewhere in this list we mention the excellent Retype, for example. But if you hanker after more control, Fontmania is a good bet.
This isn't the most complex or feature-rich app of its kind, but it is extremely pleasing to use. On selecting your photo, you can add a filter. Then it's down to business with typography. The 'Art' section houses frames, dividers, shapes and pre-made 'artworks'. The 'Text' section is for typing out whatever you like, and you can choose from a range of fonts.
Really, it's the interface that makes Fontmania. The simple sidebar is clear and non-intrusive, providing quick access to tools like Color and Shadow. All items added to the canvas can be manipulated using standard iOS gestures, avoiding the awkwardness sometimes seen within this sort of app.
Perhaps best of all, though, Fontmania is a pay-once product. Download and you get access to everything, rather than suddenly discovering a drop shadow or extra font will require digging into your wallet again.
iPad video editors tend to have a bunch of effects and filters lurking within, but with VideoGrade you can go full-on Hollywood. On launch, the app helpfully rifles through your albums, making it easy to find your videos. Load one and you get access to a whopping 13 colour-grading and repair tools.
Despite the evident power VideoGrade offers, the interface is remarkably straightforward. Select a tool (such as Vibrance, Brightness or Tint), choose a setting, and drag to make a change. Drag up before moving your finger left or right to make subtler adjustments.
Smartly, any tool already used gets a little green dash beneath, and you can go back and change or remove edits at any point.
All filters are applied live to the currently shown frame, and you can also tap a button to view a preview of how your entire exported video will look. Want to compare your edit with the original video? Horizontal and vertical split-views are available at the tap of a button. Usefully, favorite filter combinations can be stored and reused, and videos can be queued rather than laboriously rendered individually.
Korg Gadget bills itself as the "ultimate mobile synth collection on your iPad" and it's hard to argue. You get well over a dozen varied synths, ranging from drum machines through to ear-splitting electro monsters, and an intuitive piano roll for laying down notes.
A scene/loop arranger enables you to craft entire compositions in the app, which can then be shared via the Soundcloud-powered GadgetCloud or sent to Dropbox. This is a more expensive app than most, but if you're a keen electronic-music-oriented songwriter with an iPad, it's hard to find a product that's better value.
There are quite a few apps for virtual stargazing, but Sky Guide is the best of them on iPad. Like its rivals, the app allows you to search the heavens in real-time, providing details of constellations and satellites in your field of view (or, if you fancy, on the other side of the world).
Indoors, it transforms into a kind of reference guide, offering further insight into distant heavenly bodies, and the means to view the sky at different points in history. What sets Sky Guide apart, though, is an effortless elegance. It's simply the nicest app of its kind to use, with a polish and refinement that cements its essential nature.
Every now and again, you get an app that ticks all the boxes: it's beautiful, audacious, productive, and nudges the platform forwards. This perfectly sums up Coda, a full-fledged website editor for iPad.
The app's graphic design borrows from the similarly impressive Transmit for iOS, all muted greys and vibrant icons. It's a style we wish Apple would steal. When it comes to editing, you can work remotely or pull down files locally; in either case, you end up working in a coding view with the clout you'd expect from a desktop product, rather than something on mobile.
Naturally, Coda is a fairly niche tool, but it's essential for anyone who regularly edits websites and wants the ability to do so when away from the office.
When you're told you can control the forces of nature with your fingertips that probably puts you more in mind of a game than a book. And, in a sense, Earth Primer does gamify learning about our planet. You get a series of engaging and interactive explanatory pages, and a free-for-all sandbox that cleverly only unlocks its full riches when you've read the rest of the book.
Although ultimately designed for children, it's a treat for all ages, likely to plaster a grin across the face of anyone from 9 to 90 when a volcano erupts from their fingertips.
For most guitarists, sound is the most important thing of all. It's all very well having a massive rig of pedals and amps, but only if what you get out of it blows away anyone who's listening. For our money, BIAS FX is definitely the best-sounding guitar amp and effects processor on the iPad, with a rich and engaging collection of gear.
Fortunately, given the price-tag, BIAS FX doesn't skimp on set-up opportunities either. A splitter enables complex dual-signal paths; and sharing functionality enables you to upload your creations and check out what others have done with the app.
You might argue that Google Maps is far better suited to a smartphone, but we reckon the king of mapping apps deserves a place on your iPad, too. Apple's own Maps app has improved, but Google still outsmarts its rival when it comes to public transport, finding local businesses, saving chunks of maps offline, and virtual tourism by way of Street View.
Google's 'OS within an OS' also affords a certain amount of cross-device sync when it comes to searches. We don't, however, recommend you strap your cellular iPad to your steering wheel and use Google Maps as a sat-nav replacement, unless you want to come across as some kind of nutcase.
Adult colouring books are all the rage, proponents claiming bringing colour to intricate abstract shapes helps reduce stress - at least until you realise you've got pen on your shirt and ground oil pastels into the sofa.
You'd think the process of colouring would be ideal for iPad, but most relevant apps are awful, some even forcing tap-to-fill. That is to colouring what using a motorbike is to running a marathon - a big cheat. Pigment is an exception, marrying a love for colouring with serious digital smarts.
On selecting an illustration, there's a range of palettes and tools to explore. You can use pencils and markers, adjusting opacity and brush sizes, and work with subtle gradients. Colouring can be 'freestyle', or you can tap to select an area and ensure you don't go over the lines while furiously scribbling. With a finger, Pigment works well, but it's better with a stylus; with an iPad Pro and a Pencil, you'll lob your real books in the bin.
The one niggle: printing and accessing the larger library requires a subscription in-app purchase. It's a pity there's no one-off payment for individual books, but you do get plenty of free illustrations, and so it's hard to grumble.
Podcasts are mostly associated with small portable devices - after all, the very name is a mash-up of 'iPod' and 'broadcast'. But that doesn't mean you should ignore your favourite shows when armed with an iPad rather than an iPhone.
We're big fans of Overcast on Apple's smaller devices, but the app makes good use of the iPad's extra screen space, with a smart two-column display. On the left, episodes are listed, and the current podcast loads into the larger space on the right.
The big plusses with Overcast, though, remain playback and podcast management. It's the one podcast app we've used that retains plenty of clarity when playback is sped up; and there are clever effects for removing dead air and boosting vocals in podcasts with lower production values.
Playlists can be straightforward in nature, or quite intricate, automatically boosting favourites to the top of the list, and excluding specific episodes. And if you do mostly use an iPhone for listening, Overcast automatically syncs your podcasts and progress, so you can always pick up where you left off.
On opening Toca Nature, you find yourself staring at a slab of land floating in the void. After selecting relevant icons, a drag of a finger is all it takes to raise mountains or dig deep gullies for rivers and lakes.
Finishing touches to your tiny landscape can then be made by tapping to plant trees. Wait for a bit and a little ecosystem takes shape, deers darting about glades, and fish swimming in the water. Using the magnifying glass, you can zoom into and explore this little world and feed its various inhabitants.
Although designed primarily for kids, Toca Nature is a genuinely enjoyable experience whatever your age.
The one big negative is that it starts from scratch every time — some save states would be nice, so each family member could have their own space to tend to and explore. Still, blank canvases keep everything fresh, and building a tiny nature reserve never really gets old.
The fairly large screen of the iPad means you can access desktop-style websites, rather than ones hacked down for iPhone. That sounds great until you realise most of them want to fire adverts into your face until you beg for mercy.
Old people will wisely suggest 'RSS', and then they'll explain that means you can subscribe to sites and get their content piped into an app.
Reeder 3 is a great RSS reader for iPad. It's fast, efficient, caches content for offline use and — importantly — bundles a Readability view. This downloads entire articles for RSS feeds that otherwise would only show synopses.
Like on the iPhone, Reeder's perhaps a bit gesture-happy, but it somehow feels more usable on the iPad's larger display. And we're happy to see the app continue to improve its feature set, including Split View and iPad Pro support, font options for the article viewer, and the means to sync across Instapaper content.
Although Apple introduced iCloud Keychain in iOS 7, designed to securely store passwords and payment information, 1Password is a more powerful system. Along with integrating with Safari, it can be used to hold identities, secure notes, network information and app licence details. It's also cross-platform, meaning it will work with Windows and Android.
And since 1Password is a standalone app, accessing and editing your information is fast and efficient. The core app is free – the company primarily makes its money on the desktop. However, you'll need a monthly subscription or to pay a one-off $9.99/£9.99/AU$14.99 IAP to access advanced features (multiple vaults, Apple Watch support, tagging, and custom fields).
The vast majority of iPads in Apple's line-up don't have a massive amount of storage, and that becomes a problem when you want to keep videos on the device. Air Video HD gets around the problem by streaming video files from any Mac or PC running the free server software. All content is live-encoded as necessary, ensuring it will play on your iPad, and there's full support for offline viewing, soft subtitles, and AirPlay to an Apple TV.
Perhaps the best bit about the software is how usable it is. The app's simple to set up and has a streamlined, modern interface - for example, a single tap downloads a file for local storage. You don't even need to be on the same network as your server either - Air Video HD lets you access your content over the web. Just watch your data downloads if you're on 3G!
Apple's own Calendar app is fiddly and irritating, and so the existence of Fantastical is very welcome. In a single screen, you get a week view, a month calendar and a scrolling list of events. There's also support for reminders, and all data syncs with iCloud, making Fantastical compatible with Calendar (formerly iCal) for macOS.
The best bit, though, is Fantastical's natural-language input, where you can type an event and watch it build as you add details, such as times and locations. On iPad, we do question the layout a little - a large amount of space is given over to a month calendar view. Still, in portrait or, better, Split View, Fantastical 2 is transformative.
You're not going to make the next Hollywood hit on your iPad, but iMovie's more than capable of dealing with home movies. The interface resembles its desktop cousin and is easy to get to grips with.
Clips can be browsed, arranged and cut, and you can then add titles, transitions and music. For the added professional touch, there are 'trailer templates' to base your movie on, rather than starting from scratch.
And should your iPad be powerful enough, this app will happily work with and export footage all the way up to 4K, which will likely make anyone who used to sit in front of huge video workstations a decade or two ago wide-eyed with astonishment.
Touch Press somewhat cornered the market in amazing iOS books with The Elements, but Journeys of Invention takes things a step further. In partnership with the Science Museum, it leads you through many of science's greatest discoveries, weaving them into a compelling mesh of stories.
Many objects can be explored in detail, and some are more fully interactive, such as the Enigma machine, which you can use to share coded messages with friends.
What's especially great is that none of this feels gimmicky. Instead, this app points towards the future of books, strong content being married to useful and engaging interactivity.
It's not like Microsoft Word really needs introduction. Unless you've been living under a rock that itself is under a pretty sizeable rock, you'll have heard of Microsoft's hugely popular word processor. What you might not realize, though, is how good it is on iPad.
Fire up the app and you're greeted with a selection of handy templates, although you can of course instead use a blank canvas. You then work with something approximating the desktop version of Word, but that's been carefully optimized for tablets. Your brain keeps arguing it shouldn't exist, but it does — although things are a bit fiddly on an iPad mini.
Wisely, saved documents can be stored locally rather than you being forced to use Microsoft's cloud, and they can be shared via email. (A PDF option exists for recipients without Office, although it's oddly hidden behind the share button in the document toolbar, under 'Send Attachment', which may as well have been called 'beware of the leopard'.)
Something else that's also missing: full iPad Pro 12.9 support in the free version. On a smaller iPad, you merely need a Microsoft account to gain access to most features. Some advanced stuff — section breaks; columns; tracking changes; insertion of WordArt — requires an Office 365 account, but that won't limit most users.
Presumably, Microsoft thinks iPad Pro owners have money to burn, though, because for free they just get a viewer. Bah.
There are loads of note-taking apps for the iPad, but Notability hits that sweet spot of being usable and feature-rich. Using the app's various tools, you can scribble on a virtual canvas, using your finger or a stylus. Should you want precision copy, you can drag out text boxes to type into. It's also possible to import documents.
One of the smartest features, though, is audio recording. This enables you to record a lecture or meeting, and the app will later play back your notes live alongside the audio, helping you see everything in context. Naturally, the app has plenty of back-up and export options, too, so you can send whatever you create to other apps and devices.
Apple's Photos app has editing capabilities, but they're not terribly exciting — especially when compared to Snapseed. Here, you select from a number of from a number of tools and filters, and proceed to pinch and swipe your way to a transformed image.
You get all the basics - cropping, rotation, healing brushes, and the like — but the filters are where you can get really creative.
There are blurs, photographic effects, and more extreme options like 'grunge' and 'grainy film', which can add plenty of atmosphere to your photographs. The vast majority of effects are tweakable, mostly by dragging up and down on the canvas to select a parameter and then horizontally to adjust its strength.
Brilliantly, the app also records applied effects as separate layers, each of which remains fully editable until you decide to save your image and work on something else.
Soulver is more or less the love child of a spreadsheet and the kind of calculations you do on the back of an envelope. You write figures in context, and Souvler extracts the maths bits and tots up totals; each line's results can be used as a token in subsequent lines, enabling live updating of complex calculations. Drafts can be saved, exported to HTML, and also synced via Dropbox or iCloud.
Initially, the app feels a bit alien, given that people have been used to digital versions of desktop calculators since the dawn of home computing. But scribbling down sums in Soulver soon becomes second nature.
We're big fans of the Foldify apps, which enable people to fashion and customise little 3D characters on an iPad, before printing them out and making them for real. This mix of digital painting, sharing (models can be browsed, uploaded and rated) and crafting a physical object is exciting in a world where people spend so much time glued to virtual content on screens.
But it's Foldify Dinosaurs that makes this list because, well, dinosaurs. Who wouldn't be thrilled at the prospect of making a magenta T-Rex with a natty moustache? Should that person exist, we don't want to meet them.
When someone talks about bringing back the sounds of the 1980s, your head might fill with Human League and Depeche Mode, but if you played games, you'll instead think of Rob Hubbard and Martin Galway, chip-tune pioneers whose music graced the C64, leveraging the power of the MOS Technology 6581/8580 SID (Sound Interface Device) chip.
SidTracker64 is a niche but wonderfully designed iPad app that's a complete production package for creating SID tunes. It's unashamedly retro in terms of sound, but boasts a modern design, with powerful editing and export functionality. If you're only into raw chip-tune noises, Audiobus and Inter-App Audio are supported; but if you're an old-hand, you'll be delighted at the bundled copy of Hubbard's Commando, ready for you to remix.
Author: Craig Grannell
Published at: Wed, 24 Jan 2018 16:06:00 +0000