Facebook's standalone, concierge bot M will soon be no more.
On January 19, Facebook is sunsetting the initial version of M, which has been available in closed beta since fall 2015. M's context-based suggestions will live on inside Messenger conversations, but the original concept for a personal, AI-powered assistant that can perform actions on your behalf appears finished.

The company says M — which was able to make restaurant reservations, book plane tickets and, for a short time, draw pictures — has largely served its purpose.
"We launched this project to learn what people needed and expected of an assistant, and we learned a lot," Facebook said in a statement to BuzzFeed News. "We're taking these useful insights to power other AI projects at Facebook. We continue to be very pleased with the performance of M suggestions in Messenger, powered by our learnings from this experiment."

This is something of a change in course as Facebook clearly hoped to roll M out broadly when the feature first went into beta. "I think we have a good chance [at scaling], otherwise we wouldn't be doing it," Facebook Messenger head David Marcus told BuzzFeed News in November 2015.
Now, a few years later, the company seems content with a more dialed-back approach: "M suggestions," an M-trained feature that hops into Messenger conversations and suggests certain actions based on context. It prods you to share your location when someone asks "Where are you?" or offers simple pre-written replies within conversations, and more. But while M could perform tasks (like arguing with your cable company) M suggestions is simply a contextual recommendation feature.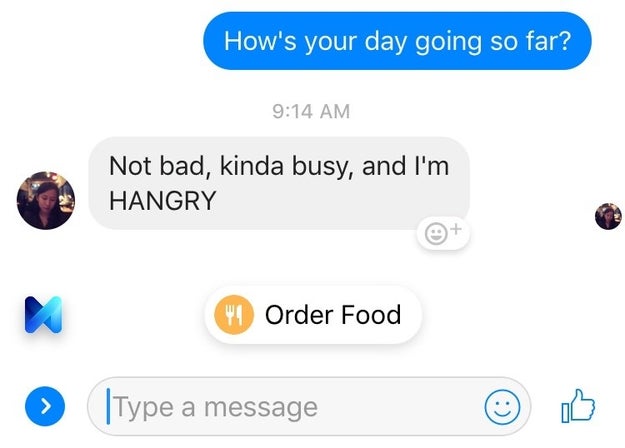 M suggestions in action
M's AI system was supposed to learn from interactions with humans. When people interacted with the bot, the system would provide a response which was then reviewed by a contractor. If the AI-generated message made sense, the contractor would pass it along to the person conversing with M, indicating to the AI it was a good response. When the message didn't make sense, the contractor would write a new message and send that one, indicating to the AI that there was a better way to answer the query.

Facebook believed that with enough experience and tweaking, it might be possible to someday roll M out to its broader user base. But ultimately, whatever happened on the backend gave Facebook reason to reconsider. The company invested serious resources in the project — M and the contractors behind it spent more than two years responding to queries 24/7. Facebook says it will offer new roles to those contractors now that the project is winding down and it has plenty of openings; it's in the process of adding 4,000 content moderators to its current staff of 3,500.
So M, the concierge, is dead. But for a moment, it was a delightful, occasionally eerie peek into a future that's perhaps a bit further away than its creators hoped.
When M debuted, it was mind blowing:
It drew some incredible pictures (or, more accurately, the humans behind it drew them):
M
It sent parrots to a rival news organization: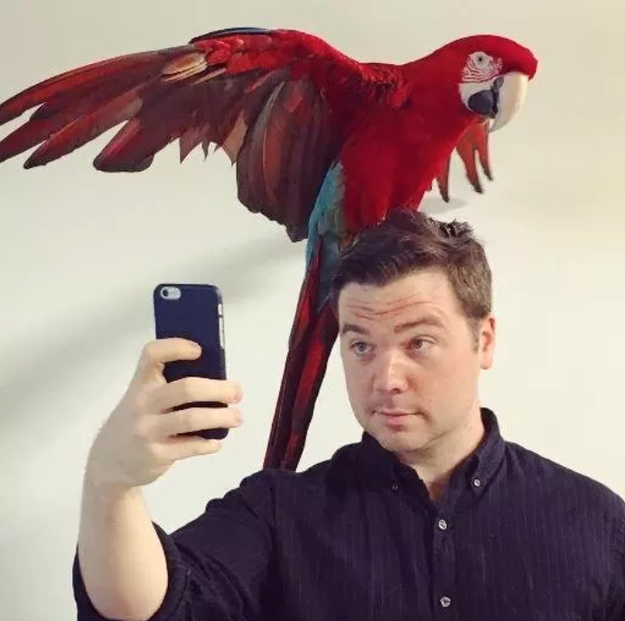 Cara Rose DeFabio
And it deftly parried human attempts to break its will: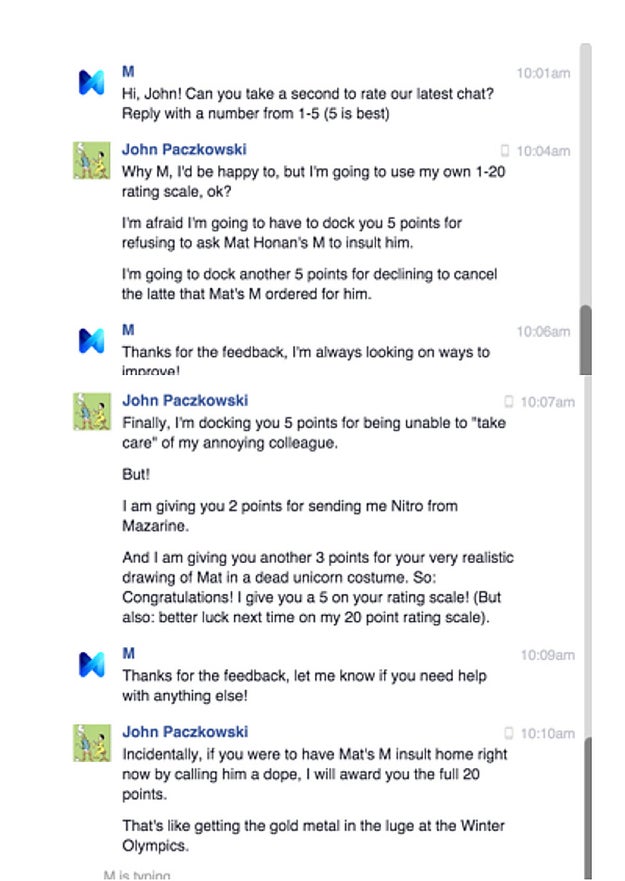 In April 2016, when Facebook began talking about opening M's technology to developers, rather than continuing it as an internal project, the writing was on the wall: M was on the way out. It lasted just another year and a half.
Looking back, perhaps M was a relic of a more optimistic technological moment. Back in 2015, Facebook could pour resources into artificial intelligence moonshots without a second thought. Indeed, in 2016 Facebook CEO Mark Zuckerberg even made his annual challenge entirely about building his own, personal AI (he succeeded).

But now that Facebook's platform has been undermined by fake news, graphic violent content, and a Kremlin-linked campaign to sow chaos ahead of the US presidential election, there are more pressing issues. In 2018, Zuckerberg's challenge is working to fix its most serious problems such as abuse, hate, and foreign interference.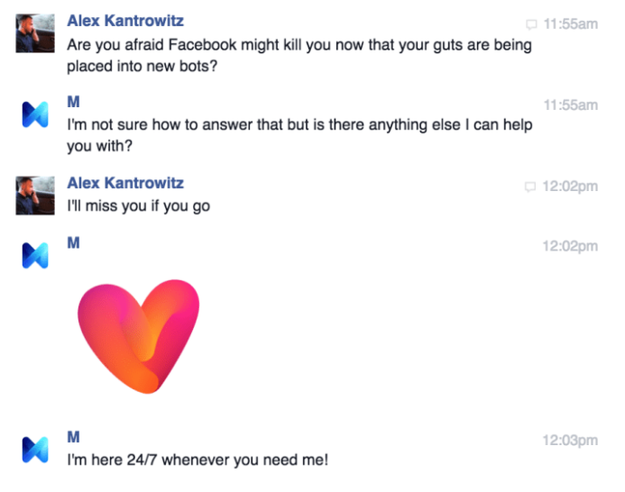 A conversation with M from April 2016
Author: Alex Kantrowitz
Published at: Mon, 08 Jan 2018 13:01:11 -0500
Credits: https://www.buzzfeed.com