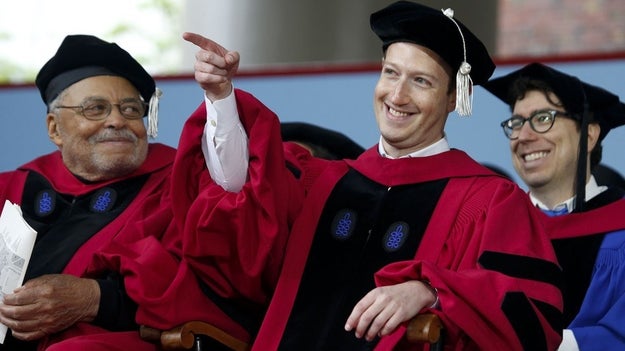 Brian Snyder / Reuters
Facebook CEO Mark Zuckerberg on Thursday said his annual personal challenge this year will be tackling abuse, hate, foreign interference, and other major problems on Facebook. In essence: His 2018 will be dedicated to fixing a mess that might've been prevented with a little more foresight by the social giant. It's a departure from previous challenges, many of which have been more lighthearted.

Last year was a doozy for Facebook. The company spent much of it on the defensive, explaining its bungled handling of fake news, graphic violent content, Russian interference in US elections on its platform, and its overall contribution to divisiveness and polarization around the globe. Facebook capped the year addressing early investor and employee concerns that it was "destroying how society works."

"Facebook has a lot of work to do — whether it's protecting our community from abuse and hate, defending against interference by nation states, or making sure that time spent on Facebook is time well spent," Zuckerberg said in a post announcing the challenge. "My personal challenge for 2018 is to focus on fixing these important issues."

"We won't prevent all mistakes or abuse," Zuckerberg continued. "But we currently make too many errors enforcing our policies and preventing misuse of our tools. If we're successful this year then we'll end 2018 on a much better trajectory."

Zuckerberg's annual challenge seems a bit more serious than those that preceded it. In 2009 he committed to wearing a tie every day to remind himself to "get serious" about developing a sustainable business model, and other years he resolved to read books, build a personal AI, and run a lot.
Last year, after a turbulent political season, Zuckerberg pledged to visit the approximately 30 US states he hadn't been to yet, generating speculation he'd run for president (he's not).
The seriousness of Zuckerberg's challenge this year seems to show an increasing reckoning with Facebook's place in the world, an important if perhaps overdue step for the steward of an opinion-shaping 2 billion+ user social platform.
Here's the full post.
Author: Alex Kantrowitz
Published at: Thu, 04 Jan 2018 13:23:01 -0500
Credits: https://www.buzzfeed.com