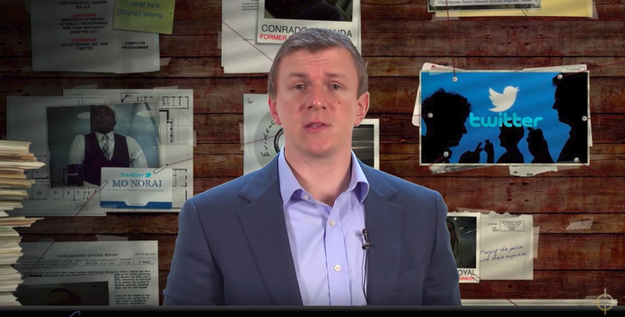 Via YouTube screenshot
On Monday, conservative activist and filmmaker James O'Keefe published undercover footage of Twitter engineers alleging the social network has hundreds of employees reading "everything you post online" — including direct messages.
But according to Twitter, these claims are factually incorrect and misleadingly portrayed by O'Keefe's media organization Project Veritas.
The undercover video shows Twitter engineer Clay Haynes telling a Project Veritas activist that hundreds of employees have seemingly unrestricted access to Twitter users' private data. "There's teams dedicated to it... at least, three or four hundred people," Haynes is heard saying on camera. "They're paid to look at dick pics."
Twitter disputes these claims. "We do not proactively review DMs. Period," a company spokesperson told BuzzFeed News. "A limited number of employees have access to such information, for legitimate work purposes, and we enforce strict access protocols for those employees."
Twitter did not answer questions about the number of employees who have such access or the specifics of precautions it takes to protect sensitive user data.
"...technically accurate to a degree, but exaggerated for effect by drunk idiots."
A former senior Twitter employee echoed the company's comment, observing that the claims in Monday's Project Veritas video were "technically accurate to a degree, but exaggerated for effect by drunk idiots." The former employee claimed that the group of engineers able to view such sensitive data is "pretty small" and that it is only permitted access "in response to a report (i.e. 'so and such is harassing me via DM')."
Two former senior Twitter employees also noted that the bulk of moderation work is conducted algorithmically — in part due to the number of reports Twitter processes daily. In the Project Veritas video, a Twitter engineer seems to confirm this.
Monday's undercover video was the latest in a series of Project Veritas sting videos aimed at investigating Twitter. Last week, O'Keefe released footage of Twitter engineers alleging the company is "more than happy to help the Department of Justice in their little investigation" by handing over Trump tweets and direct messages. Twitter pushed back hard against the claims last week, noting in a statement that it "only responds to valid legal requests, and does not share any user information with law enforcement without such a request." In the same statement, a Twitter spokesperson condemned Project Veritas's videos for tricking employees into talking under false pretenses.

"We deplore the deceptive and underhanded tactics by which this footage was obtained and selectively edited to fit a pre-determined narrative," Twitter said last week. "Twitter is committed to enforcing our rules without bias and empowering every voice on our platform, in accordance with the Twitter Rules."

This isn't the first time Twitter has come under scrutiny for how it manages employee access to user data. Last November, the company faced criticism after a contract employee temporarily suspended President Trump's account. The suspension prompted questions as to whether employees could access user information and take action to suspend or ban users at will. Since the November incident Twitter has apparently taken steps to better secure the employee permissions, according to an individual familiar with the decision-making process.
Author: Charlie Warzel
Published at: Mon, 15 Jan 2018 21:04:26 -0500
Credits: https://www.buzzfeed.com