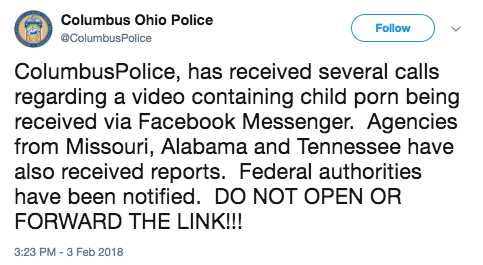 A child pornography video went viral via Facebook Messenger, reaching thousands of people before Facebook stopped it from spreading, according to reports.

Authorities say the video shows a pornographic image of a young girl and an adult man. The video spread widely after an accompanying message urged Messenger users to distribute a link to it to help catch the perpetrator.
Messenger is used by 1.3 billion people each month, making even a small delay in stopping a video like this from spreading a liability with significant consequences. By the time Facebook intervened, the video had been blindly shared by thousands of people, according to reports. "It's a nationwide epidemic now," Sgt. Tami Edwards, of the Orlando Police Department's Special Victims Unit, told local CBS affiliate WKMG.
"We are aware of this issue," a Facebook spokesperson told BuzzFeed News. "We reported the video to the appropriate authorities, and we have used PhotoDNA technology to automatically prevent future uploads and shares. Sharing any kind of child exploitative imagery using Facebook or Messenger is not acceptable — even to express outrage. We are and will continue to be aggressive in preventing and removing such content from our community."
Reports suggest the video began to go viral late last week. A Facebook spokesperson could not identify when the company entered the video into the PhotoDNA system to prevent it from spreading.

Local police departments urged anyone receiving a message to delete it. "ColumbusPolice, has received several calls regarding a video containing child porn being received via Facebook Messenger," the Columbus, Ohio, police department tweeted. "Agencies from Missouri, Alabama and Tennessee have also received reports. Federal authorities have been notified. DO NOT OPEN OR FORWARD THE LINK!!!"
Multiple news outlets pleaded with readers not to send the video to them. "It is important to note that sending the video to KTBS or any news outlet to report it does count as child pornography distribution," one Louisiana TV station said in a news report about the incident. "Please do not send it to us."
Author: Alex Kantrowitz
Published at: Mon, 05 Feb 2018 22:02:15 -0500
Credits: https://www.buzzfeed.com