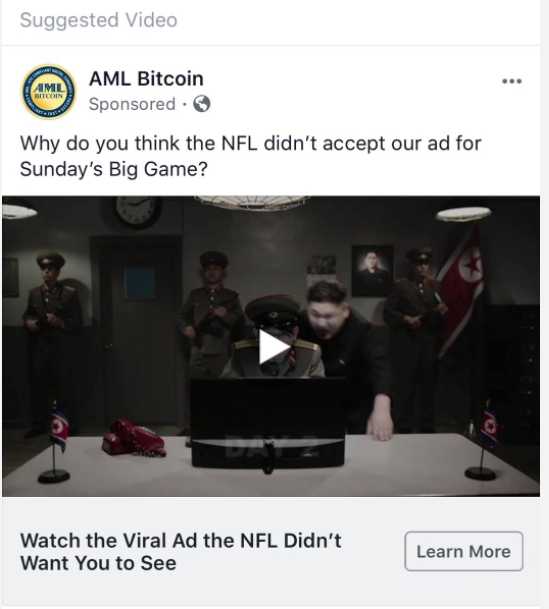 The latest innovation in cryptocurrency ploys? Ginning up controversy by pretending your bitcoin ad was banned from the Super Bowl.
This week, AML Bitcoin, a company that purports to be creating an un-hackable digital currency that supposedly combats money laundering, manufactured a small outrage news cycle when it announced that the NFL and NBC rejected its Super Bowl advertisement for being "too political." The ad, which was posted on YouTube, depicted a caricature version of North Korean leader Kim Jong Un screaming at underlings as they tried and failed to hack AML Bitcoin's product.
But the ad wasn't banned, according to NBC. "It wasn't rejected because it was never reviewed because the company never made a buy," an NBC spokesperson told BuzzFeed News. "We don't review creative until a purchase is made."
AML Bitcoin, which is currently trying to raise money through a process known as an initial coin offering (ICO), isn't the only company to falsely claim its ads for the world's most-viewed US sporting event were rejected. In 2011, Ashley Madison, the site that encourages extramarital affairs, used this tactic to build up publicity for an ad that it never intended to buy time for. According to Variety, NBC reportedly sought $5 million for a 30-second spot in this year's game.
AML's fake ad buy seems to have accomplished its goal. Earlier this week, after claiming the North Korea spot was rejected, a number of conservative media sites picked up the controversy, citing it as an example of censorship. "NFL Rejects Super Bowl Ad Because It Mocks Kim Jong-Un," the Daily Caller's headline reads, comparing the AML ad to the NFL's reported recent rejection of an ad bought by a veterans group that asked Super Bowl attendees to stand for the national anthem.
And on Sunday, Fox News pundit Sean Hannity tweeted about the AML rejection, sharing an article with the headline: "AMERICA'S GAME? NFL Blocks New AD MOCKING North Korean Dictator."

That attention is key for the Las Vegas–based company. According to its website, AML Bitcoin is in the third phase of its ICO and is currently selling 40 million tokens at $1.50 each. It's unclear how many tokens the company has sold in its current or previous rounds.

In a letter which the company claims to have sent to NFL Commissioner Roger Goodell, AML Bitcoin's President Marcus Andrade complained of unfair censorship. "An ad taking Kim Jong-un, dictator of North Korea, to task in a humorous and biting way should not be offensive to anyone," the letter states, which is posted on the company's homepage, along with the ad.

The letter continued: "Our ad reminds viewers that Kim Jong-un and his army of hackers have been stealing billions of dollars of Bitcoin and other digital currencies for the past few years, funding their rogue nuclear weapons programs and thwarting efforts by the rest of the world to sanction this behavior."
The company did not respond to a phone call and two emails from BuzzFeed News.
Jerry Brito, the executive director at Coin Center, a Washington-based advocacy group for cryptocurrency, worried that promotions like AML Bitcoin could delegitimize the "serious use cases and serious people" associated with digital currencies. Coin Center has been tracking AML Bitcoin since the summer after the company announced that it had associated itself disgraced ex-lobbyist Jack Abramoff, who was attempting to create a reality television show about advancing cryptocurrency policies and technologies in the nation's capital.
"The problem is that the company has the word 'bitcoin' in it, and it has nothing to do with bitcoin," Brito said, adding that AML Bitcoin's marketing plays off the misconception that bitcoin is unsafe and illegal, which it is not. "It's not good for bitcoin, which is a very serious, very legitimate, open-source project. And if Jack Abramoff is involved, it's not good."
AML Bitcoin's ad was posted to YouTube on Friday afternoon, and the company claimed that it was already "viral," despite the video only having a few hundred views at the time. As of Sunday afternoon, the ad, titled "AML BitCoin: The Banned Super Bowl Commercial That's Sweeping The Globe!" had garnered more than 25,000 views. As of Sunday morning, AML Bitcoin's website said it was "Sweeping the Globe."
Some of those views may have come through Facebook, through which the company advertised, despite the social network's ban on all cryptocurrency marketing that was implemented earlier this week. "As we continue to ramp up enforcement, we are catching many of these types of ads but still miss some," Robert Leathern, a Facebook product management director, tweeted on Sunday before noting that he would follow up on ad.
AML Bitcoin's ICO lasts for another nine days, and it could stand to raise millions of dollars if people believe their advertising and claims to create a "borderless, secure, identity based digital currency." If you believe AML Bitcoin can do it, you can buy the company's tokens in bitcoin, the supposedly dangerous cryptocurrency that it's trying to displace.
Author: Charlie Warzel
Published at: Sun, 04 Feb 2018 16:42:13 -0500
Credits: https://www.buzzfeed.com