I've been testing the Samsung Galaxy S9+ for about a week now. The work of a reviewer involves repeatedly saying, "Actually, THIS phone is now the best phone," if the new device is an improvement over its predecessor, as they almost always are. The Galaxy S9+ is no different.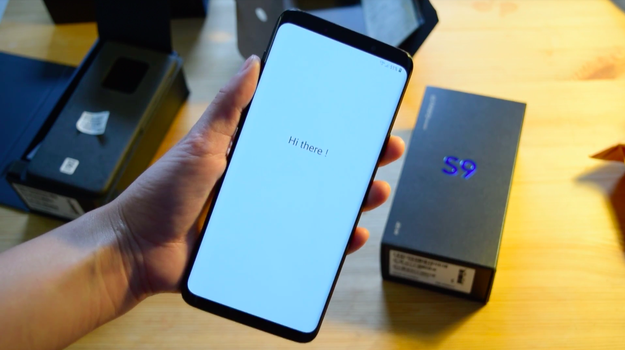 Nicole Nguyen / BuzzFeed News
Like all of the new phone releases this past year, the Samsung Galaxy S9+ is just... another good new phone. The S9+ has the Note 8's camera, and it's packaged in last year's S8+ design. It's got just enough newness to be better than last year's Galaxy S8 model, but it is ultimately not *that* different from what came before it. Generally speaking, if you liked last year's Samsung phones, you will certainly like this year's Samsung phone. And that may be precisely why you don't need to upgrade your perfectly fine, slightly older phone to get this newer, slightly better phone.

If you want to see all of the new features the Galaxy S9 and S9+ has to offer, check out this post, a ~spec~ rundown you can dive into that has numbers and percentages. This review, in contrast, is about how it feels to live with the S9+. And also dogs.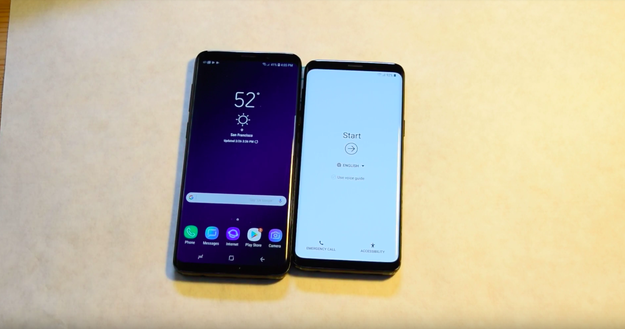 Nicole Nguyen / BuzzFeed News
There are actually two models, a larger 6.2-inch Galaxy S9+ for people who like to take pictures and/or look at their screens, and a smaller 5.8-inch Galaxy S9, for people who have smaller hands and/or like to look at their screens a little less. For the purposes of this review, I am ignoring the smaller S9, because the S9+ has the same features, but also has a dual lens camera, a thing that Apple, and now, Samsung, are very into.
The real — and only — reason anyone should consider the S9+ is for its rear dual lens camera. Instead of having a traditional one lens camera, like the smaller S9 (womp), the S9+ has two lenses, one of which is a zoom lens. Frankly, this extra lens is the S9+'s killer feature, and the only thing that really justifies an S9+'s purchase.
The wide angle lens is for wide (duh) shots, like group photos or casually-chillen-at-the-edge-of-an-infinity-pool-with-my-back-to-the-camera snaps. The other, a telephoto lens, is for photos that are zoomed in, like so: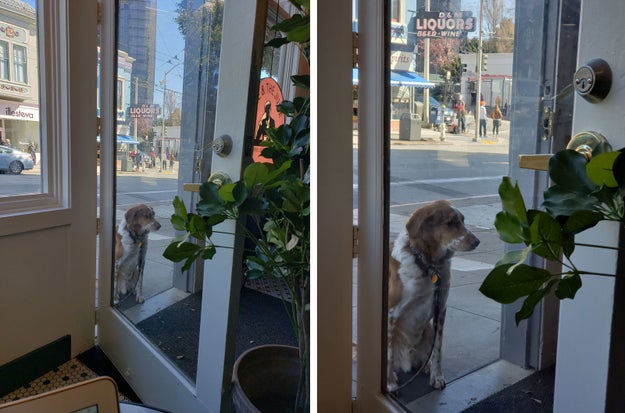 Nicole Nguyen / BuzzFeed News
Having a telephoto lens is VERY USEFUL, and not just for capturing good doggos from far away as they wait for their humans.
When you use digital zoom, an image loses resolution as you zoom. But when you use optical zoom, which the telephoto lens offers, you can maintain the image's high resolution. Maintaining the resolution is important for when you want to crop a photo or blow the image up, poster-size, for your wall. Who wouldn't want a poster of this pup!
Of course, the S9+ is not the first phone with a dual lens. The iPhone 8 Plus, iPhone X, the LG V30, the Essential phone, and the Samsung Note 8 all have cameras with two lenses, too. But the S9+ is the first Galaxy phone to have a dual lens — and there are like a gajillion million people who use Galaxy phones. So this development is exciting for those people.
Having a telephoto lens is great for birders, too. You can zoom in on faraway airborne creatures, and use those photos to prove to your partner that the thing you saw really was an albatross. Going to go out on a limb here: The Samsung Galaxy S9+ might be *the* phone for birders.
The zoom lens is not just good for zooming. Through its two new lenses, the Galaxy S9+ can also understand distance. In other words, it knows what's in the background, and what's in the foreground, and can then blur out the background, creating a pro photography effect. Apple and Google call it Portrait Mode (Google's Pixel doesn't have two lenses, and instead relies on AI to create the effect). Samsung calls it Live Focus.
Here's another doggo, Daphne, brought to you by Live Focus: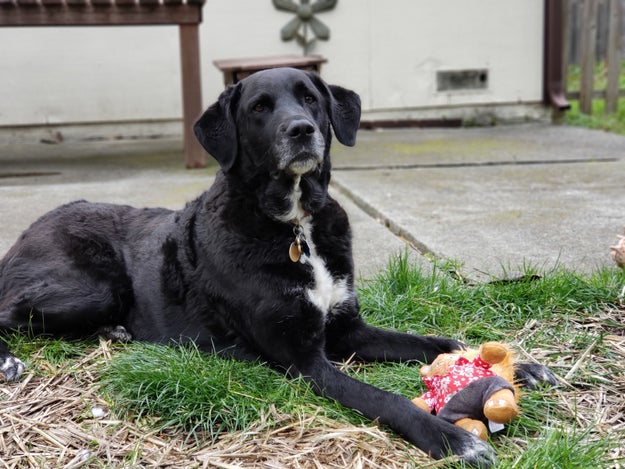 Nicole Nguyen / BuzzFeed News
If all of this two-lens stuff sounds familiar, that's because the Note 8, which launched in August 2017, has the same thing, and was the first Samsung phone to include an additional telephoto lens, as well as Live Focus. You should really just read that review, then come back.

One thing that is new in the Galaxy phone is the S9+'s — and S9's (from here on out, everything will also apply to the S9) — ability to open and close its aperture, based on an environment's lighting conditions..
If it's a dark scene, the lens will adjust its aperture from f/2.4 to f/1.5 (the Galaxy S8's lens only went up to f/1.7). Remember: in aperture land, smaller = better. So, f/1.5 > f/1.7. This basically means the Galaxy S9s can let in 28% more light now, so your pics from ~the club~ will actually turn out.

I've been tired lately and didn't end up going clerbing for this review, but I did take some photos at a sensual hour in my apartment. The Galaxy S9 photos were much better lit than the iPhone X's.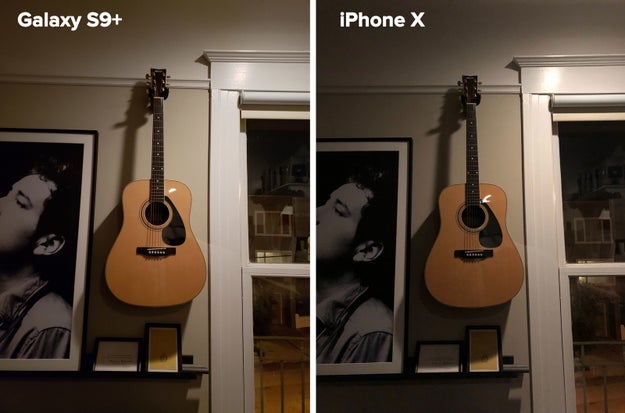 Nicole Nguyen / BuzzFeed News
The Pixel 2 XL is considered to be a low-light superstar. So here's that same pic by Samsung, versus Google's Pixel.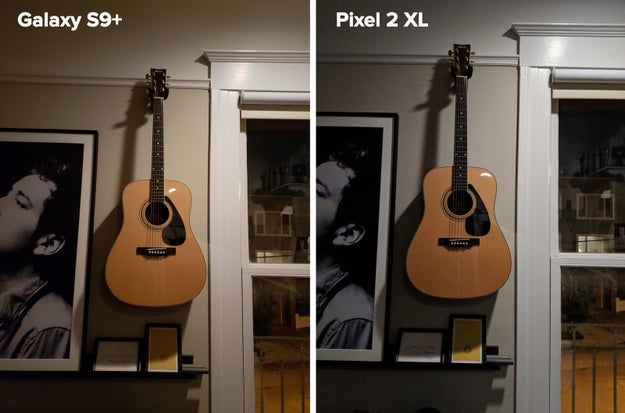 Nicole Nguyen / BuzzFeed News
The S9+ appears to be the winner here.
The S9 and S9+ also come with 'Super Slo-Mo,' a feature that can capture 960 frames per second video, versus the 240 frames per second most phones can capture, though it's at a lower resolution (720p) than some of those other devices (the iPhone 8 and X can capture 240 fps at 1080p).
But I found it really hard to capture what I wanted to capture in Super Slo-Mo. It only records 960 frames before the slo-mo is over, and you can't edit the slo mo'd part after. Sometimes it completely misses the action:
Plus, because Samsung loves giving its users things they don't want, a, er, very tasteful soundtrack is automatically added to the video (you can remove the weirdo audio track in edit mode).

When the S9+ does capture the action, it is cool, I guess. But I still wish super slo-mo was more forgiving, by being more editable.
We are now exiting the dog portion of this review. As a treat, I will leave you with this photo of our featured lab, Daphne, as a lil' pup.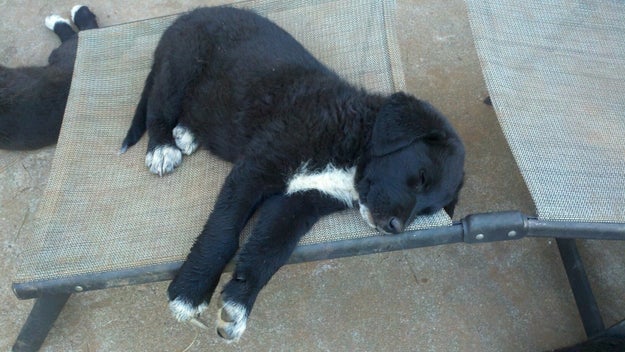 Courtesy of Daphne's humans, Amanda and Will. Not taken on a Samsung S9.
They grow up so fast, don't they?
*wipes away tear*
Bixby is, sigh, still very much a part of the Galaxy S9, and like the S8, has a dedicated button on the side that I try to avoid like a landmine. The dreaded Bixby trigger is way too close to the volume down button, and you can't program it to anything else!!
Bixby has new capabilities, which include translating signs into another language. That's cool, but the Google Translate app already does that. Oh wait, the Bixby feature is powered by Google Translate. 🤔

Nicole Nguyen / BuzzFeed News
You can also try on digital makeup, which is good for selfies, I guess?
The most bizzaro feature is the food mode in Bixby, which uses technology by the app Azumio. You can point the S9's camera at a food, and the camera will identify it and give you calorie info, which I'm pretty sure is a plotline in the show Silicon Valley. Anyway. I was traveling for work, and at the airport, I locked eyes with a Panda Express. I caved.

I decided to try the new food mode on my lunch: fried rice topped with "Shanghai Angus Steak" (Angus is a county in Scotland but, whatever, this is not the hill I'm going to die on).
The gorgeous meal. Delish.
Take one was, um, not quite right — but nailed the continent!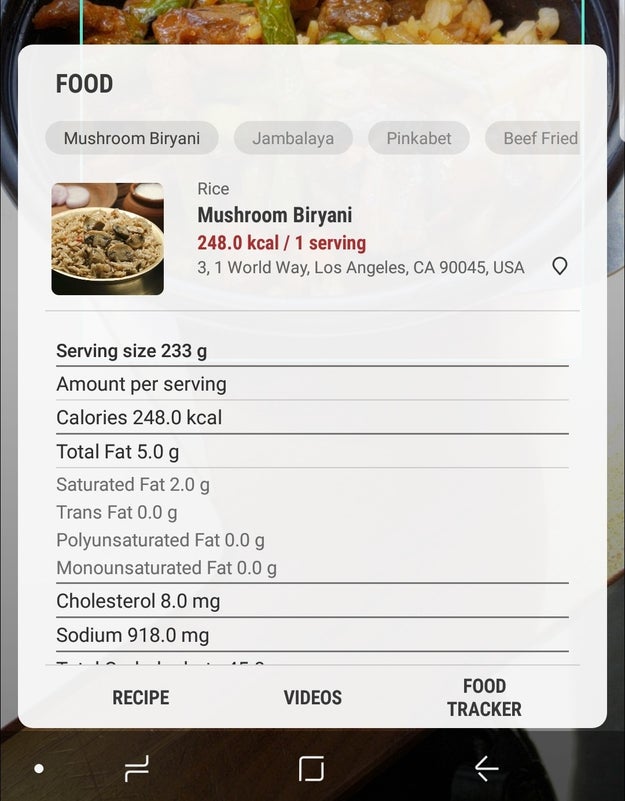 Nicole Nguyen / BuzzFeed News
Take two was pretty impressive. I was, indeed, eating beef fried rice.
Nicole Nguyen / BuzzFeed News
Bixby has me at about 347 calories for this lunch. I looked at the Panda menu. Bowls are 230-990 calories (wow, deeply unhelpful) and Shanghai Angus Steak is about 310 calories for each 5.4 oz serving. So, Bixby's at least in the ballpark. But I don't want my phone to come with pre-installed software that tells me things like this.

The Samsung Galaxy S9 phones, like every Samsung device before them, are full of things I don't need. The calorie counting app, the virtual makeup thing, creepy "AR emojis" I refuse to acknowledge in this review. That extra stuff is what always makes me mad at Samsung. They ruin perfectly good hardware with super random software I don't care to use.
And the hardware is really, really good. If you've held last year's S8 or S8+, the S9 feels the same as that, which is to say, easy to hold (much more so than the Pixel 2, which seems wide and chunky in comparison). The curved display is mind-bogglingly bright, and its bezels — the screen's borders — are slightly smaller than before, making the display even more immersive.
The S9's only downfall is that it's too glossy. By day two, its slippery black, mirrored surface turns from shiny to covered in fingerprints. But I've been living with a fingerprinty Galaxy S9 for a week and it hasn't killed me yet.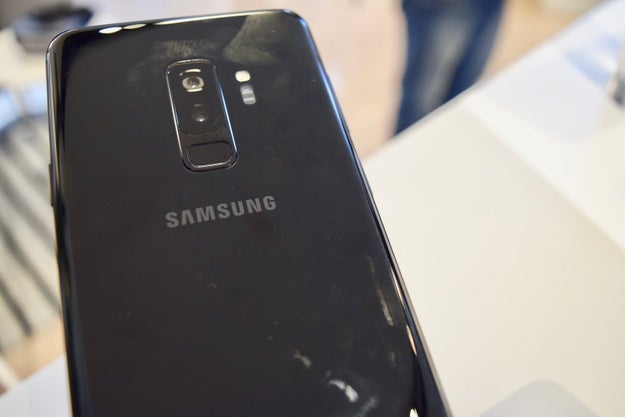 Nicole Nguyen / BuzzFeed News
Face unlock doesn't work too well: Sometimes it recognizes me, sometimes it doesn't, and it's never clear why it succeeds or fails.
When it fails, I rely on my trusty finger to do the job. But the fingerprint scanner is now an itty bitty rectangle (albeit an itty bitty square that's easier to reach than last year's scanner placement) and, after a week, I still can't find it on my first try.
The battery's fine. It lasted about a day and a half in my rigorous testing, which includes taking photos of other people's dogs, infinite scrolling in every kind of feed, and listening to Spotify in the bathroom while I'm taking a shower, on max volume. The S9 does produce great sound, by the way, now that it's 1.4 times louder than the S8.
So, should you get the Galaxy S9+? If you need to take pictures from far away, yes. If you're a birder, double yes.
Should you get the smaller S9? You don't get the zoom lens, but you can use the new low-light feature to take high-quality pictures in the clerb.
Both have a headphone jack — so if you are an iPhone or Pixel 2 person and miss being plugged in, then that's a good reason to go Samsung. The new Galaxy also has expandable memory via SIM card and is waterproof, as Galaxy devices have been for years.
But other than the S9+'s camera, there's not a SUPER compelling reason to upgrade right now, unless you're coming from a much older model and need something new.
An unlocked version of the Galaxy S9 is $719.99, and the larger unlocked Galaxy S9+ is available for $839.99 through Samsung.com. At Verizon, it's $799 for the S9 and $929 for the S9+. AT&T is selling the S9 for $790 and the S9+ for $915, while Sprint is offering the S9 for $792 and the S9+ for $912.
Author: Nicole Nguyen
Published at: Thu, 08 Mar 2018 08:01:03 -0500
Credits: https://www.buzzfeed.com