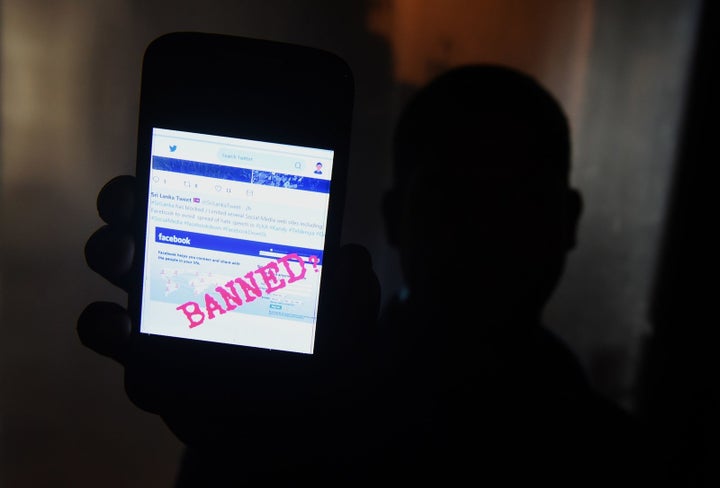 A Sri Lankan man holds up a message on his mobile phone in Colombo on March 7.
Ishara S. Kodikara / AFP / Getty Images
Sri Lanka is blocking Facebook for three days in response to posts calling for attacks on Muslims as social media companies come under fire for failing to do enough to curb hate speech.
The temporary ban will also include messaging apps WhatsApp — which is also owned by Facebook — and Viber.
For the first time since its decades long civil war ended in 2009, Sri Lanka has imposed a state of emergency after violence broke out between the country's majority Sinhalese Buddhists and the Muslim minority, in and around the central city of Kandy. Mobs have rioted and set fire to Muslim-owned businesses and mosques in recent days.
"Social media websites such as Facebook, Whatsapp, and Viber — which were created to bring us closer to our friends and family and make communication free and convenient — have been used to destroy families, lives and private property," said Telecommunications, Digital Infrastructure, and Foreign Employment Minister Harin Fernando according to local media.

The government also restricted internet and phone access in Kandy district to keep photos from being shared.
Facebook has policies against targeted hate speech, but it depends on users bringing offending language to the company's attention. The social network has come under fire in Myanmar for posts that fueled deadly communal violence against the Rohingya minority group in 2013.
A spokesperson for Facebook said on Wednesday that the company is in touch with the Sri Lankan government as well as NGOs to "support efforts to identify and remove such content."
"We have clear rules against hate speech and incitement to violence and work hard to keep it off our platform," the spokesperson said.
Viber's parent company did not respond to a BuzzFeed News request for comment.

Author: Megha Rajagopalan
Published at: Wed, 07 Mar 2018 10:36:32 -0500
Credits: https://www.buzzfeed.com