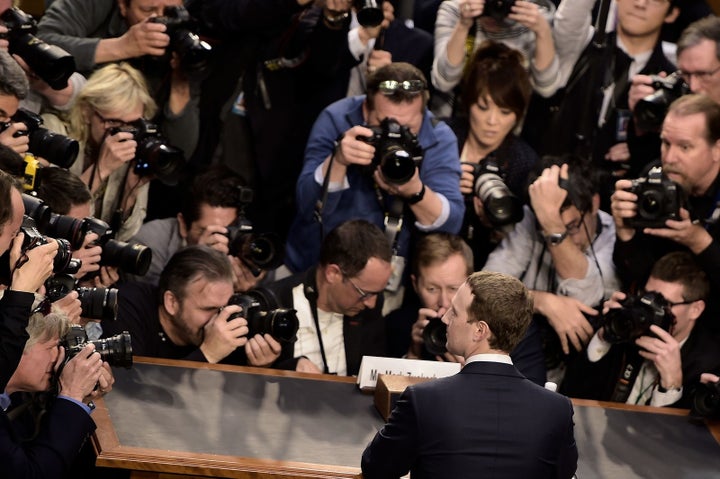 Mark Zuckerberg waits for a joint hearing of the Senate Commerce, Science and Transportation Committee and Senate Judiciary Committee, April 10, 2018.
Brendan Smialowski / AFP / Getty Images
It took just hours after the surprise result of the 2016 presidential election for the Facebook narrative to turn sour. Technologists, researchers, and the media quickly drew a connection between 2016's sharp increase in ideological division, fake news, and harassment and the mammoth social network. In the ensuing months, discussion about Facebook's culpability in everything from misinformation and election meddling to illicit harvesting of user data has erupted in a full-fledged media backlash.
New sentiment analysis data provided to BuzzFeed News puts that backlash in stark relief: In the aftermath of the 2016 election, media coverage of Facebook turned negative almost overnight. And it has largely stayed that way.
Using publicly available information pulled from the APIs of USA Today, the New York Times, the Guardian, and BuzzFeed, researcher Joe Hovde compiled over 87,000 articles about Facebook published by the four outlets between 2006 and 2018. Then he ran a sentiment analysis on them, scoring words on a positive-to-negative scale of -5 to +5 — for example, a negative word like "fake" was scored -3, while a more positive word like "growth" was scored +2. The results were grim.
Here's a sentiment analysis chart for New York Times articles about Facebook between 2006 and late January 2018: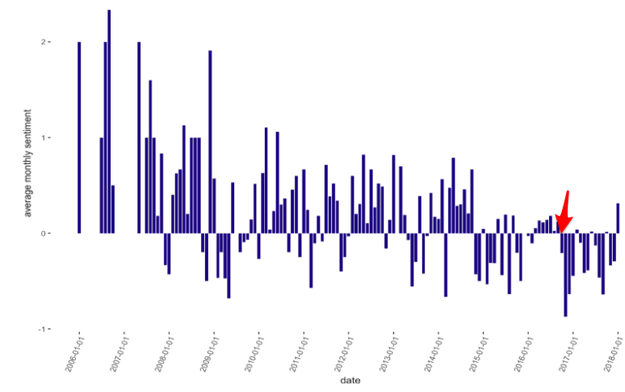 Hovde's chart shows a steep increase in almost exclusively negative sentiment about Facebook beginning in late 2016, around the time of the presidential election. It also reveals a steady decline in positive sentiment between 2006 and 2016.
According to Hovde's analysis, the negative words that appeared most frequently in Times articles about Facebook were: "killed," "death," "died," "lost," "violence," "charged," "protests," and "accused." The positive words that appeared most frequently were: "help," "best," "good," "popular," "top," and "love."

A sentiment analysis of USA Today articles about Facebook from 2009 through 2018 shows a similar drop-off in positive sentiment after the election: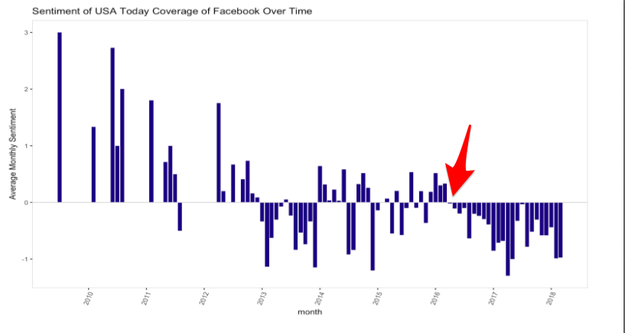 According to Hovde's analysis, the negative words that appeared most frequently in USA Today articles about Facebook were: "fake," "killed," "arrested," "scandal," "killing," "died," "lost," and "dead." The positive words that appeared most frequently were: "like," "help," "top," "best," "popular," and "good."

For the Guardian, Facebook's honeymoon as an exciting, new social network didn't last long. Here's a sentiment analysis of Guardian articles about Facebook from 2006 to 2018: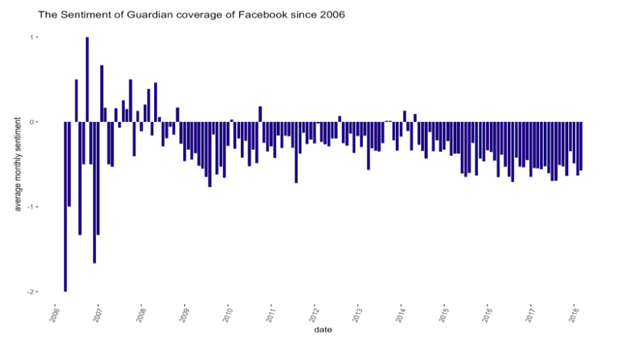 Hovde's look at sentiment in Guardian stories about Facebook shows that negative words like "crisis," "death," "dead," "killed," "abuse," "fake," "bad," and "victims" have appeared frequently in Guardian coverage since 2008.
Here's a look at sentiment in BuzzFeed coverage of Facebook since 2009: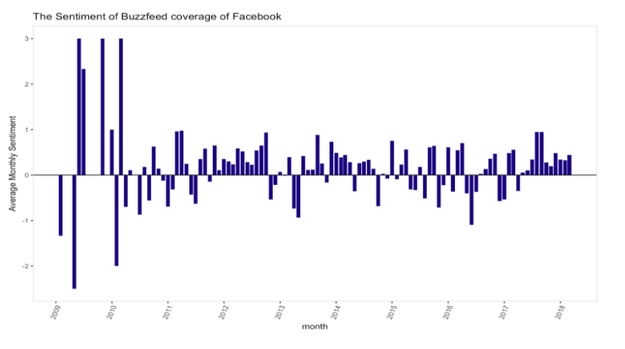 Hovde was unable to run a sentiment analysis on BuzzFeed News alone, as BuzzFeed's API includes all of BuzzFeed, not just BuzzFeed News. This likely accounts for the difference in negative-sentiment stories compared with other news publications.
To get a better sense of how coverage of Facebook has changed over the years, Hovde scanned all Facebook articles across all four publications for the most common word pairings (known as bigrams) for each year. The result shows how the media's portrayal of Facebook has evolved from a niche piece of college campus technology to a major cultural and geopolitical force.
"College students" to "fake news" in 15 years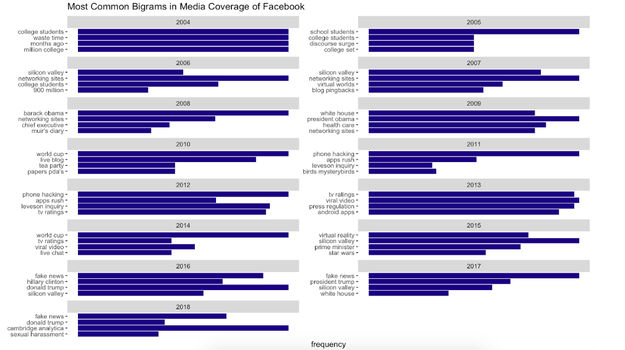 In 2004 the most common word pairings in articles included "college students" and "waste time," as articles focused on Facebook's founding at Harvard and its massive rise across college campuses. The most common bigrams that appear in news articles throughout Facebook's adolescence mostly focus on keywords like "college students," "Silicon Valley," and "social networking," as journalists charted its rise. Then, in 2008, Hovde's analysis shows a spike in articles about politics; across all four publications, the most frequently used word pairing was "Barack Obama."
Tracing the top Facebook word pairings for each year across all four publications reveals Facebook's centrality in modern culture; in many cases the most popular bigrams reflect the biggest events and storylines of that year — the "World Cup" in 2010 and 2014, "health care" in 2009, the "tea party" in 2010, and the arrival of a new "Star Wars" movie in 2015. Since 2016, however, the most popular word pairings revolve primarily around politics and are noticeably darker, focusing on "fake news" and scandals like "Cambridge Analytica" and issues like "sexual harassment."

Breaking out the bigrams by publication provides a more granular picture of the social network's evolution in the press.
For the New York Times, the most common word pairings show that stories about Facebook increasingly focused on politics — with Donald Trump appearing most frequently since 2016.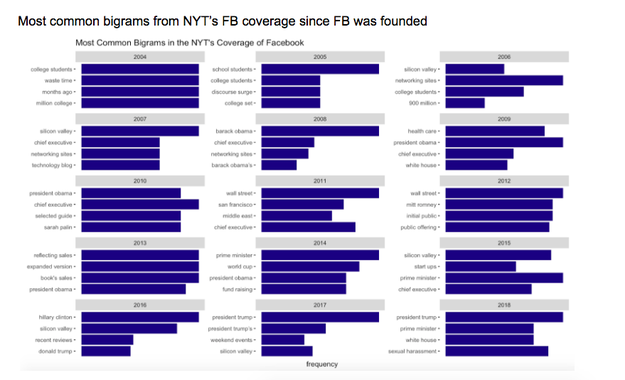 The Guardian's coverage, however, appears to have focused more frequently on issues like Facebook's ad system and privacy starting as early as 2007. Starting in 2016, "fake news" became the most frequent word pairing in articles about Facebook.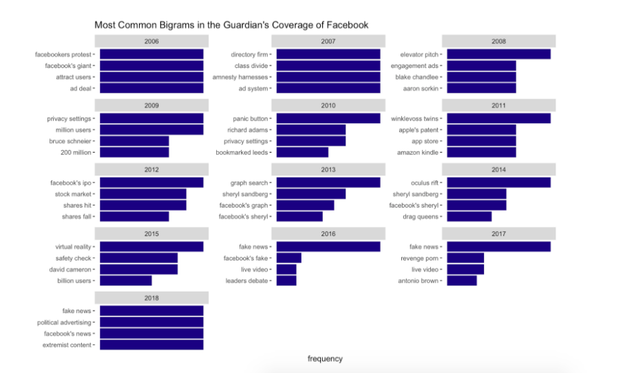 Similarly, starting in 2016, word pairings for USA Today show the prevalence of "fake news" in articles about the social network.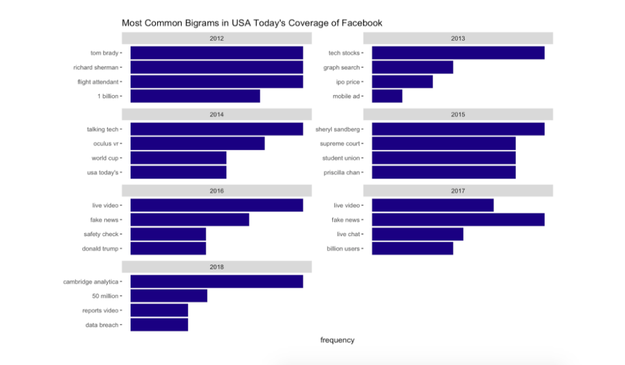 A chart for BuzzFeed coverage of Facebook shows a shift in the most common word pairings from pop culture to more serious subjects ("fake news," "2016 election," "mental health," "anti-Muslim"), starting in 2015.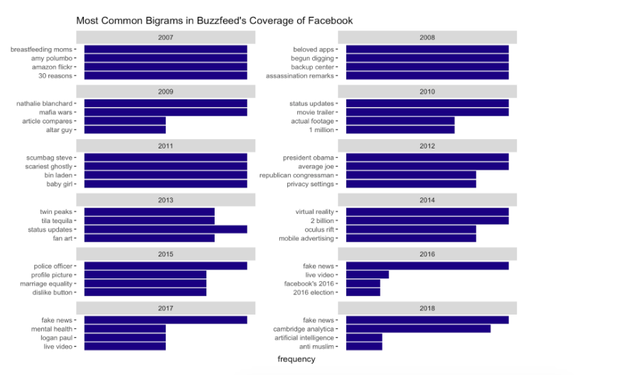 Hovde's analysis is by no means fully conclusive. It encompasses three news organizations only, and the sentiment dictionaries on which it relies don't account for nuance (the word "suicide" used in the context of a suicide prevented, for example). Hovde also cautions that pre-2010 data was generally less robust, given that there were fewer accessible stories from those years. But the sheer size of the data set — over 87,000 articles — reveals a consistent picture, one that essentially captures the maturation of the platform. It showcases the evolution of the media's initial excitement and optimism as it grew into an establishment phase — Facebook as the overwhelming context for our experiences online. And finally, it captures the current skepticism and backlash, as the social network's myriad problems, left to fester, have left a sour taste in the public's mouth.

Looked at one way, the charts are proof of the platform's growing pains — the end of a long tech-press honeymoon. Taken another way, they're a sign of an even rockier road for Facebook.
If you want to read more about Facebook's and the internet's daily information wars, subscribe to Infowarzel, a BuzzFeed News newsletter by the author of this piece, Charlie Warzel.
Author: Charlie Warzel
Published at: Wed, 18 Apr 2018 11:08:26 -0400
Credits: https://www.buzzfeed.com