Republican members of Congress have grilled Zuckerberg on "censoring" the Facebook page after the conservative bloggers publicly ranted against the company.
Mark Zuckerberg said that Facebook made an error in determining that the Facebook page of pro-Trump bloggers Diamond and Silk was "unsafe to the community."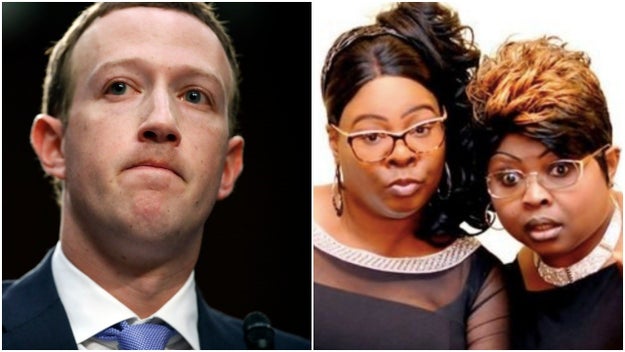 Alex Brandon / AP Twitter / Via Twitter: @DiamondandSilk
During his testimony before the House Committee on Energy and Commerce on Wednesday, Zuckerberg said his team made an "enforcement error" in suppressing Diamond and Silk's page, which is followed by 1.4 million people.
Responding to a question from Texas Rep. Joe Barton, Zuckerberg said, "In that specific case, our team made an enforcement error. We have gotten in touch with them to reverse it."
After Zuckerberg spoke about how Facebook removes terrorism-related content, Republican Rep. Marsha Blackburn told him, "Let me tell you something right now. Diamond and Silk is not terrorism."
Republican Rep. Steve Scalise asked Zuckerberg if the employees responsible for the decision were held accountable for their actions. Zuckerberg responded that he would have to follow up on that as "that situation developed" while he was preparing for his testimony to Congress.
While Zuckerberg did not specifically address the issue with Diamond and Silk's content during his testimony on Tuesday, he told Cruz that "Facebook and the tech industry are located in Silicon Valley, which is an extremely left-leaning place."
Author: Tasneem Nashrulla
Published at: Wed, 11 Apr 2018 11:43:52 -0400
Credits: https://www.buzzfeed.com