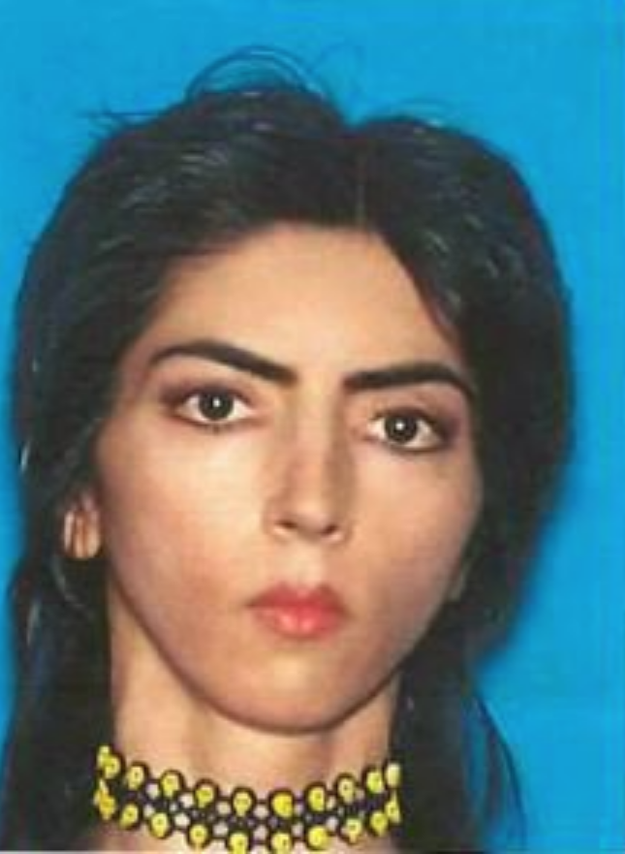 Police on Wednesday said Nasim Najafi Aghdam opened fire at YouTube's California headquarters because she was "upset" with the company's policies and practices.

Aghdam, 39, injured three people Tuesday inside a courtyard area of YouTube's San Bruno, California, campus before dying of a self-inflicted gunshot wound.
"At this point in the investigation, it is believed that the suspect was upset with policies and practices of YouTube," San Bruno police chief Ed Barberini said. "This appears to be the motive for this incident."

Police said they did not have evidence linking Aghdam to any specific individuals at the scene.

A spokesperson for Zuckerberg San Francisco General Hospital said Wednesday that two of the victims were released from the hospital. The third, a man in his 30s, remained in serious condition.
Aghdam visited a local gun range the morning before the shooting, authorities said, and legally possessed the Smith & Wesson 9 mm semi-automatic handgun that she used in the shooting.
At Jackson Arms, a gun range less than three miles from YouTube's San Bruno campus in South San Francisco , two plainclothes men who said they were from the San Bruno Police Department entered the shop before it opened at 11 a.m. local time, but did not say why. A uniformed San Bruno police officer later joined them. Upon leaving about two hours later, all three officers declined to answer any questions but did not deny this was the location the shooter had visited.
Jason Remolona, the owner of Jackson Arms, directed all inquiries to San Bruno PD. When asked, he would not say if Aghdam had visited his company. A worker, Pablo Matos, told reporters that Aghdam was not there and that he had checked the company's visitor logs for her sign-in after seeing her name in the news. He refused to let reporters see the company's security footage.
But Jose Villaluna, who rented storage space in front of the gun range, told BuzzFeed News that other employees had suggested to him that the shooter did visit the establishment. "They might have seen her yesterday," he said.
Aghdam parked her vehicle at the back of a neighboring business and accessed YouTube's campus via a parking garage where pedestrian doors led to open areas on the grounds. She remained in the open courtyard and opened fire. Police are not aware if she had confrontations with anyone at the scene.
"Thanks to the security protections in place, she never entered the building itself," YouTube said in a statement Wednesday.

The company added that it would be increasing security at all of its offices worldwide "to make them more secure not only in the near term, but long-term."
Authorities have seized her car and are in the process of executing search warrants at two houses in southern California that are believed to be associated with Aghdam.
Investigators are also working to gain access to, and to review, all social media posts related to Aghdam to "further comprehend" her motive, police said.
Aghdam had several YouTube channels on which she frequently posted about animal rights and veganism. She alleged that YouTube was discriminating against her and filtering her videos.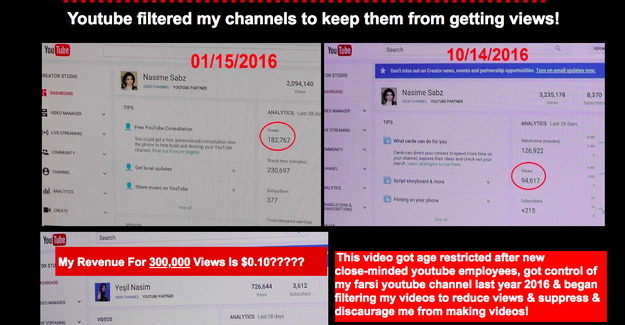 On Monday, Aghdam's family reported to the San Diego County Sheriff's Department that she had been missing since Saturday. Aghdam's father, Ismail, said she had been missing for several days and was located by police in Mountain View, California, early Tuesday morning. He told the Mercury News that he informed authorities his daughter might be going to YouTube because she "hated" the company.
Aghdam's brother told KGTV that the family grew concerned when Aghdam stopped answering her phone over the weekend. He said that when police told the family they had located her car near Mountain View, he called them back to say she had a grudge against the company and that "she might do something."
"I Googled 'Mountain View,' and it was close to YouTube headquarters. And she had a problem with YouTube," he told KGTV. "So I called that cop again and told him there's a reason she went all the way from San Diego to there, so she might do something."
He said police told him they would watch her, but 12 hours later she arrived at the YouTube headquarters and opened fire.
"So they didn't do anything and she got killed," he said. "And three or four more people got hurt."
The Mountain View Police Department confirmed that they located Aghdam in her car on Tuesday, but denied that her father and brother had warned police about a potential threat of violence or her possible attack on the YouTube campus.
In a press release detailing their interactions with Aghdam and her family, Mountain View police said Wednesday that Aghdam told them she had left home due to "family issues" and had come to the area to stay with other family members. She told them she was living out of her car while looking for a job.

Police said they asked her if she was a danger to herself or others but that "at no point during our roughly 20 minute interaction with her did she mention anything about YouTube, if she was upset with them, or that she had planned to harm herself or others."

Aghdam "in no way met any reason for us to speak with her further or possibly detain her," Mountain View police said.
After informing her family that she had been located, police said Aghdam's father confirmed that the family was having issues at home but that neither he nor her brother made any statements about her "potential threat to, or a possible attack on, the YouTube campus" or indicated that she possessed any weapons.
Aghdam's father later called back Mountain View police to inform officers that she had made a series of vegan videos for her YouTube channel and that the company "had recently done something to her videos that had caused her to become upset," which is why she may have been in the area, police said.

"He did not seem concerned that she was in the area, and wanted to simply let us know that may have been a reason for her move up here," police said. "Once again, at no point did her father or brother mention anything about potential acts of violence or a possibility of Aghdam lashing out as a result of her issues with her videos. They remained calm throughout this second phone call."
San Bruno police said they did not have contact with the Mountain View Police Department before the shooting and they could not answer what information Aghdam's family related to the Mountain View police.
LINK: This Is What We Know About YouTube Shooter Nasim Aghdam
Author: Tasneem Nashrulla
Published at: Wed, 04 Apr 2018 12:49:22 -0400
Credits: https://www.buzzfeed.com