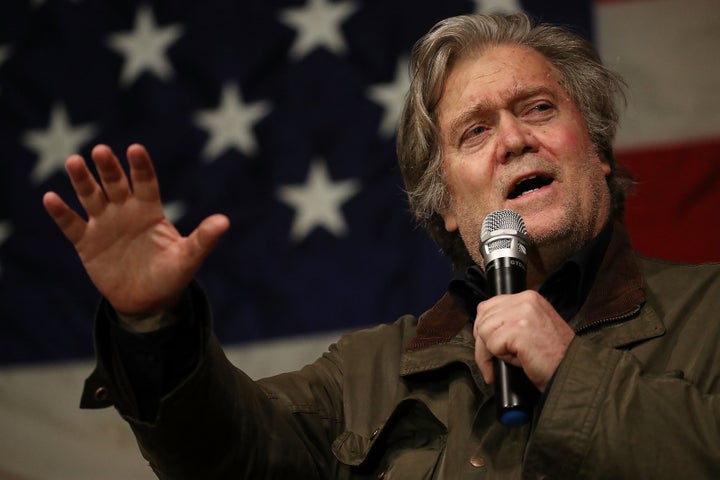 Joe Raedle / Getty Images
Steve Bannon left the White House in August of last year to a hero's return at Breitbart News, the far-right news site he helped turn into the leading voice of conservative politics in America.

Now, less than five months later, the former chief strategist for the president is gone from the job that made him.
Breitbart announced Tuesday that Bannon would step down from his post as executive chair of the site, a position he first held between 2012 and August 2016. The move follows a brutal week for Bannon, after President Trump — and Bannon's patrons, the Mercer family — disowned him. The split followed the release of a behind-the scenes book, Fire and Fury, in which Bannon strongly criticized members of the Trump family.
In a statement, Bannon wrote that he was "proud of what the Breitbart team has accomplished in so short a period of time in building out a world-class news platform."
The announcement completes what has been a shockingly fast fall from power for Bannon, who had hoped to use Breitbart, in concert with a new political action committee, to fund insurgent conservative challengers to mainstream Republicans in 2018 congressional races.
Now, the man who took considerable credit for President Trump's shocking win in 2016 finds himself cast out — crucially, from the good graces of Robert and Rebekah Mercer, the billionaire GOP donors who fund Breitbart and a variety of other Bannon-linked ventures. Without the Mercers' support, and that of the rest of the Breitbart board, including CEO Larry Solov and Susie Breitbart — wife of the site's deceased founder, Andrew Breitbart — Bannon was forced to step down.
Bannon's departure leaves Breitbart — already in the midst of a traffic plunge —without its strongest editorial figure. In the months since leaving the White House, Bannon had become the site's public face, with Breitbart selling Bannon-themed merchandise and slavishly covering his public remarks. Without Bannon and former tech editor Milo Yiannopoulos, who left Breitbart after appearing to condone pedophilia in a video released in February 2017, the site will lack name recognition.
At the roaring height of its effectiveness, the news site Bannon referred to fondly as his "killing machine" was able to capture the resentment of a wide range of readers opposed to the liberal trajectory of American culture and turn it into ferociously partisan and highly shareable content. The targets of this resentment ranged from Black Lives Matter activists to liberal journalists to Silicon Valley executives. (And Bannon at least plotted to subvert multiple tech companies.) At times, as BuzzFeed News reported in October, that machine drew directly on the extremist fringe of the right wing — white supremacists and white nationalists — for ideas, guidance, and writing.
Still, it was this very connection to a base of cultural resentment against immigrants, coastal liberals, social justice activists, and others that President Trump seemed not to want to lose even after pushing Bannon from the White House last August. And for months, Trump seemed to waffle between supporting the far-right, identity politics–detesting candidates Bannon proposed for Congress and the more mainstream Republicans favored by the GOP establishment. The loss of an Alabama Senate seat — which Republicans had held for 25 years — by Bannon-backed Roy Moore seemed to settle the debate in favor of the latter.
Then came the stunning remarks attributed to Bannon in Michael Wolff's Fire and Fury. Though Bannon later apologized for the statements, Trump and his allies had already publicly turned on him. And when the Mercers followed shortly thereafter, Bannon's time at Breitbart was all but over.
Author: Joseph Bernstein
Published at: Tue, 09 Jan 2018 16:26:27 -0500
Credits: https://www.buzzfeed.com