Was this Instagram #sponsored?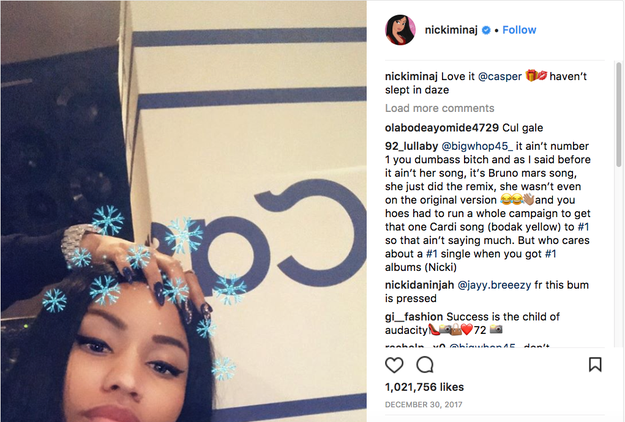 @nickiminaj / Instagram
The Case
Nicki Minaj posted an Instagram of herself in front of the distinctive blue-and-white Casper mattress box on Dec. 30 with this caption: "Love it @casper haven't slept in daze."
Casper is the mattress startup that makes flexible, reasonably priced mattresses that ship in a box (their standard model is $950 for a queen size). It's a big business, and it's doing well!
This Instagram was sort of confusing — was it a paid ad? Did she receive a free gift and liked it so much that she posted about it? BuzzFeed has reported on Casper gifting free mattresses to celebrities in the past, so that seems highly possible. Or does she truly just love this mattress?
And if it was a free gift, does using the gift box and kiss emojis meet the standards for the FTC's guidelines for how social media influencers and celebrities should disclose ads on social media? (I'll go ahead and answer that: almost certainly not.)
The FTC's guidelines are straightforward: Ads should be unambiguous — the ideal version says #ad at the beginning of a caption, rather than at the end of a long caption that gets cut off when viewed in the feed. The FTC also tells celebrities and influencers to avoid terms like #sp that aren't totally clear to everyone.
The Evidence
The question of how to disclose a free gift turns out not to even be relevant here.
Casper confirmed to BuzzFeed News in an email on Monday that it compensated Nicki Minaj to post about the mattress. It wasn't just a gift — she was paid $$$.
So shouldn't she have disclosed it was an ad in the caption? Casper said, "We asked that she include the proper disclosure (#ad) in her caption. After she posted, we reached out — early last week — to ask that she update the copy to clarify."
As of yesterday afternoon, Minaj had still not updated her post to say that it was an ad. Her record label did not reply to BuzzFeed News' request for comment.
But wait, there's a twist!
As of today, the caption is gone.
Ten days later, Minaj deleted the caption on the photo entirely.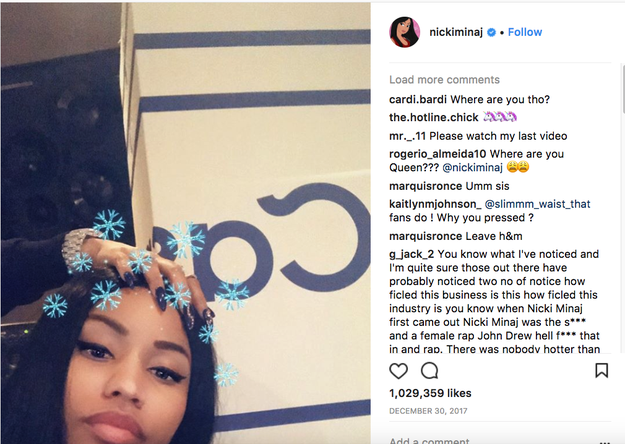 @nickiminaj / Instagram
Still, deleting the caption that implied the mattress was a free gift doesn't solve Minaj's failure to disclose that her post is a paid ad. It wasn't just the caption that mattered — what's left is still a photo of her face in front of the distinctive Casper packaging. Even though she no longer tags the brand's name, someone seeing her post is still likely to think that Nicki Minaj loves Casper mattresses.
It seems that the case of Nicki Minaj and Casper is an interesting example of what happens when the negotiations between a celebrity and brand sponsor go awry. While a Casper mattress might give you a great night's sleep, that's probably not the case for whoever was in charge of dealing with their celebrity partners.
Author: Katie Notopoulos
Published at: Tue, 09 Jan 2018 15:30:18 -0500
Credits: https://www.buzzfeed.com