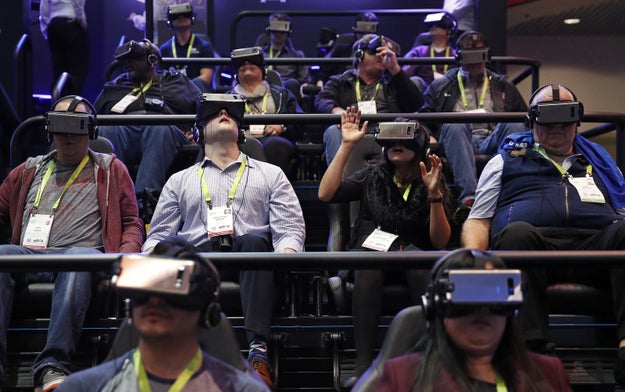 People look through Samsung Gear VR virtual reality goggles during CES International on Jan. 9, 2018.
John Locher / AP
The Consumer Electronics Show (CES) in Las Vegas is one of the largest annual technology conferences in the world. But on Wednesday, the power went out in the main hall of the Las Vegas Convention Center. And when a lot of tech needs to be powered, that is...a bad thing.
According to the convention center, 3,900 companies are exhibiting this year and will launch some 20,000 new products. CES's website says that 180,000 people attended the convention in 2017. Companies pay thousands of dollars to exhibit, and the lowest ticket price for admittance is $300.
Power was restored within hours, but given that CES attendees are among the most technology-obsessed people in the world, they took to Twitter to express their frustrations and, of course, make jokes.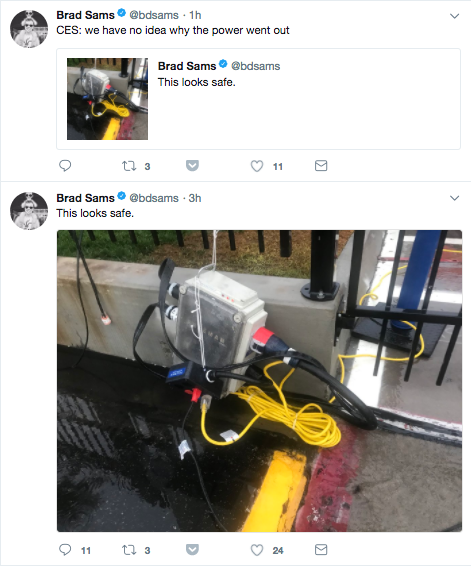 There was some minor drama over charging smartphones, which were locked in an electronic tower.
Companies piled on.
Intel had a violin player at its booth who continued playing during the blackout.
But Intel's tweet didn't go over well with everyone.
The company is facing scrutiny after cybersecurity researchers discovered two vulnerabilities, nicknamed Meltdown and Spectre, in the company's chips that may affect all personal computers manufactured since 1995.
All told, the power outage lasted about two hours, according to tweets from the official CES account, which even joined in with the jokes.
CES did not immediately respond to request for comment. But the Las Vegas Convention Center said in a statement that a preliminary assessment indicated that condensation from heavy rainfall caused a "flashover" on one of the facility's transformers.
Author: Blake Montgomery
Published at: Wed, 10 Jan 2018 20:04:50 -0500
Credits: https://www.buzzfeed.com