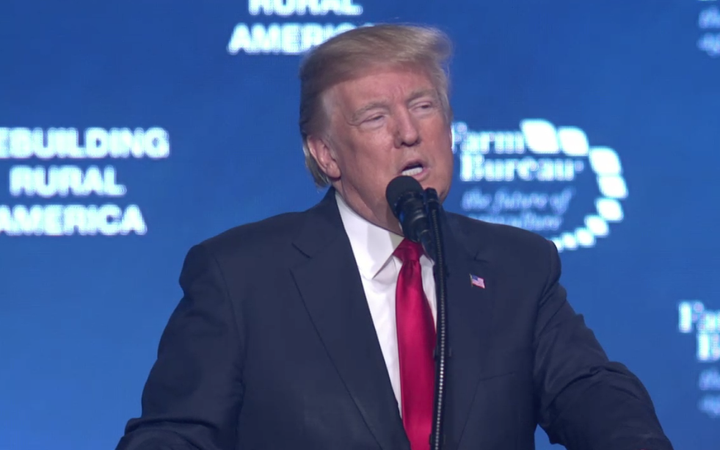 American Farm Bureau Federation / Via livestream.com
President Donald Trump barely addressed critical issues for America's farmers — trade and immigration — in a roughly half-hour speech to the American Farm Bureau Federation on Monday afternoon.
Though he spoke at length about low unemployment, a soaring stock market, tax cuts, and reduced regulation, Trump only touched on trade late in his address, and then only briefly. Many farmers who struggle to make a profit and rely on exports are anxious about what will happen to the North American Free Trade Agreement (NAFTA), a deal that has been hugely beneficial to agriculture and has helped to sustain a trade surplus. Yet on NAFTA negotiations, the president merely said:
We're reviewing all our trade agreements to make sure they are fair and reciprocal. Reciprocal, so important. On NAFTA, I am working very hard to get a better deal for our country, and for our farmers, and for our manufacturers. It's under negotiation as we speak. But think of it, when Mexico is making all of that money, when Canada is making all of that money, it's not the easiest negotiation. We're going to make it fair for you people again.
People commenting on the address online seemed disappointed Trump didn't provide more detail on trade.
American Farm Bureau Federation
"It was very brief, and quick, and almost an aside."

America's farm industry also relies heavily on immigrant labor, which is under threat under the current administration. The Farm Bureau said on its website, "Where American workers are unwilling or unavailable, workers from other countries have stepped in. Congress needs to pass responsible immigration reform that addresses agriculture's current experienced workforce and creates a new flexible guest worker program. Instability in the agricultural workforce places our food supply at risk."

Yet all the president said on the issue of immigration in Monday's address was:
"We are going to end chain migration. We are going to end the lottery system. And we are going to build the wall."
Some viewers said Trump's address seemed more like a campaign speech.

American Farm Bureau Federation

American Farm Bureau Federation
As for the 2018 Farm Bill, Trump said briefly:

"I am looking forward to working with Congress to pass the Farm Bill on time so that it delivers for all of you, and I support a bill that includes crop insurance, unless you don't want me to. I guess you like it, right?"
Will Rodger, a spokesman for the Farm Bureau, said, "It was very brief, and quick, and almost an aside. We don't have a crystal ball as to where he's going on these issues, but the brief statements he has made about these topics still leave us with a lot of hope." He noted that Trump is the first president to address the organization in 26 years.
Author: Venessa Wong
Published at: Mon, 08 Jan 2018 18:26:05 -0500
Credits: https://www.buzzfeed.com